Simple and fast meals on the run – Part 2
Hi from Dunedin, we finally managed to secure a free internet motel in Dunedin. In the past, we were trying to book similar motels with free internet access but many fully booked out due to peak season (summer school holiday) we traveled in now. It was really a bonus having to access free internet as and when we have spare time after our sightseeing hours. Else, accessing internet time per hour over in touristy places like Queenstown, Te Anau, Kaikoura and Lake Tekapo was not cheap at all ranging from as expensive as $ 3 per hour to $6 per hour. For that reason, we only bought internet time for important email checking and trip planning surf time only.
Today is the 15
th
day of our journey which also marked more than half way of our planned trip. We are scheduled to return to Auckland by 26
th
January 2011. We had traveled more than 2700km so far since we started off from Auckland on 1
st
January 2011. All these days, we were blessed by sunny spells but our luck seemed to change since yesterday night at Te Anau. Strong Southerlies hit in and this morning when we traveled from Te Anau to Dunedin, it was drizzling for the entire 4 hours journey.
I just checked the weather forecast and the coming days weather does not look promising too with wet day lining up to next Thursday. I suppose, this is great timing to have internet access at motel, as we expect we will be cuddling in warm and comfy motel sofa rather than wondering around outside in cold and wet weather.
Back to food, so far we only had been eating out for few meals. When we were in Wellington, Lucia, my more than 35 years old schoolmate since kindergarten had treated us a sumptuous Chinese dinner –
Peking Duck
. This was the first time Ming Ray tasted roast duck with rice wrapper and he loved it very much.


Sumptious dinner treated by Lucia at Wellington

In Wellington, we were able to locate many Asian eateries especially Malaysian food. We even tasted Penang Loh Mee, fried Koay Teow for lunch. Other than Wellington, the next big city to enjoy decent Chinese meals was in Christchurch. We managed to locate a Malaysian restaurant near our motel around Canterbury University.
With Auntie Ah Lan traveling with us serving as our personal chef, even we were on the road, we still pretty much fed on home cooked lunches and dinners.
J
Most of our trip, we planned to end our sightseeing before evening and headed for groceries shopping for our dinner back at motel. The motels we checked in were mostly self contained units with full kitchen facilities.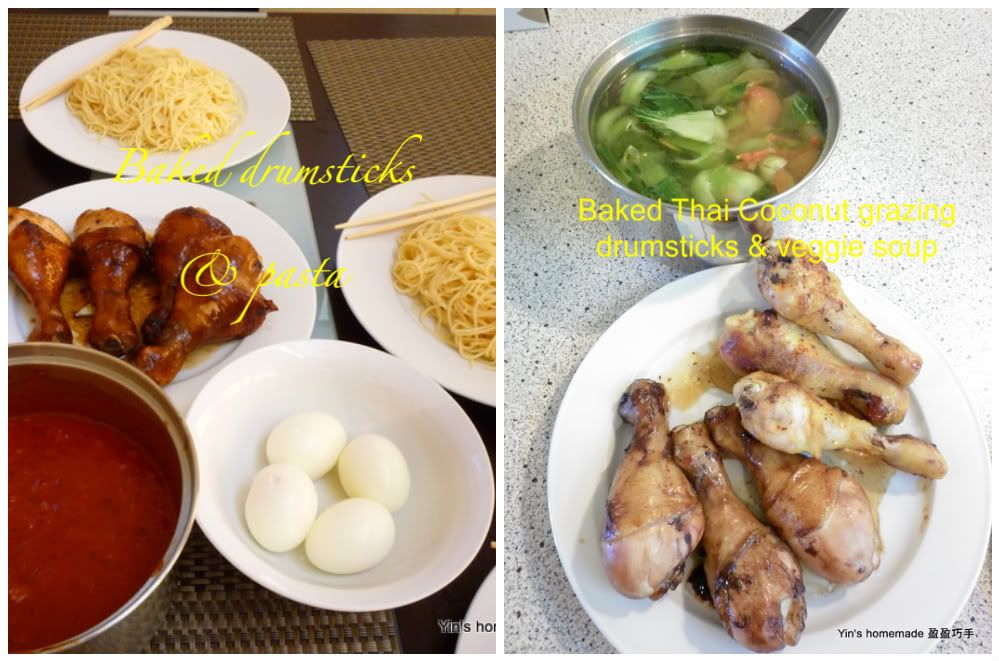 Baked Chicken drums @ Queenstown, Christchurch motel.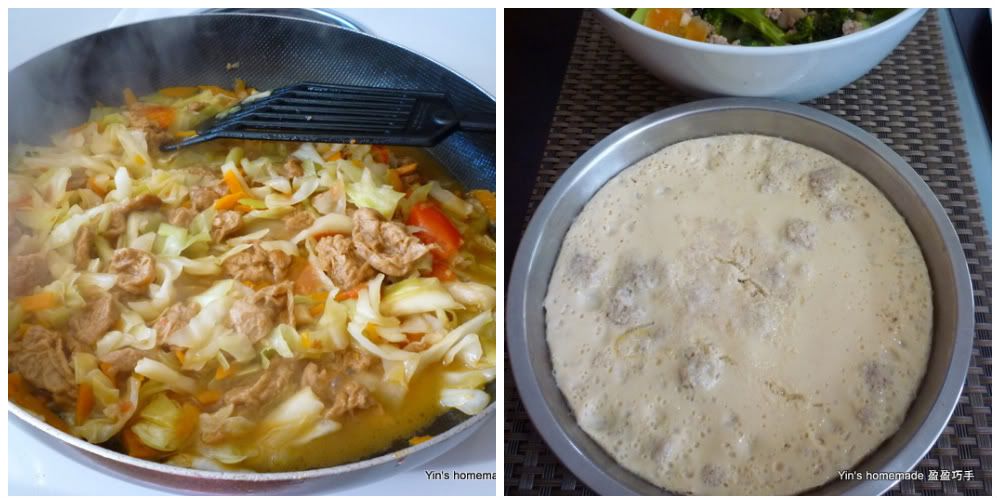 Left: Stir fried cabbage with canned vegetarian duck, Right: Steamed Eggs with pork mince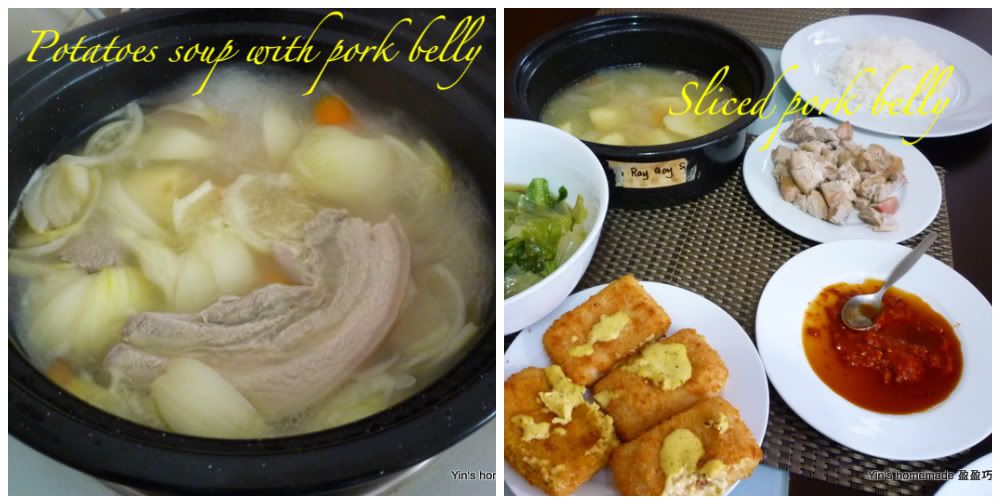 We were even offered to self pluck home grown vegetables of broccoli and lettuces at one of the motel,
Sierra Motel
at Omarama (1.2 hours from Mt Cook). With those, we had stir fried broccoli with pork mince and oyster sauce lettuces.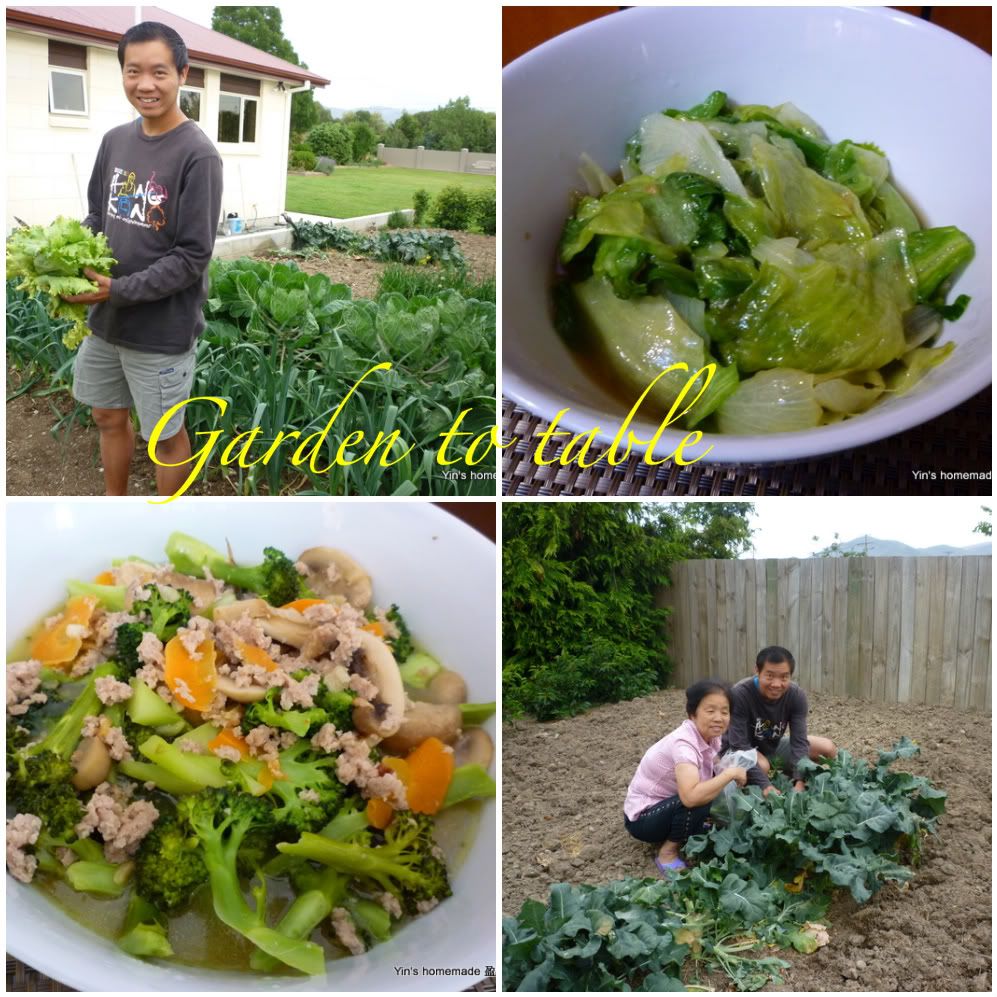 Fresh veggie plucked from Sierra Motel, Omarama
The only accommodation we checked in without any kitchen facilities was in Lake Tekapo, we did not managed to book a motel and ended up with a hotel. However, this did not stop us to come out with a decent dinner.
J
With our magic rice cooker we brought, we managed to come with a meal of delicious chicken rice dinner! This small rice cooker we brought so far had made us wonderful meals. Other than white rice, we cooked congee, vegetables soup, dessert and
baked chicken
with it!


Rice cooker Veggie soup, chicken rice @ Lake Tekapo

What's for dinner tonight at Dunedin? After days of chicken, bacon, sausages and pork, we were desperately longing for seafood. At smaller towns especially touristy places the seafood was very expensive and we couldn't seem to get fresh supply at the supermarket. But today in Dunedin, we got whole of Red Cod fish and fish balls to come out with another yummy dinner on the road.