What for afternoon tea? A bowl of famous Nyonya Dessert – Bubur Cha Cha
With our master chef around, we are not only getting to eat real "home" flavoured dinner, in weekend we get to enjoy authentic Malaysian desserts and snacks. The first on the list requested by hubby was Bubur Cha Cha.
This is one of the renowned Penang Nyonya desserts. Bubur is Malay word for porridge or congee, as for Cha Cha , no one seems to know how this name originated. However, my aunt shared this with us. She said this dessert is one of the main desserts serve on 15th day and last day of Chinese New Year especially by
Hokkiens
. In Penang Hokkien dialects, bubur cha cha is pronounced bubur che che – and "che che" means abundance or plentiful. So, it's considered auspicious to serve bubur cha cha to family and friends on that day.
This dessert is a sweet concoction with various types of sweet potatoes (the Kiwis call it Kumara), yam or taro, sago (Tapioca peals) and coconut milk (santan). Do try to use different types of sweet potatoes, to make the dessert more colourful. For healthy version you can change the coconut milk into evaporated milk instead, however you will miss the creamy coconut flavor. This dessert can be served warm or cold.
We steamed all sweet potatoes and taro until tender then added with boiled coconut milk. This way the kumara and taro would not be too mushy. Hubby loves the taste of sago, which is chewy and stretchy in its texture, so we were asked to put more sago. One of the common cooking habits of the older generation is that they tend to cook more, so we ended up with a huge pot. Well, this seemed to be good news to my friends who stayed around my neighbourhood
J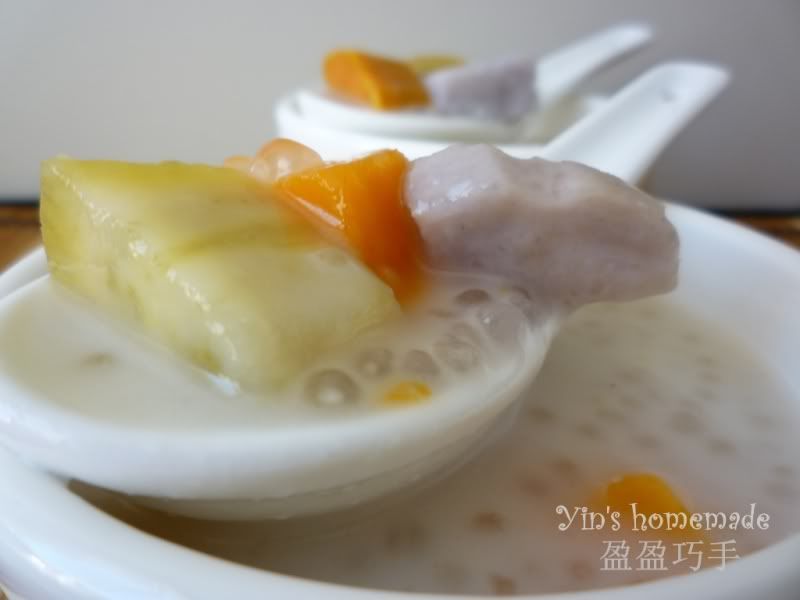 Bubur Cha Cha  摩摩喳喳 - Featured in Group Recipies 28/11/2010
No question needed to be asked on how good the dessert was, as both of my young and old food critics asked for second bowl, this showed how good the dessert was! I must say the kumara in NZ tasted much sweeter and aromatic than that in Malaysia. It also has a smoother texture.