Tired of eating fried chicken but still want chicken ? Try this......
This is one of my regular dishes serve on dinner table; it is also my boy favorite especially the braised eggs (卤蛋) in it. When he sees this dish on dinner table, he can finish his dinner within no time.
J
This dish is not only great to go with rice, the leftover especially the sauce is great to go with dry noodles (干捞面) for next day lunch. As I always say cooking is kind of an art, be adventurous to add in color to your dish, explore to use ingredients as you like to your taste.
For this recipe, other than sticking to the marinade sauce and chicken, you can have your own variation for the rest of the ingredients by adding veggie too. My version change very much depend on what in my fridge for that day
J
Yesterday when I cooked them, I only have button mushroom, well look like time to do more marketing to stock up ……..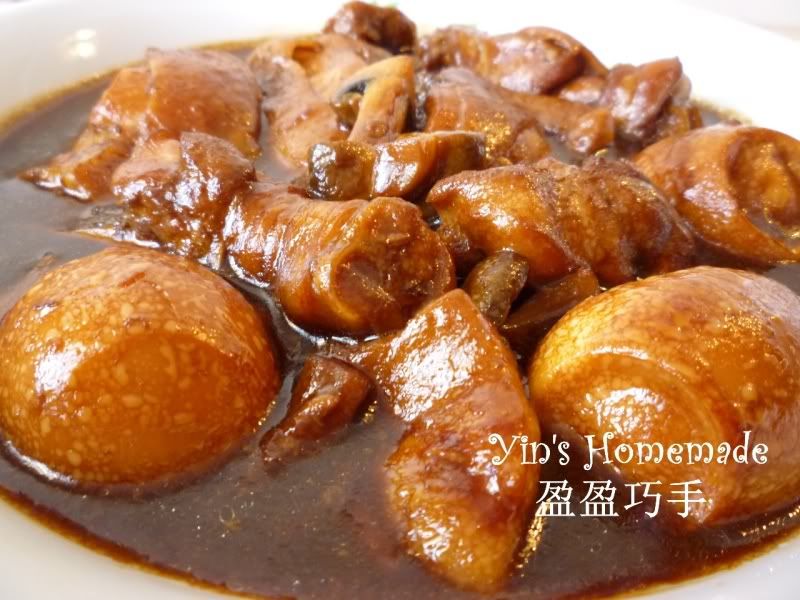 Soya Sauce Mushroom Chicken With Braised Eggs 香菇豉油鸡

INGREDIENTS:
3 pieces chicken thighs/drumsticks cut into pieces
5-6 button mushrooms (Recommend to use Chinese mushroom)
4 cloves of garlic crushed
Few slices of ginger
1-2 star anise,
1 cinnamon stick
150ml of chicken broth/water
Few small pieces of rock sugar or sugar (to your taste)
1 tbsp of corn flour diluted with water
MARINADE:
1 tbsp of Chinese cooking wine (ShaoXing)
3 tbsp of light soy sauce
2 tbsp of dark soy sauce
Dashes of pepper
1 tsp of sesame oil

HARD BOILED EGGS:
3-4 eggs
Rinse eggs and boil eggs for 8 minutes. Take out and soak in cold water and peel the shell. (Soak in cold water ease peeling egg shell)

OPTIONAL VEGGIE
Potato/Carrots/Radish/tomato

METHOD:
Clean chicken and pat dry with kitchen towel. Marinate chicken for 15-20 minutes.
Clean button mushroom quartered, if Chinese Mushrooms is being used, pre- soak for at least an hour. Discard stalks and retain the soaking water.
Heat oil, add in garlic and ginger and fry until fragrant, add in star anise, cinnamon stick.
Add chicken along with marinade and stir fry for about 5 minutes, if Chinese mushroom is being used, add in and stir well. For easy cooked mushroom like button mushroom, keep until last 10 minutes only throw in.
If side veggie is being used like Potato, carrots, radish or tomato, add in and stir well.
Pour in water/chicken broth and soaking water from the mushroom (if any) and mix well, high heat boil for 5 minutes then reduce heat and add in hard boiled eggs.
Leave everything to simmer for about 20 minutes, stirring occasionally.
Thicken sauce with corn flour mixture and let it cook for another 5 minutes.
Pour and serve hot.

香菇豉油鸡
材料:
300

克鸡腿切块


5-6

蘑菇/香菇


4

瓣蒜头压碎




几片生姜


1-2

八角,


1

支肉桂





150

毫升鸡汤

/

水




冰糖(随你的口味)


1

汤匙太白粉和水

勾芡



马铃薯

/

胡萝卜

/

番茄




(根据自己的喜好随意添加)




腌料:
1

汤匙绍兴料酒


3

汤匙酱油


2

汤匙老抽





1

茶匙麻油





白胡椒(随意)


水煮蛋:


鸡蛋

3-4

粒





将鸡蛋洗净,煮

8

分钟后那出浸泡在冷水,去壳。(浸泡在冷水中容易剥离蛋壳)


方法:



鸡洗净擦干。用腌料腌

15-20

分钟。





蘑菇洗净,如果使用香菇,预浸泡至少一个小时。弃蒂保留浸泡的香菇水。




烧热油,爆香蒜头,生姜,八角




和肉桂。




加入鸡肉,如果使用香菇,一起加入拌炒

5

分钟左右,如使用蘑菇,保留直到最后

10

分钟才加入。如果有蔬菜如马铃薯,胡萝卜,萝卜或西红柿,一起加入拌炒。




倒入水

/

鸡汤和香菇水(如有),拌匀,高温煮沸

5

分钟,然后降低温度至中火,加入水煮蛋。




让一切慢焖约

20

分钟,不时搅拌。




用太白粉勾芡,继续它煮

5

分钟熄火。趁热享用。