Home-made authentic Hakka Cuisine - part one
Recently, I bought a new cook book by Agnes Chang – "Delightful Snacks and Dim Sum" and was happy to find some authentic Hakka dishes in it. One of them was this simple noodle recipe -Hakka Lo See Fun (Rice Pin noodles) with Minced Pork .
Lo See Fun, literally in Cantonese it means "Mouse Noodle", is a type of rice noodle. I guessed the pin shape noodle was named after its shape being similar to a mouse?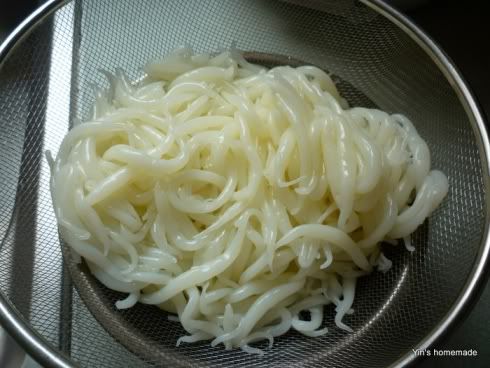 This rice noodle is easily available in South East Asia countries especially in Malaysia and Singapore. They can also be found in Taiwan known as "米台目"and in Hong Kong known as "銀針粉". However, I doubt they are available in the Western countries. When I was in Auckland I was not able to find them in shops. Thanks to a friend for sharing her homemade rice pin noodle recipe, we got to enjoy it while we were there. I will share this homemade noodle experience in my next post.
If you are not able to get this specific type of rice pin noodle, you can replace it with other types of rice noodles such as "Lai Fun" 濑粉 or Hor Fun (Koey Teoh) 粿条 or just any other types of noodles preferred.
However, if you wish to challenge yourself in making your own rice pin noodle. Check out this post
Home made  Lo See Fun
, credit to my friend Yenny who shared this with me during my days in Auckland.
Hakka Lo See Fun (Rice Pin noodles) with Minced Pork 客家肉碎老鼠粉