2012 Tropical Garden
After taking a year to settle in with job and massive house renovation since we came back from Auckland in April 2011, finally In March 2012 I resume gardening time.
To view the garden click the photo:

Bunga Kantan
2011 Summer Garden
This summer, other than my usual crop of dwarf beans and lettuces, thanks to my beautician friend Lily supplying me various types of Chinese green leafy vegetable seedlings, we got to enjoy home grown Chinese cabbages.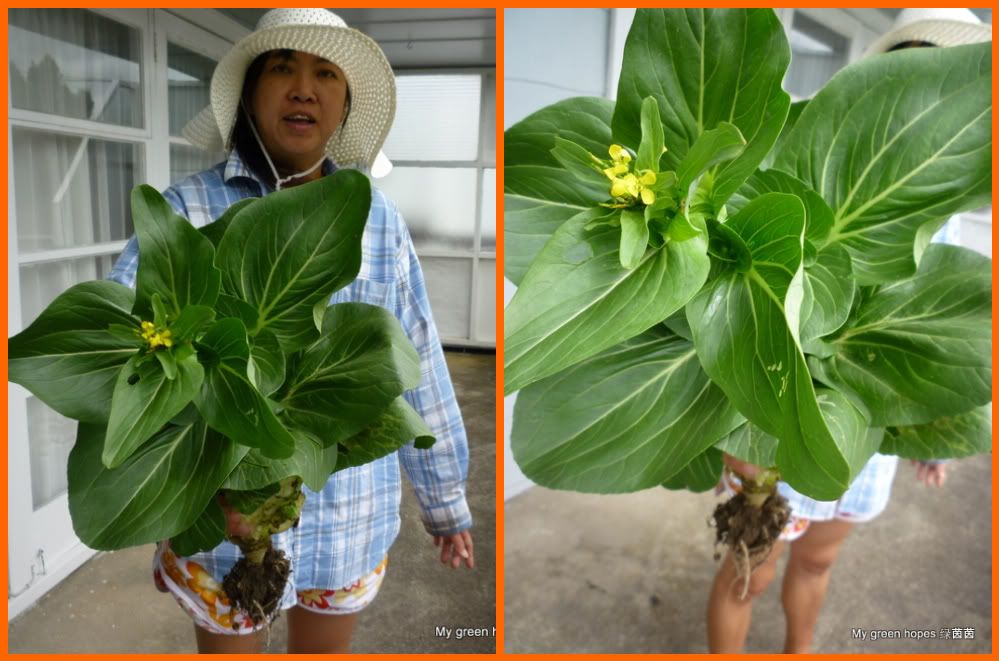 A pro farmer's look? :-P

snap shot @ 29/01/2011
The most high-yield vegetables from my summer garden were various beans ranging from green beans, yellow beans, green broad beans and shell cranberry beans.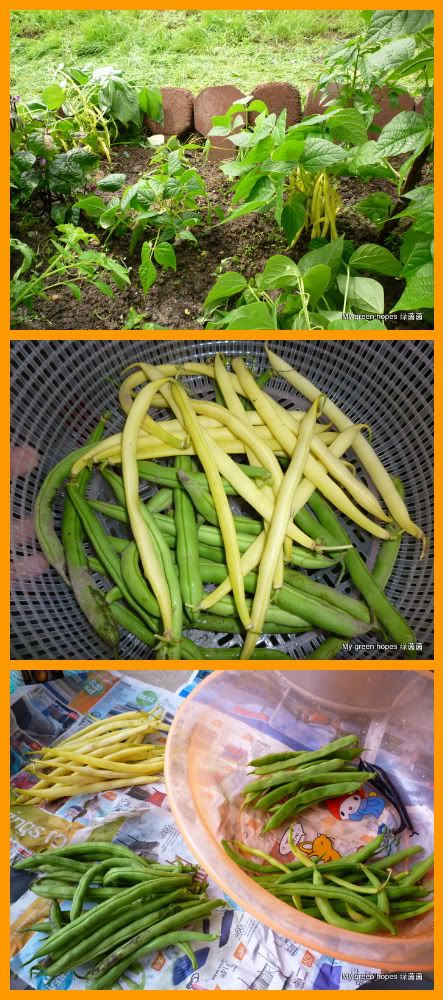 Beans harvested @29/01/2011
2010 Fresh New Garden
This spring, my landlord decided to redo the backyard landscape which affected my little garden that I had cultivated since last year. I was forced to dig out all my old plants and start off with a new garden.

Now, I was so pleased to see my new garden growing so well again. All the vegetables lettuces, herbs and beans seeds that I sowed in spring have grown healthily.
2009 Summer Garden
When I first saw our rented house in Auckland has a huge compound, it triggered me to work into my little dream garden. The compound has very rich and good soil. The landlord told us that, the previous tenants used to plant vegetables and the soil was rich with compost.
We moved in during winter, July 2009, with the miserable cold weather especially for new comers from tropical country who were so used to 32 C degree of temperature and with a sudden changed of weather to less than 10 C degree weather, you could imagine the layers of clothes we were wearing. It was definitely non appealing to spend any minutes outdoor, needless to say to work on a garden!

However, the cold weather didn't turn off my gardening interests. I started off by having 2 small living herb pots -Coriander and Parsley which I bought it over a veggie shop. I placed them over my kitchen window panel which was very handy for me whenever I wish to garnish my dishes. My kitchen located at a very warm spot, it gets direct sunlight, one will easily get sun burnt during sunny spell while cooking in the kitchen! The 2 plants grew extremely well there.

Soon, when the summer hit in, after sending off Ray to school, I started off to cultivate a small piece of land at the backyard. With generous contribution of herbs plants such as lemon grass, Vietnamese Mint (Daun Kesum) , Mints, Galangal from JS's friend Dennis and Wai Cheng, my little herb garden soon thrive to form
shape.
Herbs
Lemon grass
Vietnamese Mint (Daun Kesum/Daun Laksa)
These herbs usually use in our Asian curry and spicy soup cooking.

Fruit and Veggie
Cherry tomatoes @ 19/03/2010
Cherry Tomatoes seedling @ 8/01/2010
My special thanks to Dennis, a gardening enthusiast specilaised in Orchid (checkout his gardening
site
), whom has rendered me many useful gardening advices not to mention sharing various fruit plants seedling such as cherry tomatoes, tomatoes and chili that transformed my small little herb garden into a fruitful garden .
Cherry tomatoes @ 3/3/2010
Cherry Tomatoes flowered @ 5/02/2010
Harvest @ 21/03/2010
Dwarf Bean
Yellow Dwarf bean 8/01/2010
We were given free sample of bean seeds when we went for a free farm visit. I tried my luck in growing them and to my suprise, out of the 8 seeds I sowed, 4 of them survived. In fact 100% of the seeds germinated, but some were eaten by birds!
I was amazed to come across yellow colour bean, as back home;only green beans are available.
Green Dwarf Bean 3/3/2010
Harvest @ 4/03/2010
I did not expect to be able to grow chili at this cold weather climate. But I was totally amazed with the chili seedling given by Dennis and my Indian landlady. In fact, they were the most successful plants in my garden.
Big Chili @ 2/05/2010
flowered @5/02/2010
Yellow Chili @ 3/03/2010
Mutated Yellow Chili (upward growing)
Harvest @ 8/05/2010
Lettuce
Another successful plant that I have grown on my own, other than dwarf bean which I sowed from seeds. Another proof showing that I do have green fingers after all. :-P
BEFORE (Sowed @ 20/03/2010 )
AFTER (Harvest @ 2/05/2010)