I know now is not the right time to introduce glutinous rice dumpling, as
Dumpling festival
(
端午節
)
which traditionally is celebrated in June (fifth day of the fifth month on the Chinese lunar calendar) was long overdue. However, since we migrated to NZ we didn't have a chance to eat nice Malaysian made Bak Chang (in Hokkien) a.k.a.
zhong Zhi
粽子.
Even though we could get sticky rice dumplings here in Asian shops but they were mostly Mainland China flavoured, the taste was very much different from the Malaysian style savoury rice dumplings. Thanks to my Taiwanese classmate Lily and Linda, I got to taste Taiwanese flavour bak chang too. Nevertheless, we still missed Penang Nyonya bak chang, especially those made by Ray's auntie. Hubby loves her bak chang very much, he can wallop 4 sticky rice dumplings in one go!
With Chef Ah Lan around, of course Bak Chang was one of the long overdue order placed with her
J
. Even though this was not rice dumplings time, we still managed to get the right ingredients to make them. I suppose this sticky rice dumpling has been blended in our daily meal and no longer served as seasonal meal.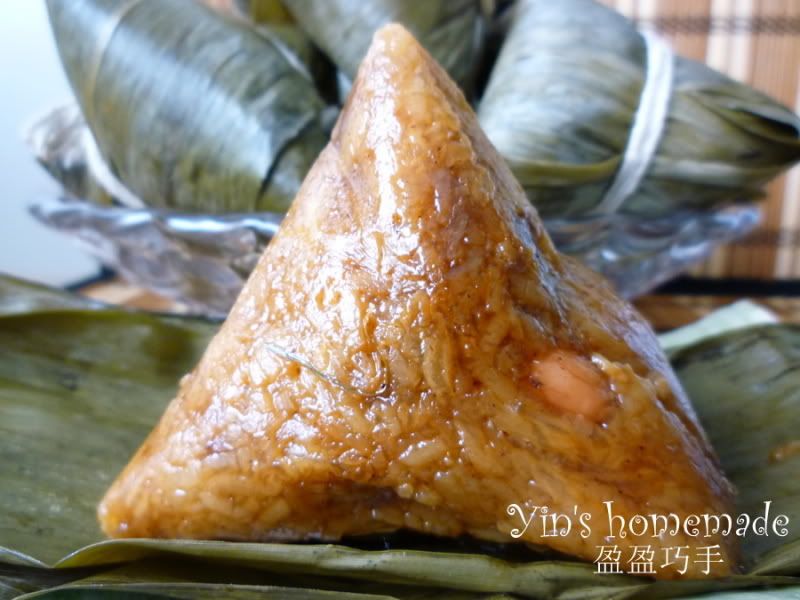 Bak Chang (Savoury Rice Dumpling) 咸肉粽子- Featured for Dec 10th
To many, the making of Bak Chang is rated at difficult level, especially on the wrapping and tying parts. The wrapping method involves making 2 sheets of bamboo leaves into a cone shape, stuffing in the fillings and wrapped into pyramid shape and finally secured with hemp. It is really not as easy as it sounds. If any one of the steps isn't done properly, then the bak chang will slip open while being boiled. I had attempted to wrap 5 dumplings and had one fell out.
L
But as a beginner with passing rate of 80%, I reckoned it was not a bad start after all, wasn't it? I believe practice makes perfect, I hope gradually I will master it.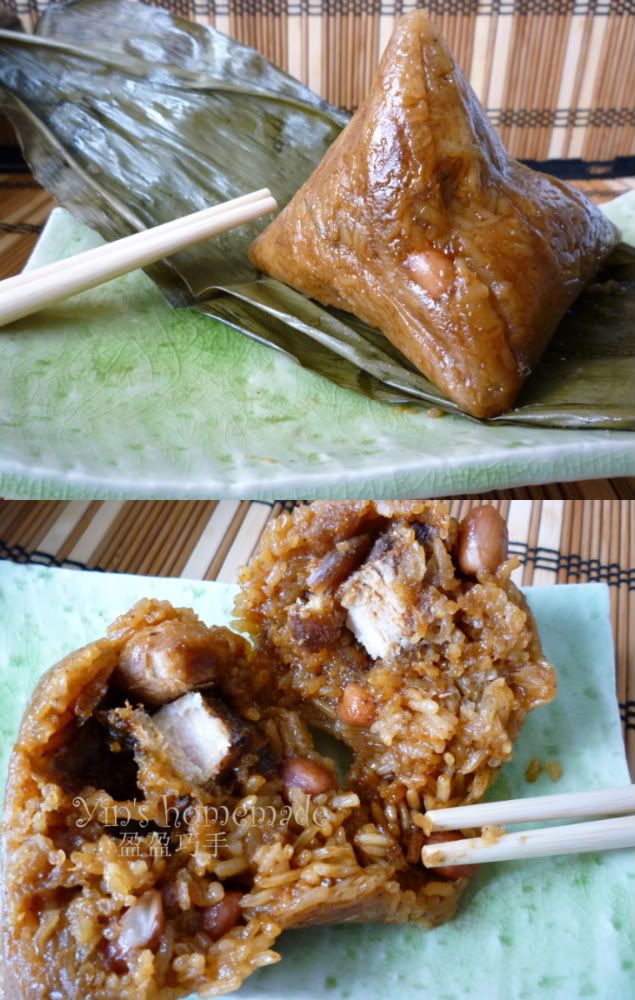 Below is the video clip showing the making process and the right technique of wrapping bak chang.
BAK CHANG (RICE DUMPLINGS)
60 pieces dried bamboo leaves (soaked overnight)
2.5 kg glutinous rice, (soaked overnight or at least 4-6 hours, drained)
20 pieces Mushroom (soaked and drained, cut into half)
200g Dried Shrimps (soaked and drained)
200g Chestnuts (soaked overnight, cleaned)
600g Pork belly cut into 30 pieces
250g shallots (cut into thin slices)
100g Peanuts (boil to cooked, drained)
30-40 Hemp/raffia strings to tie
Optional fillings
Salted duck egg yolk
Dried oyster
Glutinous Rice Seasoning:
Dark soya sauce

- mix till brown colour to your liking
1 tbsp of five spice powder

2-3 tbsp dark soya sauce –

until

dark

colour to your liking)
1.
Heat up wok with enough oil to brown shallots, dish up set aside.
2.
Heat up enough cooking oil to sauté mushroom, chestnuts and dried shrimp by batches until
dry and fragrant. Dish up.
3.
Marinate pork belly for at least 2 hours (We marinate overnight).
4.
Heat up 2 tbsp oil, stir fry pork belly for a minute. Dish up
5.
Heat up enough cooking oil, pour in glutinous rice add in peanuts and seasoning, stir fry glutinous rice until well blend, taste test as you go. Dish up to a big basin.
6.
Using 2 pieces of the bamboo leave turn or shape into a cone, half fill with glutinous rice, add a piece of pork, mushroom, portion, chestnut and few dried shrimps and cover with glutinous rice to the top. Lightly press and cover with the extended ends of leaves and form into the shape of dumplings.
7.
Wrap up the leave and seal tight with a hemp or rafia string to secure the cone.
8.
Boil a large pot of water, twist the bundles of dumplings and drop in and boil for 2 hours over medium slow fire. Top constantly with boiling water to maintain level of water at all times.
9.
When cooked, remove the dumplings and hang to drip dry.
The dumplings must be immersed in boiling water all the time during cooking.
2.5
公斤糯米,(浸泡至少
4-6
小时或隔夜,沥干)
中式香肠
糯米调味料:
适量老抽
–
调到深棕色
2
汤匙五香粉
适量盐
–
随
你的口味
少许胡椒粉
五花肉腌料:
一汤匙五香粉
2-3
汤匙老抽
-
调到深棕色
4-5
汤匙酱油
少许胡椒粉
(30
枚粽
子)
做法:
5
。烧热适量油,倒入糯米加入花生及调味料,翻炒至糯米搅拌均匀,测试口味后盛起在一个大盆地。
6
。取
2
张粽叶,毛面相对,折成三角形,加入糯米,猪肉,香菇,板栗,虾米再加入糯米覆盖
到顶部。轻轻按下,盖上粽叶,给包起来绑上麻
/
草绳。
7
。煮一大锅水,放入粽子和用中火慢煮
2
个小时,不断用开水时刻保持水位。
注意:
烹饪期间粽子必须浸泡在沸水中。