Sambal
is one of the most popular spicy condiments used in Southeast-Asian-influenced cuisine. Belacan is a Malay word.

It means dried shrimp paste. Sambal Belacan is dried shrimp chili paste. For Malaysian, Indonesian and Singaporean spicy food lover, sambal is one of the common spices easily found in their pantry. Due to the modern lifestyle many people opt to buy pre-packed readymade spices.

However considering the side effects of food preservatives, why not spend a little effort to make our own healthy Sambal Belacan paste?
Sambal Belacan Chili Paste - Featured in Group Recipes 28th January 2012
The following is a recipe from Auntie Lan.

Again I'm only sharing the main ingredients.

Apologies for not giving detailed measurement as I didn't manage to weigh the ingredients before she started to grind the paste. You can roughly adjust to your own liking.

The following photo showed the measurement of half portion of the ingredients. To get fine texture, we

grind the ingredients in two batches.
We used blender to grind the chili ingredients. It may be too much of asking to follow the traditional custom using stone mortar to pound the chili into paste. However, sambal made using stone mortar is supposed to taste much better.
If you wish to know how to use this chili paste, stay tune for my next post, coming soon!
J
SAMBAL BELACAN CHILI PASTE
1) Dried chili( if you like it extra spicy add more chili), soak and remove the stump
2) 6-8 stalks of lemongrass, use only the white part and do away the green stalks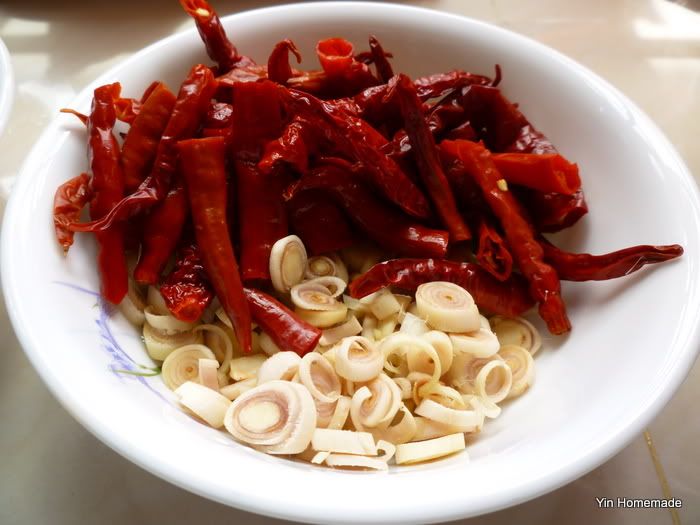 This was only half portion dried chili and lemongrass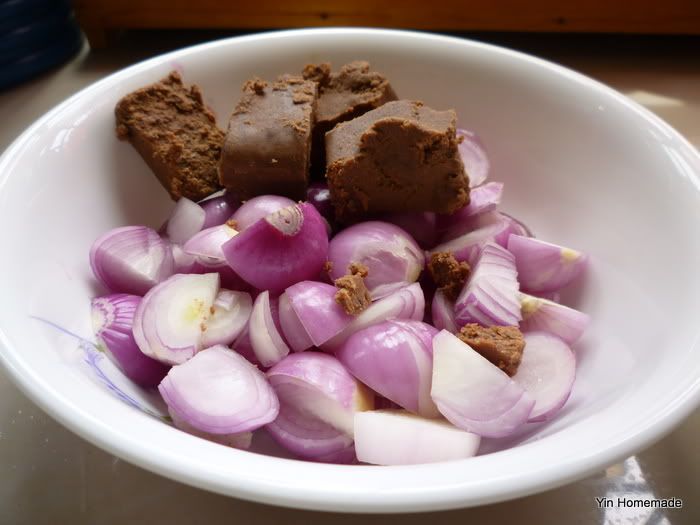 Half portion
5) Turmeric powder (optional)

– to add coloring to the chili paste
1.
Soak dried chili well. You can add bird's eye chilies to increase the spiciness.
2.
Add belacan bit by bit. The degree of saltiness varies with different brands of belacan, so it is prudent to mix the belacan in little by little, tasting as you go along.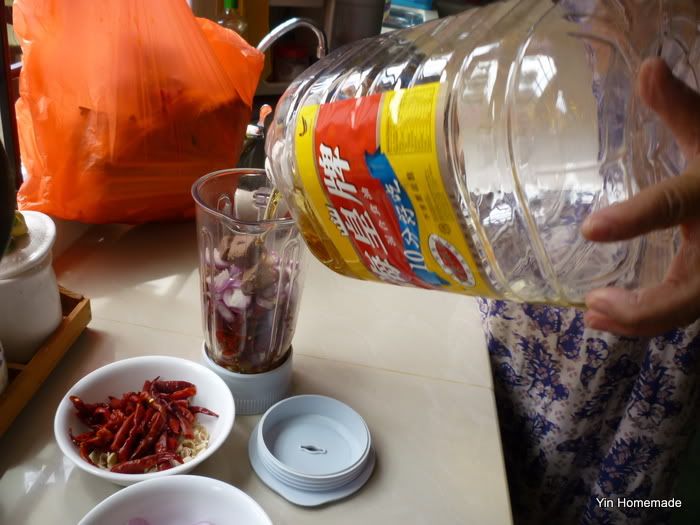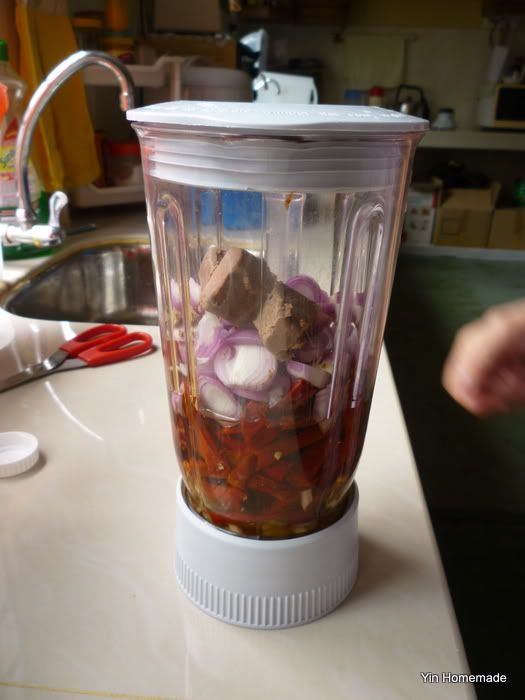 To avoid lumpy paste, we split ingredient into 2 batches.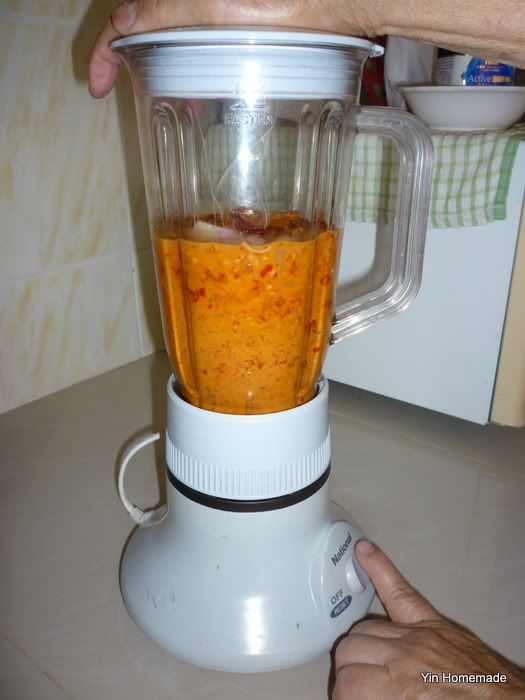 3.
Blend the above ingredients with cooking oil until fine, the consistency should be as shown in the photo below and not lumpy.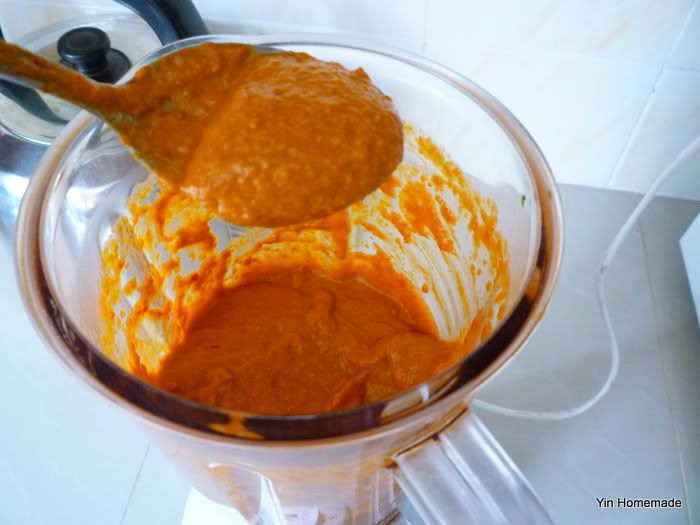 4.
Heat wok and pour grind chili paste, add in one tablespoon turmeric powder and keep frying in low heat until the color changed to deep dark red and oil separated from the paste.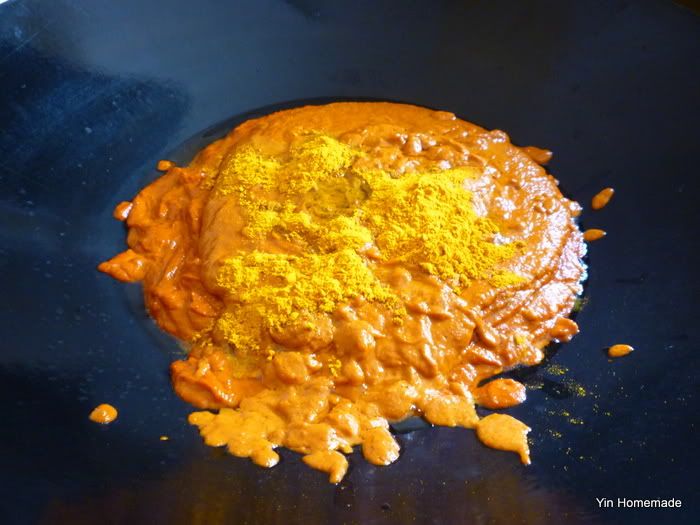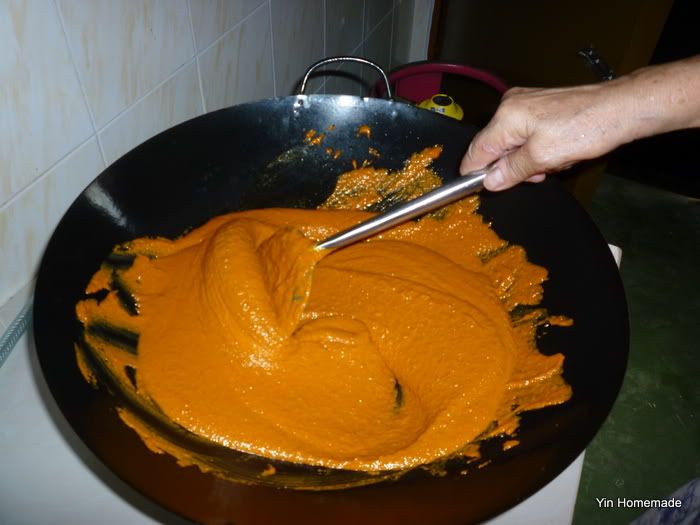 5.
Remove from heat, let it cool completely before storing in air tight container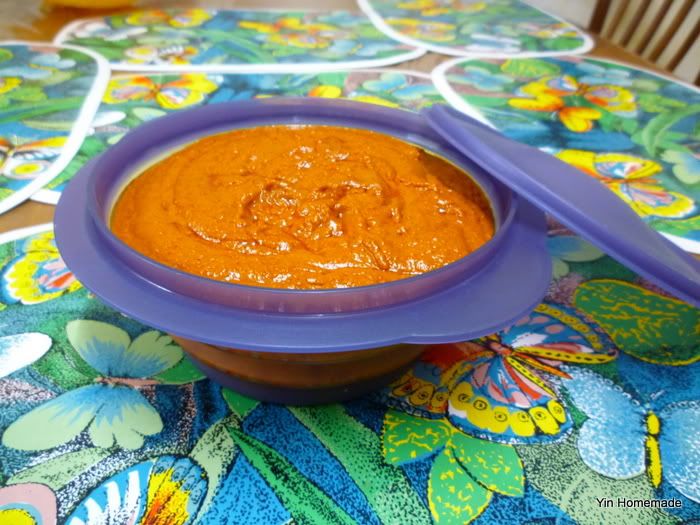 You may keep the sambal belacan paste in an air tight container in the fridge to last for at least 2 weeks.
虾膏
(Belacan),
大马人称之为"峇拉煎
,
切段
2.
随不同品牌的峇拉煎
咸
味程度不同,所以最好品尝试味后一点点的加入。
将所有材料
A
加入食油磨碎,也可使用石捣磨碎成辣椒酱
B
(如图)
3.
炒锅烧热,倒入磨碎的材料
B
慢火炒至出油,直到颜色变深的暗红色
4.
即可起锅,让它完全冷却后即可存储在密封容器中。
三巴辣椒酱
如保存在密闭容器后放进冰箱可以保持至少
2
周。