Wanna a bowl of Nyonya curry to spice you up?
As promised, here is the recipe that will spice you up using the
Sambal Belacan Chili
paste prepared in my previous post.
The following version of seafood curry is more like the Nyonya style where Assam was used instead of coconut milk. Assam in English means tamarind. With tamarind as one of the ingredients, you can expect this is a sour and spicy curry.
J
Once you have this ready homemade
sambal chili paste
stocked up in your pantry, whenever you yearn for curry, you can have it in less than 30 minutes and without the concern of unhealthy preservative in the food.
This round of seafood curry, we used squids and prawns.

Basically you can use any seafood to your liking. For fish you can check out my previous curry recipe
Assam Stingray
which also used the same homemade chili paste.
Let's cook healthily and eat healthily!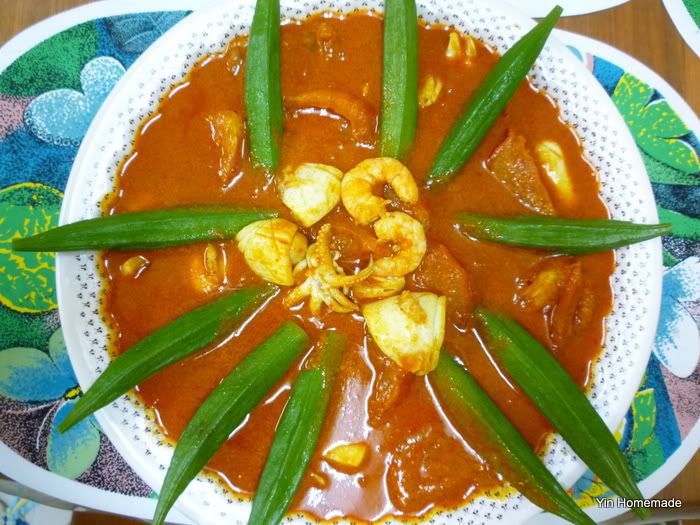 ASSAM SAMBAL SEAFOOD CURRY
Seafood ingredients to your preference :
-
Fish/Fish balls/Fish fillets
6-8 Okra/Ladyfingers (Steam/boil to cook) (optional)
1 tablespoon fish curry powder
2-3 tablespoon Assam/Tamarind paste
(Sourness much depends on the brand you use. Taste and add more if necessary)
Water -1 to 1.5 cups water, depending on how thin or thick you like your curry to be
Sugar and salt/fish sauce to taste
1.
Heat wok/pot with 1 tablespoon of cooking oil and add in sambal chili paste and curry powder and sauté until oil separate out from the paste.
2.
Add in tomatoes and stir fry 1-2 minutes.
3.
Add in tamarind juice and water and bring to boil.
4.
Taste to adjust saltiness and sourness with tamarind, sugar and salt/fish sauce till sauce tastes perfect
5.
Add seafood reduce heat to medium and simmer for 3-4 minutes until prawn change color and squids get curl up.
6. You can opt to add in Okra and cook together with the curry. Or steam/boil ladyfingers separately and only add in when serve.
7.
Dish and serve hot with white rice – yummy!
(随不同品牌的亚参酸味程度不同,所以最好品尝试味后一点点的加入。试味如果有必可加多)
半碗水
1
。炒锅烧热加入食油,并倒入三巴辣椒酱和咖喱粉,炒直到油分开如图。
2
。添加番茄
/
西红柿,翻炒
1-2
分钟。
3
。倒入亚参汁和水,煮滚。
4
。加入调味糖和盐
/
鱼露试味,如太酸味可加多糖。
5
。加入海鲜,降低火力以中火煮
3-4
分钟,直到海鲜熟。
6。
你可以选择把

羊角豆
加入
和
咖喱
一起
煮,
或预先把

羊角豆

分别

煮熟
后才
加上
。
7

。盛起趁热与白饭吃!