Chinese New Year Dishes – Part 3(

年菜之三)
This Nyonya dish is one of the must in traditional
Teow Chew
or
Hokkien
speaking families in the South East Asia during Chinese New Year celebration.
When Auntie Lan was staying with us, I requested her to teach me this grandma recipe. I bought quite a big duck (size 19) for the soup; we ended up using half of the duck only. I still have another half in my freezer that I'm planning to cook this coming Chap Goh Mei (15
th
day of Lunar New Year) 元宵。
Chinese believe salted mustard green is great in clearing away internal body heat. This soup with salty and sour taste is a great appetizer too. A bowl of the soup instantly opens up one's appetite especially in the hot summer weather.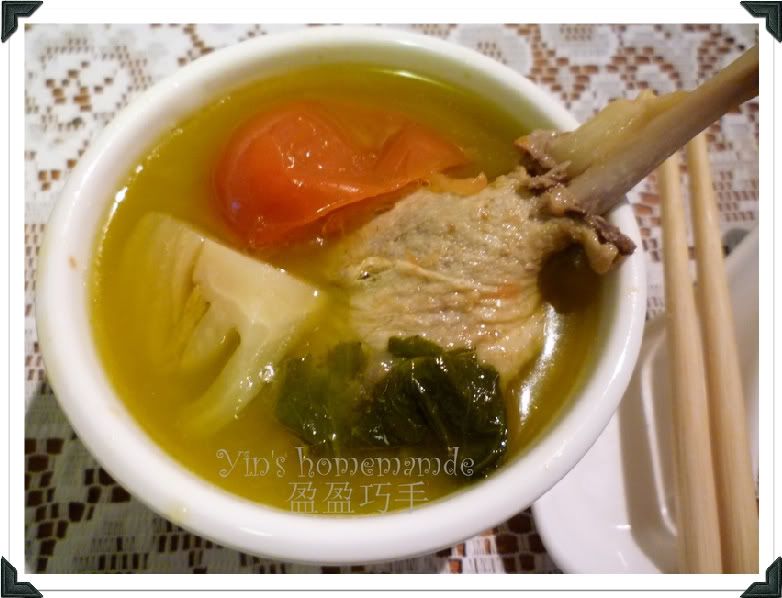 Salted Vegetables Duck Soup (Kiam Chai Ark) 咸菜鸭汤
咸菜鸭汤是娘惹菜系中的名汤也是潮洲和闵南人新年过节的必备之汤。
它的味道咸中带酸,有清热去火之功效,天气热没胃口,
一碗下肚马上胃口大开!
SALTED VEGETABLES DUCK SOUP (KIAM CHAI ARK)

Ingredients:

1/2 duck , cut into pieces
300g salted mustard green (best to use the type with less leaves)
4 pcs preserved sour plums
1 nutmeg seeds, cracked; use inner seed
3 tomatoes, quartered
5 slices old ginger
1 tbsp white peppercorns
1 pc Galangal (2 inches long)


Method:

Rub salt all over duck and rinse with water.

Blanch the duck in boiling water until half cooked.

Once half cooked, take out and cut half

Wash mustard greens, soak for 15 minutes, drain and cut into pieces.
White peppercorns lightly smash.
Bring to boil 2.5 litres of water in a pot, add all ingredients in.
Reduce heat to low and simmer for 1-1/2 to 2 hours or until the duck is tender.
Remove any excess fat by skimming the surface of the soup with a spoon and adjust taste with salt if necessary.
Tips:
You can add bean curd, mushroom, pig trotters depending on your preference.
咸菜鸭汤
材料 :
半隻鴨,斩大块
300克咸菜, 切粗块
3粒番茄, 切块
4粒咸水梅
1粒豆寇
1大匙胡椒粒, 拍开
5片姜
一块南姜
做法 :
鴨用盐洗净备用然后飛水至半熟.

咸菜泡水15分鐘﹔沥干水,

切粗块.

番茄洗干淨切

块

鍋內水沸后加入全部材料先大火后小火熬煮11/2 -2小時后即可熄火.

除去多余的脂肪,最后加入适量调味料,即可上桌享用。
小贴士
取决于你的偏好,你可以添加豆腐,香菇和猪蹄。