Pandan Victoria Sandwich
Victoria Sandwich is one of the classic English tea time treats. From the name you can easily guess it must be named after Queen Victoria, who favoured a slice of this sponge cake with her afternoon tea.
I adopted this cake recipe from Agnes Chang " I can bake".

You can have many variations by substituting the spreads with various kinds of fruit jam.
In conjunction with my Pandan series, for this first try, I made Victoria Sandwich in Pandan flavour, spread with my fresh homemade Pandan kaya (Coconut Egg Jam in Pandan flavour) , made earlier in the morning.
If you are keen to learn to make homemade
kaya
just click on the name to bring you to my old post on homemade
kaya
using microwave method which was faster and easier than the traditional way of kaya making.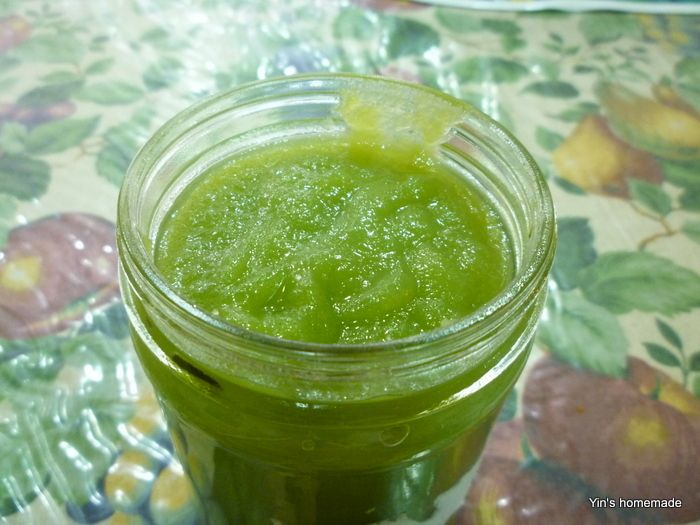 Homemade Pandan Kaya (

Coconut Egg Jam in Pandan flavour)
I brought the sandwich to the office and shared it in our office morning tea meeting.
J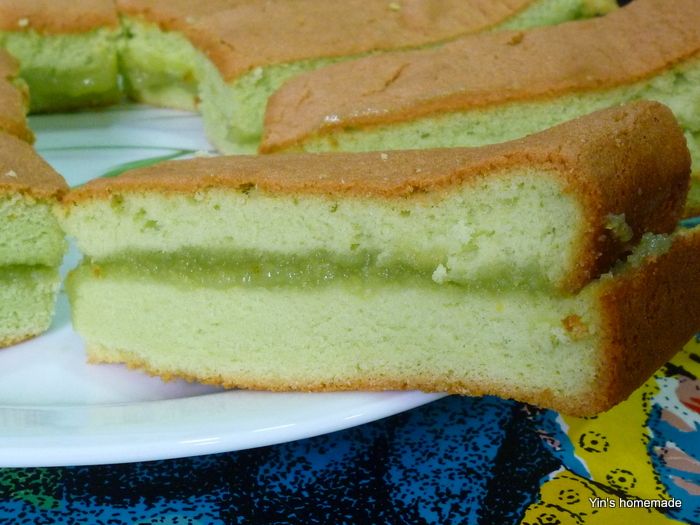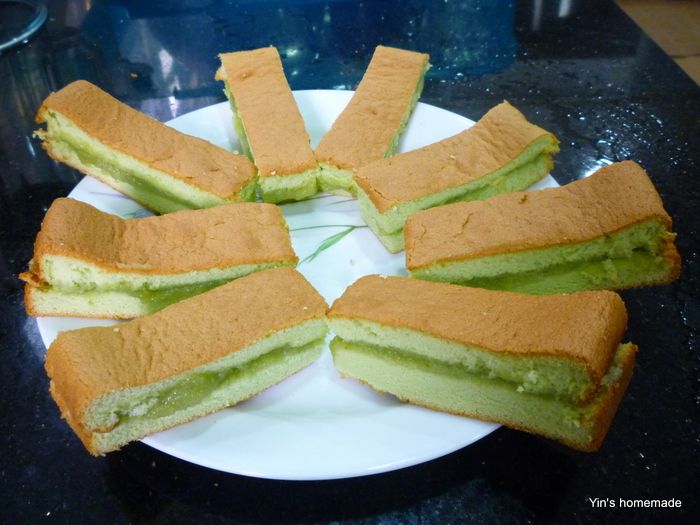 4 eggs
80g castor sugar
1 tsp Pandan paste
2 tsp Pandan juice ( I extracted from fresh Pandan leaves)
100g plain flour , sifted
4 tbsp
Kaya
(coconut egg jam), stirred until smooth


1. Use an electric mixer to beat the eggs and sugar until light and fluffy.
2. Add vanilla and mix well.
3. Sift 1/3 portion of flour over the egg mixture and fold in lightly. Repeat until all the flour has been used.


4. Pour cake mixture into a lined and greased 20cm / '8' square baking tin
5. Bake in a pre heated oven at 180 for 25mins to 30 min.
6. Remove from the oven, leave to cool before slicing into 2 layers.
7. Apply jam on one layer and sandwich with the other layer.
8. Cut into pieces and serve.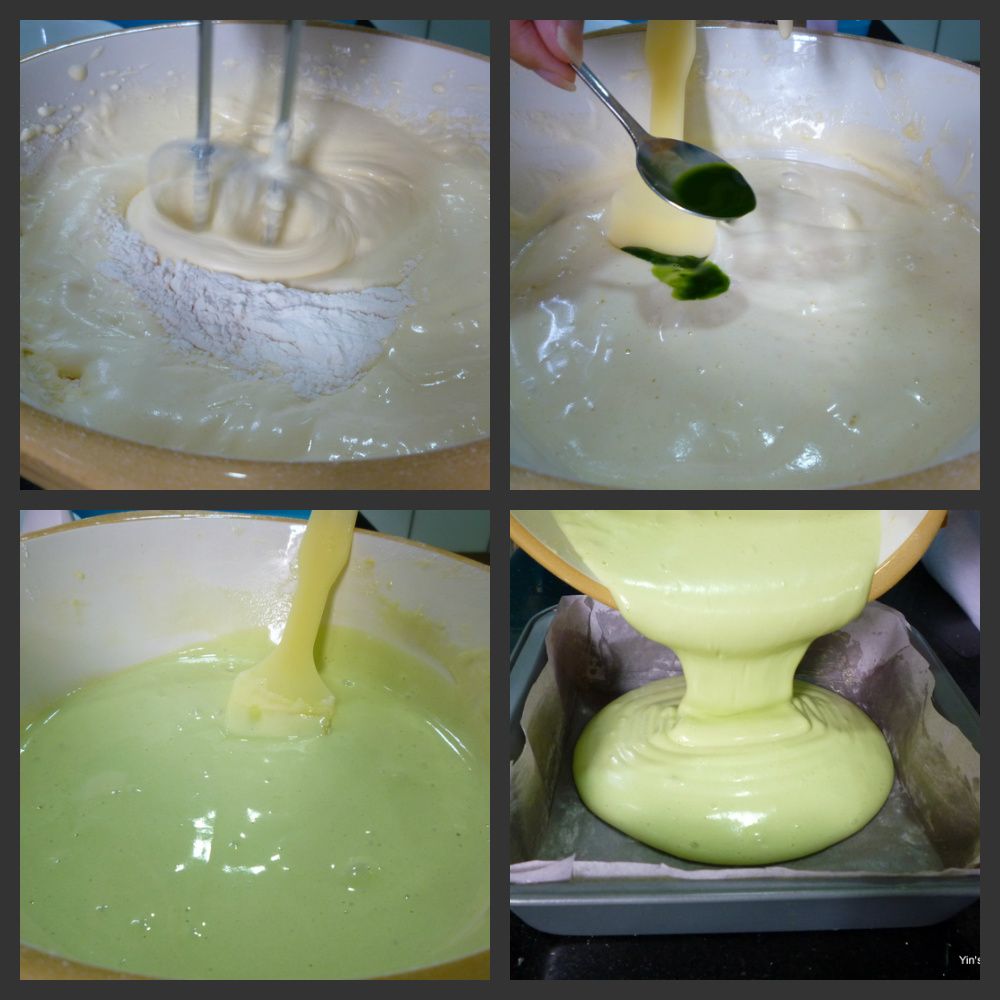 1.
Replace pandan paste/extract with Vanilla Essence
2.
Replace Kaya with strawberry Jam
Chocolate Cream Sandwich:
1.
Reduce 1 tbsp of flour and replace with cocoa powder sift together with plain flour
2.
Replace Kaya with Chocolate Genache Cream
1.
Substitute vanilla essence with 1 tbsp of freshly grated orange rind
2.
Use marmalade jam instead of Kaya.
2
茶
匙
班
兰汁(我从新鲜的
班
兰叶中提取)
100
克普通面粉,过筛
4
汤匙
加央
酱
(椰子鸡蛋酱),搅拌
方法:
1
。使用电动搅拌机拌打鸡蛋和糖直到轻和蓬松
变白
。
2
。加入
班
兰汁
/
精拌匀。
3
。
慢慢把
1/3
部分面粉筛在蓬松蛋液
上轻轻
拌匀
,
重复,直到所有的面粉已使用。
4
。
把
蛋糕的混合
料
倒入
已铺上纸及涂上油的
20
厘米
/'8'
方形烤盘
里。
5
。
送入已
预先加热到
180
度的
烤箱
里烘
烤
25
分钟至
30
分钟
及金黄色
。
6
。从烤箱中取出,待冷,
从横
切片
成
2
层。
7
。
涂上
一层
加央
酱
/
果
酱夹
上另一
层
蛋糕
。
8
。切成小块
即可享用
。
变化:
草莓夹心:
1
。更换
班
兰精
用
香草精
2
。用草莓酱代替
加央
酱
巧克力奶油夹心:
1
。减少
1
汤匙面粉
用
可可粉取代普通面粉
一起
过筛
2
。
巧克力奶油
取代
加央
酱
香
橙夹心:
1
。
1
汤匙磨碎的橘子皮代替香草精
2
。使用
香橙果酱
代替
加央
酱
。