Classic English Cake
When I found out our newly recruited HR manager was going to celebrate her birthday on Sunday, 29th April, I decided to make her a birthday cake to share it in our Friday morning tea meeting in conjunction with the welcoming of her joining the company.
However, given the short notice and a week day, I didn't have much time to prepare in the evening after work.

Eventually I chose to make a simple and easy cake. I was pleased Ray offered a helping hand that night and we had a fun bonding time in making the cake together.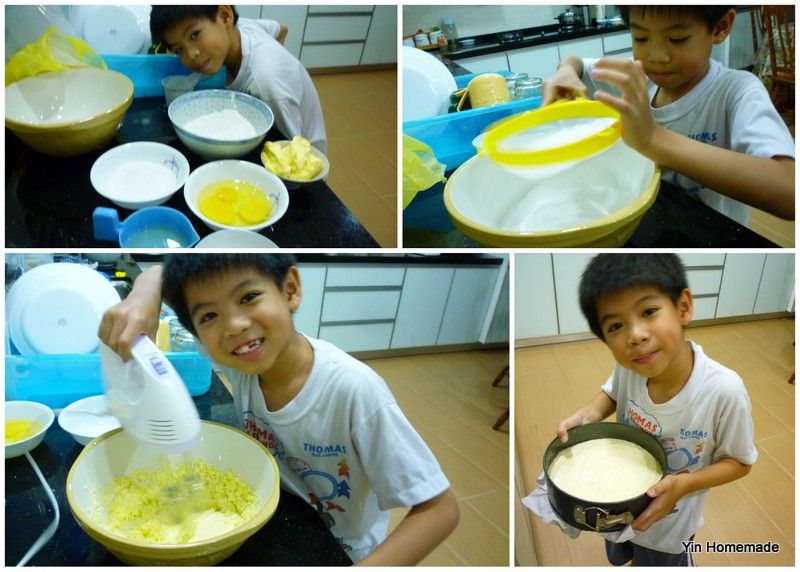 My handsome kitchen helper
Flipping through recipes, I came across this lemony and buttery Madeira cake. Following the Victoria Sandwich I made earlier, this was another classic and simple to make English sponge cake. This cake was traditionally consumed with a glass of Madeira wine, where the name of the cake originated from. Nowadays it is good to go with a cup of tea too.
This cake took longer baking time than usual, about an hour at lower temperature of 160 degree Celsius. Initially, when I saw the cake with cracked surface, I thought it was yet another failed project.
The next morning, I did some google search and was relieved to learn that it was normal for
Madeira cake
to have peaks and crack on the surface.

I found the cake texture to be very light and a bit dry. It is no wonder the English like it to go with Wine.
I was wondering if I should increase the portion of butter or reduce the baking time for my next trial.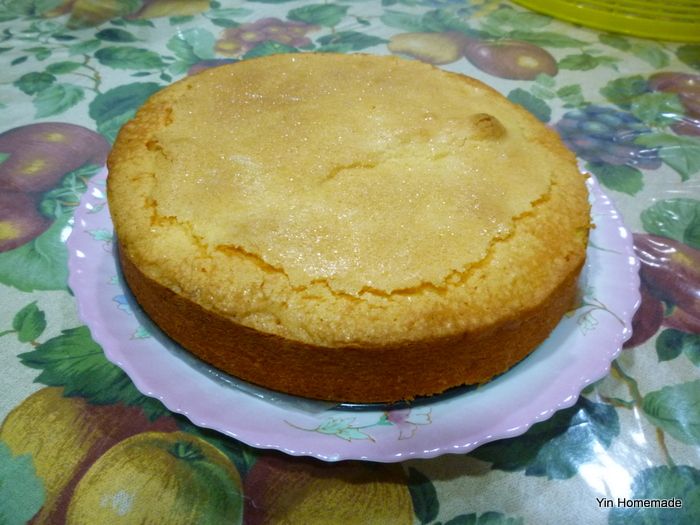 Madeira Cake
I was glad the birthday girl Sandee liked the cake; we had a small celebration at her office before sharing with the rest of the managers in our morning tea meeting.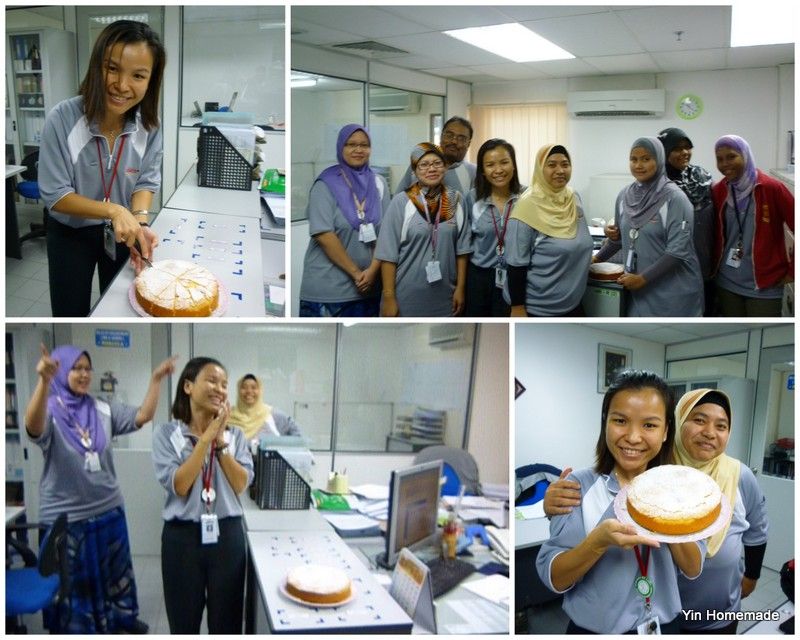 Happy birthday Sandee
MADEIRA CAKE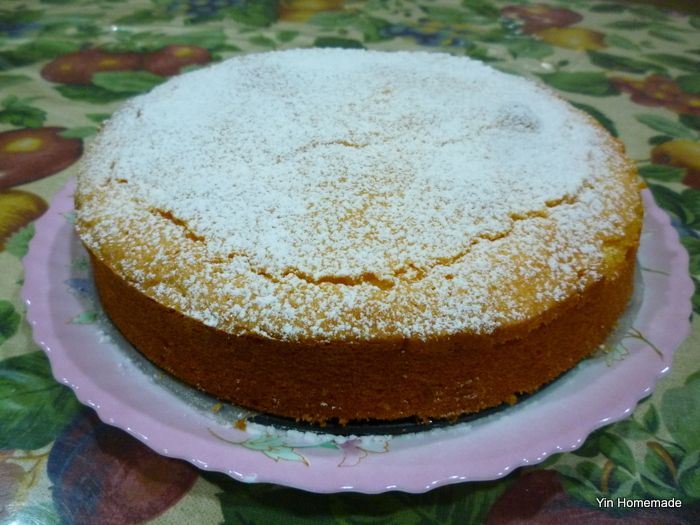 Preparation Time : 10 minutes
Ingredients (serves 6)
180g unsalted butter, softened
Use real unsalted butter. Margarine and spreads have too high water content.
3/4 cup (185g) caster sugar
3 eggs, at room temperature beaten
11/3 cup (165g) self-raising flour, sifted
2 tsp finely grated lemon rind
1 tsp

lemon juice ( I use more – I whole lemon)
2 tsp caster sugar , extra to sprinkle
Method
1.
Preheat oven to 160°C (315 F). Lightly grease and line the base and sides of an 18CM (7") round cake tin.
Use an electric mixer to beat butter and sugar in a bowl until pale and creamy. This will take about 5-10 minutes.
3.
Add eggs, one at a time, beating well after each addition.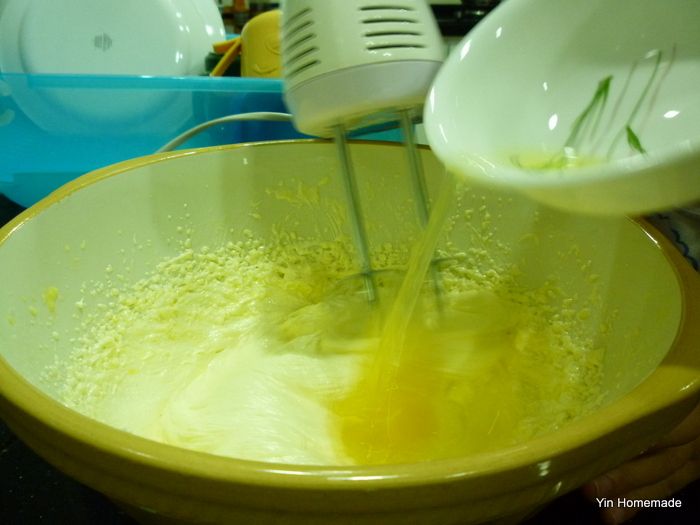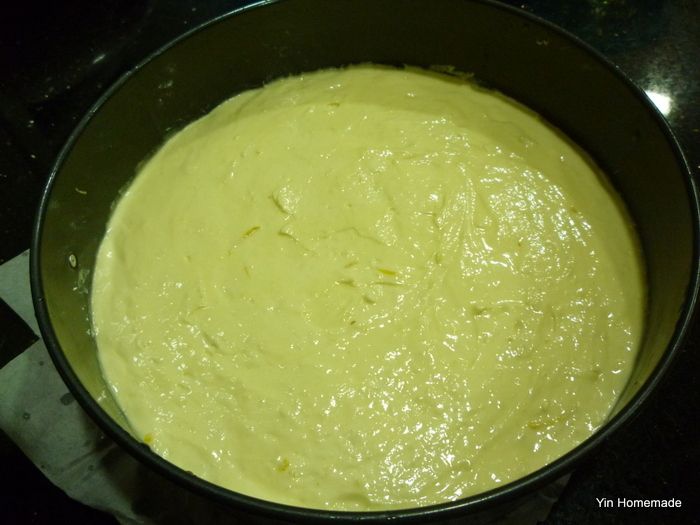 6.
Sprinkle extra sugar on top.
7.
Bake for 1 hour or until a skewer inserted in the centre comes out clean.
8.
Allow to cool in pan for 15 minutes before turning onto a wire rack to cool completely.
If desired, dust with icing sugar and garnish with lemon zest.
180
克无
盐牛油
,
软化
使用无
盐牛油
。人造牛油有含水量
过高。
细砂糖
3/4
杯(
185
克)
3
个
鸡蛋,拌打
1 1/3
杯(
165
克)
过筛
自
发面粉
2
茶匙精
细磨碎的柠檬皮
1
茶匙
柠檬汁(我用
-
我整个
柠檬)
2
小匙
额外细砂
糖,
洒
糖粉
装饰
1
汤匙柠檬皮
方法
1
。将烤箱
预热至
160
℃
(
315 F
)。
2
。使用
电动搅拌机
拌打无
盐牛油和糖
直到
轻和蓬松变
白
,
这将需要大约
5-10
分
钟。
3
。加入
鸡蛋,一次一个,每次加入后
拌匀
。
4
。加入
过筛
自
发面粉
,
柠檬汁和柠檬皮搅拌均匀。
5
。把蛋糕的混合料倒入已
铺上纸及涂上油的
18
厘米
/'7'
圆
形烤
盘
里
,
稍微颠一颠模子

,
平整面糊。
6
。在蛋糕的混合料上面洒上
砂
糖。
7
。将蛋糕糊放入
预热好的
烤箱
,

烤
1
个小
时,直到插入串在中心
,

串出来干净即可。
8
。烤好后,将模子
冷却
15
分
钟
,
再
脱模。
9
。如果需要的
话,
洒上
糖粉和柠檬皮装饰
。