Chinese New Year Dishes – Part 4(

年菜之四)
Last Thursday (3
rd
February) was the first day of 2011 Chinese Lunar Year, the beginning of the Rabbit year. First day of Chinese New Year (年初一)to me is a very special day, because I was born on this day too! When I was small, my mum used to celebrate my lunar birthday together with family reunion dinner on this day. I always like to think that when the whole world is celebrating CNY, they are celebrating my birthday too!
J
I was disappointed, but expected, to note Chinese New Year was not observed as public holiday here. It was a normal working for JS. After a long summer break, Ming Ray began his first school day of year-2 on this day too. With them away, we weren't able to have much family celebrations, but I still followed the Chinese culture, by giving Ming Ray a red packet "
Ang Pao
" before sending him to school. However, thanks to my ex-computing cooking group, I still had an enjoyable CNY lunch sharing cum a small birthday celebration on this day after all.
This time the lunch sharing was organized at Vera's house. Like the past lunch gatherings, other than each cooking member bringing a plate for lunch, the host would also give cooking demonstration on her specialty. To celebrate CNY, Vera had shown us the making of Kok Chai (油角仔) which was a "must have" snack during Chinese New Year in her home town in Hong Kong. This little crispy dumpling has peanut as fillings, it is also called peanuts puff. The deep fried golden colour and shape of the puff is similar to gold bullions and a symbol of wealth.
这是香港人过年必有的小吃,
油角仔
,因为包的是花生馅所以也叫花生角仔! 金黄金黄的油角,像铊铊黄金锭,很有新年好意头!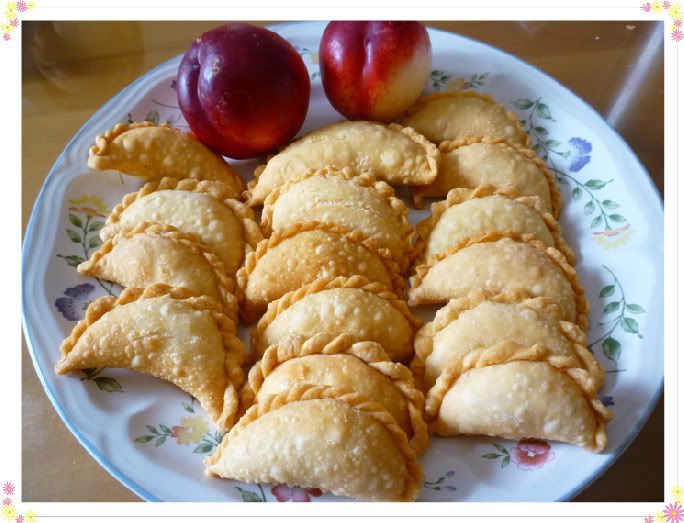 Crispy Dumplings (Kok Chai) 油角仔 - Featured in Group Recipes 11/02/2011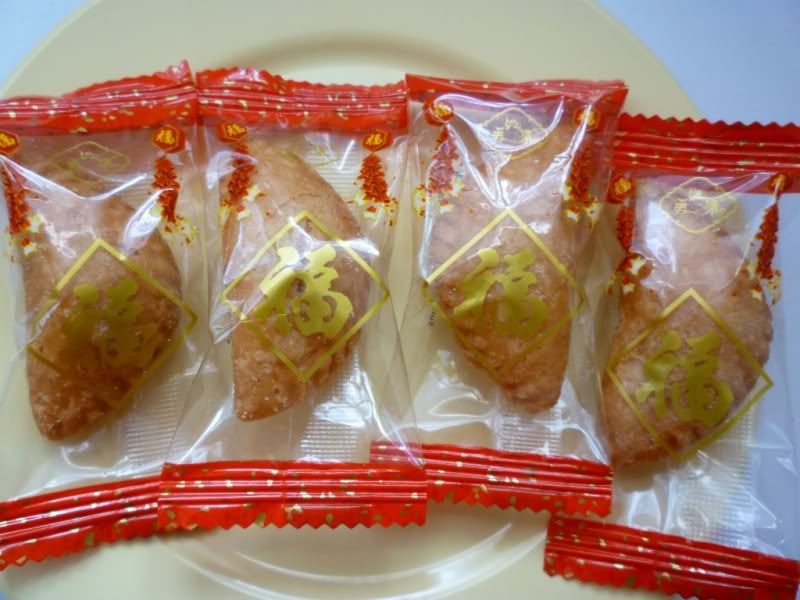 Commercial made mini Kok Chai - CNY gift set
Sharing the highlights of our lunch sharing and cooking demostration.
CRISPY DUMPLINGS(KOK CHAI)
Credit to Vera on recipe sharing


Ingredients:
Pastry
600g high ratio flour/Cake flour
(Chlorinated or high ratio flour, also known as Hong King flour, is special cake flour that is able to hold large amounts of liquid. This gives the cake produced a very soft crumb and a light, moist, fine texture. They are also sweeter, have greater volume and a longer shelf life than cakes made with standard flour - extracted from Bake Info

If cake flour not available, you can also try to turn all purpose flour into cake flour using following method. I extracted this from Joy the baker. )
120 gm. margarine or butter or lard
120g cold water
2 large eggs

Filling:
300 gm. roasted peanuts – panfry skinned peanut, then remove the skins and chopped fine
80gm. roasted sesame
200 gm. caster sugar
20g shredded coconut
Oil for deep-frying(2 liters )

Method:
For pastry:
Using the food processor/bread maker, put margarine, flour and eggs and water into the machine until it becomes a dough. Rest for 30 minutes to allow dough fully absorb the oil, egg and water.

For filling:
Mix all the ingredients together.

To make the puffs pastry:
Use the pasta machine to roll pastry or hand roll using rolling pin into a thin sheet and use cookie cutter to cut into 1 3/4 - 2 inches rounds.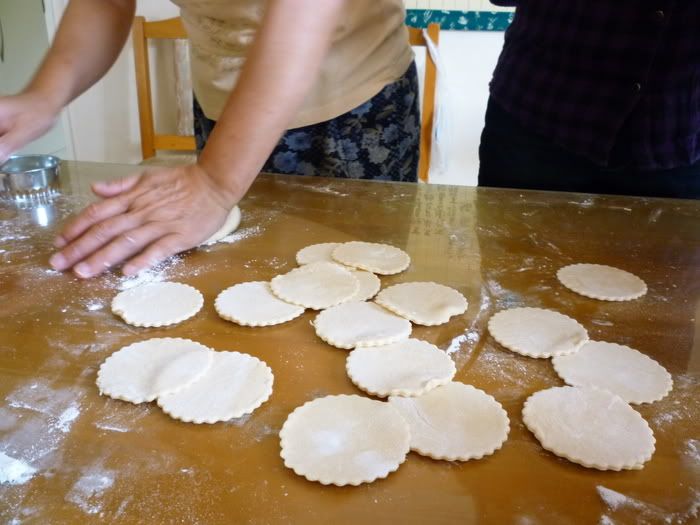 Put in 1/2 tsp of filling into the center of cut pastry and wrap up filling. Pinch edges neatly.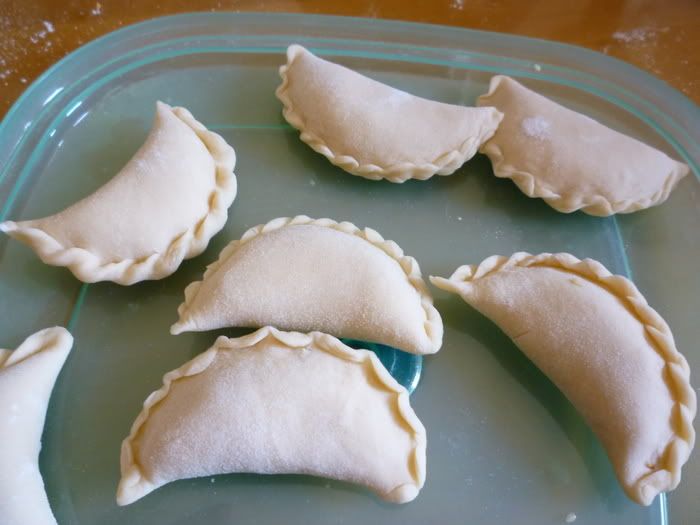 Heat up oil to 170

℃

for deep-frying peanut puffs and fry till golden brown using medium heat. It takes about 8 minutes.Remove and leave them on cooling rack.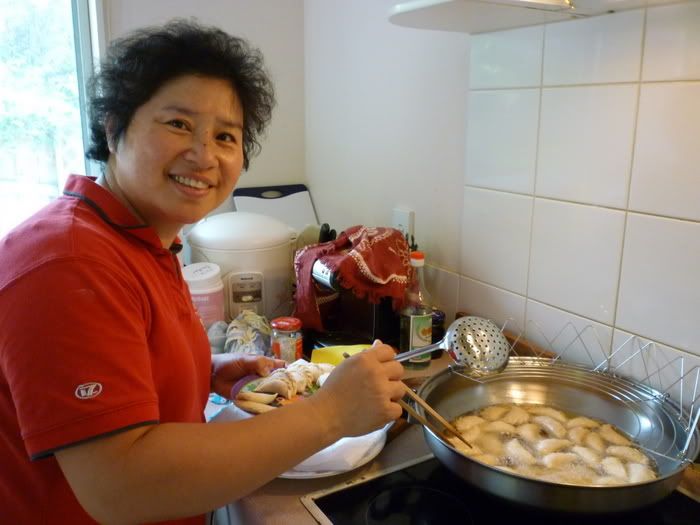 our Hong Kong born host - Vera

Let it completely cool before storing into containers.

Tips:
Don't knead the dough too long will make dumplings skin not crispy but chewy. Rest dough for 30 minutes to allow dough fully absorb the oil, egg and water. This will make crispy dough skin when deep fry.
油角仔

皮材料 :
600g低筋麵粉
120g菜油或豬油
120g水
二粒蛋

餡材料 : (份量隨個人喜愛)

80g芝麻 (用慢火炒香待涼)
300g有衣花生
20g椰絲
200g砂糖

做法 :

用白鑊炒有衣花生, 去衣, 待涼後捣碎,(有衣花生不易炒燶) 將花生,芝麻及糖拌勻,備用。
將麵粉篩入大碗中,加入菜油(猪油),拌勻 逐少加入水 ,搓和成耳垂般软的面团,用濕布蓋住休息半小时。
在台上灑上麵粉,取出一小份粉糰,用麵棍壓薄,用杯子印成小圓模取起小圓模,包入適量餡料,對摺成半月形後再用力壓實. 用手指拉出邊位再屈摺入, 每摺入一次就再拉出一次直至尾部為止,收口鎖邊 (Crimping)。
烧热油后約170 ℃,转中温,炸到金黄香脆(約八分鐘)。放涼架或用廚房紙瀝乾油份待涼即成.
貼士搓粉糰時不能太用力,搓至粉糰有筋性,油角便不鬆化;搓完更要靜置半小時,讓其完全吸收豬油、蛋汁及水,炸起來才鬆化。