Tang Zhong (Water Roux) Bread Making Part 2 – The success
As our old Chinese proverb quotes "failure is the mother of success". I was not held back by the last 3 tumbles I experienced with Tangzhong bread making. I moved on to try out Yvonne Chen's Tangzhong White Toast bread recipe and this time I finally got it right! I felt so contented the moment I sliced open the center of the loaf and revealed cottony, fluffy and spongy texture
J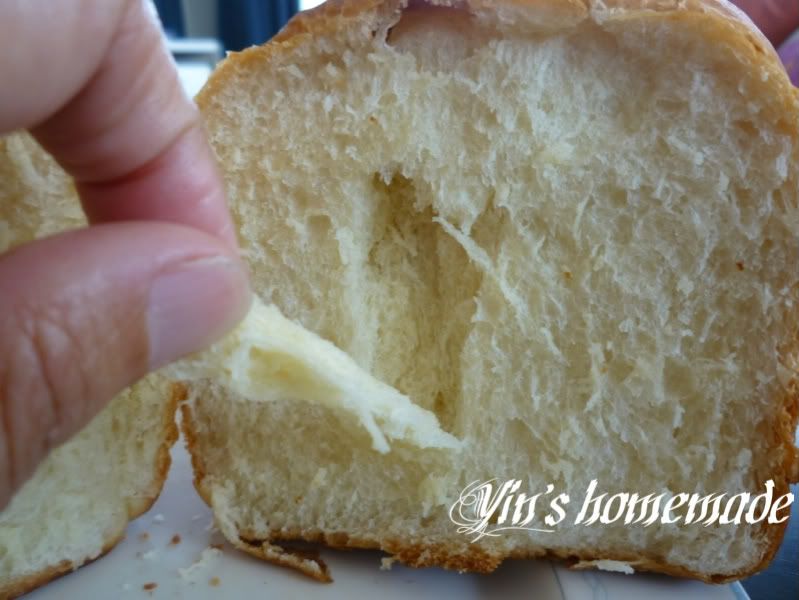 Fluffy and spongy Cottony Toast Bread 波特吐司 (湯種法)

Cottony Toast Bread (Featured in Group Recipes 17/11/2010)
Compare to the direct bread making method, the dough using water roux method is much stickier. No wonder many suggested using dough mixer to do the mixing and kneading for Tanzhong bread. But, if you like the idea of 100% handmade then you must prepare to stick your hands into gloppy and gooey mess dough. I tried to use wooden spatula to mix the dough as much as possible until the dough was too sticky to move then only I used hands. In my opinion, the final kneading was the most tiring part; I spent 15 minutes to totally blend in the butter to form glossy, smooth and stretchy dough. Overall, it took me about 40 to 45 minutes of hand mixing and kneading time before the dough was ready for it first proof.
This recipe I shared was based on my hand kneading experience; for original recipe using machine kneads you can refer to
Christine Recipes
of her Tanzhong
Hokkaido Milky loaf
.
繼續閱讀中英对照食谱
COTTONY TOAST BREAD (WATER ROUX STARTER)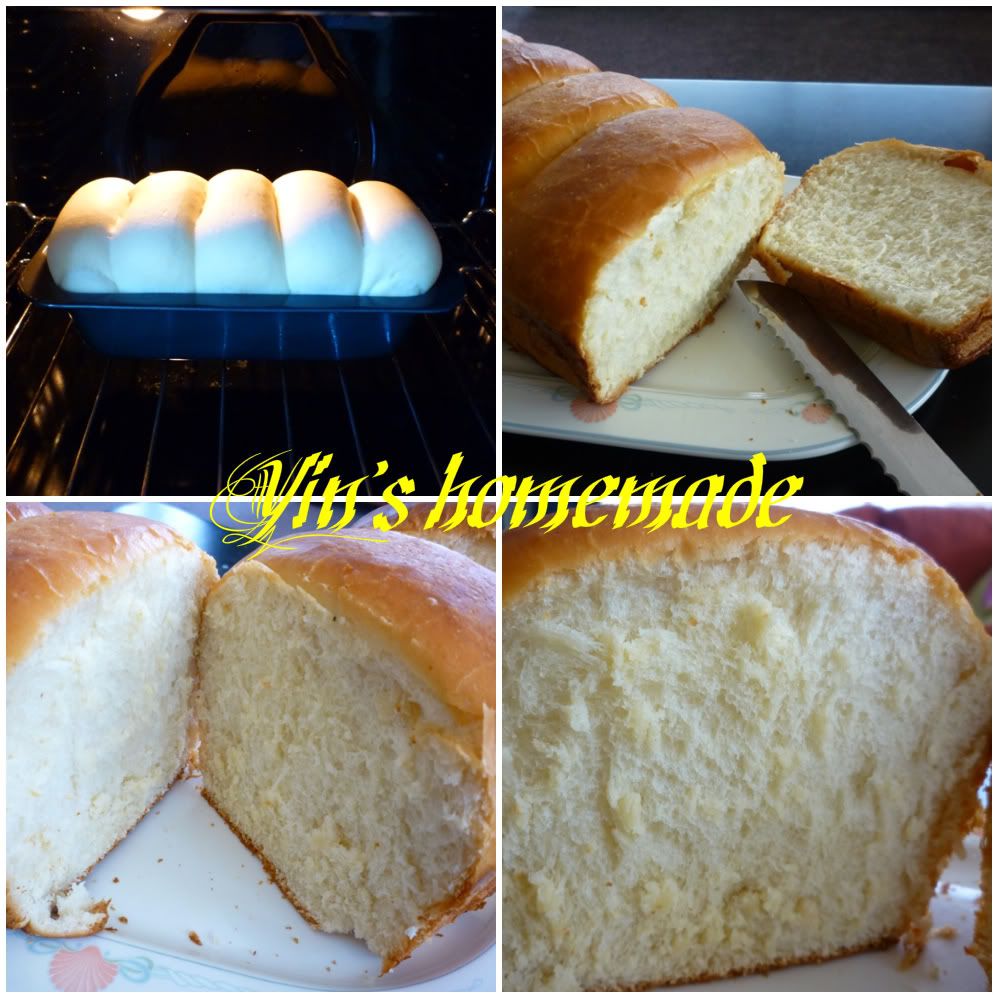 INGREDIENTS:
Bread Dough :
A:
365g high grade flour (Bread Flour )
12g Milk powder
7g Salt
30g caster Sugar
8g Instant Dry Yeast
B:
150ml Milk
120g Tangzhong ( 50g High grade flour : 250ml Water )
C:
30g melted Butter
TANGZHONG (WATER ROUX STARTER) MAKING METHOD::
Basic Formula:
The ratio of flour to water is 1:5
This means mix up 1 part of High grade flour (Bread flour) with 5 parts of water (by weight) at 65°C to form runny dough with traces. By traces means you can forms impressions by stirring the paste.
DIRECTION:
Dissolve high grade flour in a bowl with water, bring to stove and heat up the mixture.

Continue to stir to combine the mixture until form traces.

Remove from heat and let it cool at room temperature (few hours) before use or

Wrap mixture with plastic wrap and leave in refrigerator overnight.
Notes:
This Tangzhong starter can be kept for 1-2 days in refrigerator. However, discard once the mixture turns grayish.
DOUGH MAKING METHOD: (HAND KNEADING METHOD)
Sieve flour into mixing bowl; add in the rest of ingredients A. However, avoid having the salt come in direct contact with the yeast which might dehydrate and kill the yeast.
Pour the ingredients B and use spatula to mix the dough until the dough was too sticky to move then start using hands to knead the dough in the mixing bowl.
Initially, you will experience very gluey dough, just continue to mangling with the dough, after 10 minutes it will gradually firm up.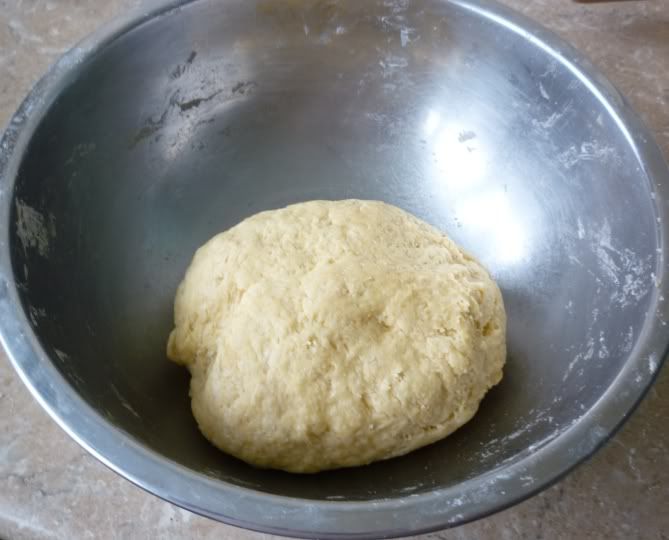 Once the dough firm up, you can start to knead the dough on a clean, smooth surface that's at a comfortable height. I did not flour the surface, the more I knead the dough the less sticky the dough became.
It took me at least another 10-15 minutes to knead to transform the initial glob of gooey dough into smooth dough which ready for the final ingredient C.

Check to evaluate on the gluten development of the dough before adding in butter. The dough should be stretchy.
Place the dough back into mixing bowl and pour in melted butter, knead to combine.

Be prepared to deal with oily dough for another 10 minutes before the butter totally blend in.

Once the dough was not so oily, move back to kneading surface and continues to knead until forming shiny, smooth and elastic dough. (It took me about 15-20 minutes)

Test by pulling the dough into thin sheet. If dough not easily breaks off, the dough is ready for its first rises.

Once the dough double in size (Finger test – Poke finger into center of the dough and depression not rise up, dough fully proof ) punch it a few times to deflate it (using hand knuckles)

Divide dough into 5 equal portions and shape them into balls. Covered and leave them to rest 15 minutes.

Shape each into an oval shape. Place them into a greased loaf pan, covered with greased plastic wrap and leave dough to proof for 2nd time.

Preheat oven 180°C and bake for 30 minutes. Instead of using egg wash, I spray the bread dough with little water before I place the loaf pan into the center of the oven.

To avoid over burnt crust, after 15-20 minutes of baking, I use foil lightly cover the bread and continue to bake until the required time.
Notes:
For this recipe, I had revised down to 77% from original measurements. This was because I was running out of high grade flour and the amount of flour I had on hand was only 77% of the original recipe.
波特吐司 (湯種法)
汤种材料:
高粉50克,水250克
高粉和水混合搅匀,开小火慢煮,要不停的搅拌以防粘底,搅拌到面糊有纹路或温度65度时离火,盛出让它在室温冷却(几个小时)后再使用。汤种面糊用不完,可冷藏保存1-2天时间。收至面糊变灰色就不可用。
A: 高粉365克,白砂糖30克,盐7克,干酵母8克,奶粉12克,
B: 牛奶150克,汤种120克,
C:牛油30克
做法
將材料放入攪拌盆, 加入材料 A, 把酵母和糖、鹽分開放。以免脫水。
再加入材料B后用抹刀将面粉攪拌成团,直到面团太粘,才开始用双手揉面团。
最初5分钟,你将体验非常黏手的面团,只要继续揉,面团将逐步成形。
一旦面团成形,你可以开始把面团倒在干净光滑的台面继续揉。不需要在台面上撒粉。
我花了至少10-15分钟才把面团搓成有弹性和筋膜的面团。
然后把面团放置回盆里,加入融化的牛油。这时你将面对很油腻很不像样的面团。
但坚持搓下去,10分钟后,一旦面团没那么油腻,回迁台面揉面至光滑,富有弹性可扩展阶段的面团。把揉好的面团放入干净的容器中,跟着用保鲜膜盖好,作第一次发酵,至面团发大两倍。(手指测试 - 将手指戳下面团中心起不来,就证明面团充分发酵)
用手关节拍下排去面团内部的空气,分割成5份滚圆,松弛15分钟

。
将5份面团擀成椭圆形;自上而下卷成圆筒状,收口朝下,依次放入排入抹油的面包盘或吐司盒用保鲜膜覆盖继续进行最后发酵。把烤箱预热
180度。我没在面团上塗蛋液我只用少量的水喷在面包团才放入烤箱中烘烤30分钟。为了避免面包过于上色,烘烤15-20分钟后我就用铝箔轻轻盖上面包,继续烘烤,直到所需的时间。出炉后立即脱模。