Welcome to my Malaysian Kitchen
For years, I used to do my marketing at the neighbourhood weekly
Pasar Malam
(night market). I like to shop there as I can enjoy a variety of local foods while buying fresh and cheaper vegetables, fruits, fish, poultry and meats. Last Monday, I resumed my marketing routine there and was delighted to buy these young fresh eggplants.
For the past 2 years in Auckland we hardly ate eggplants. Not that eggplants were not easily available in NZ but the local eggplants found in NZ had a much firmer texture and not as tasty. Whereas the imported Asian eggplants were expensive in Auckland.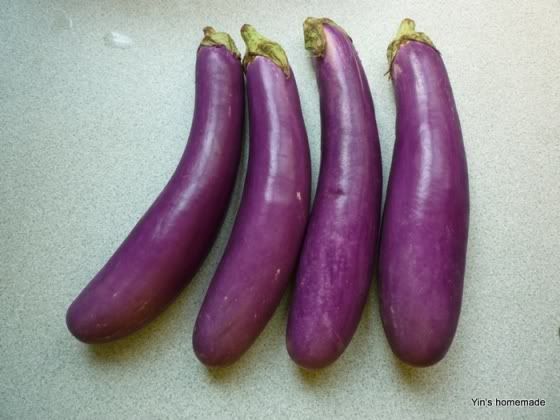 Initially, I was thinking of making steamed eggplants with minced meat. Once I had the eggplants washed and the skin peeled off, I recalled Ming Ray liked to eat deep fried eggplants. Therefore, I changed my mind to try out this stir-fried recipe from
Yummy Yummy Hawkers' Fair
.
In general, it is preferred to keep the eggplant skin for deep frying, but since I had already removed the skin, I proceeded with them skinless.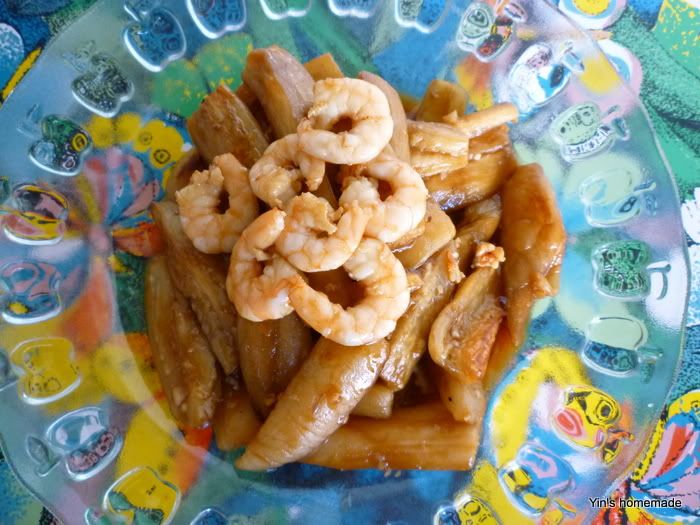 Eggplant with Prawns 香滑茄子虾仁 featured in Group Receipes 30/05/2011
EGGPLANT WITH PRAWNS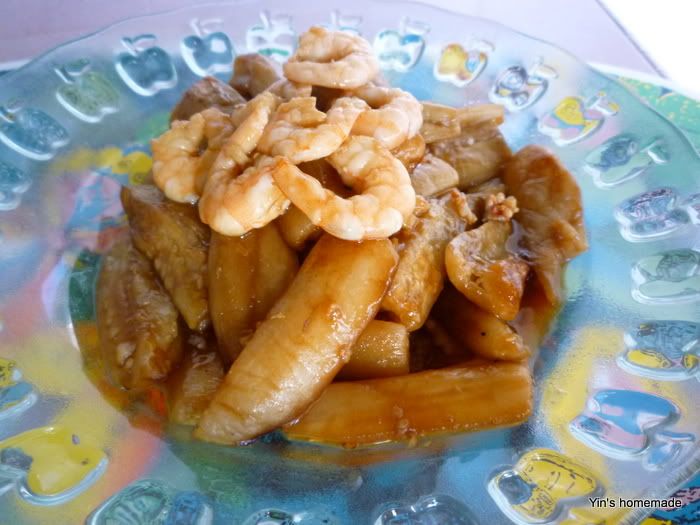 INGREDIENTS:
300g eggplant
100g prawns
1 tbsp chopped shallots/garlic
2 red chillies, removed seeds and chopped (optional)
2 tbsp chopped spring onion (optional)
Oil for deep frying
SEASONING:
1 tbsp light Soya sauce
1 tbsp Oyster sauce
Dash of pepper and sesame oil
3 tbsp water (more if prefer saucy)
1 tsp corn flour mixed with 1 tbsp water for thickening
METHOD:
Cut eggplant into strips and deep-fry until cooked. Dish and drain, place onto a serving plate.

Leave 1 tbsp oil sauté chopped shallots/garlic until fragrant. Add in chilli, prawns and stir well.

Add in seasoning and stir-fry until well mixed.

Thicken with corn flour water, garnish with spring onion and stir well.

Pour the sauce over fried eggplant and serve hot with rice.
材料

:
300克茄子
100克虾
一汤匙切碎的葱/蒜
2个红辣椒,去种子和切碎(可选)
2汤匙葱花(可选)
2杯炸油

调味料:
1大匙酱油
1汤匙蚝油
少许胡椒粉和麻油
3汤匙水
1茶匙粟粉,加入1汤匙水拌均打芡用。

方法:
1。茄子切成条状,然后放入热油炸至熟。捞起沥干油分,上碟 。
2。留一汤匙油爆香葱头/蒜末,加入辣椒,虾,炒匀。
3。再加入调味料,炒至均匀
4。勾芡,撒上葱花,搅拌均匀。
5。把酱汁倒入炸过茄子,配上白饭享用.