Home-made authentic Hakka Cuisine- Part two
Writing the
Hakka Lo See Fun (Rice Pin noodles) with Minced Pork
post reminded me this great noodle making experience I had in 2009 when I first moved to Auckland.
When we first shifted to Auckland, we were blessed to have a group of Auckland based Malaysian friends' support to ease our settling down. Many of them were JS University mates who migrated years before us. With their help, our transition was painless and swift. I was especially thankful to build up good friendships with their wives. The wives gang had helped ease my anxiety. I was able to connect to a new social network in New Zealand in no time.
Among of them, Yenny was one of the warmest and most generous friends we made in Auckland. With her hospitality, we put up at her house as our initial accommodation until we moved to our rented house 2 weeks later. She was also the one who always came up with great ideas in celebrating big occasions and generously offered her house to host families gathering. I regarded her as wives' club Chairlady. :-P
This recipe was shared by her when she initiated a cooking gathering at our Auckland house in welcoming me to join the wives club. I had enjoyed so much in this noodle making process, not only we had great bonding time,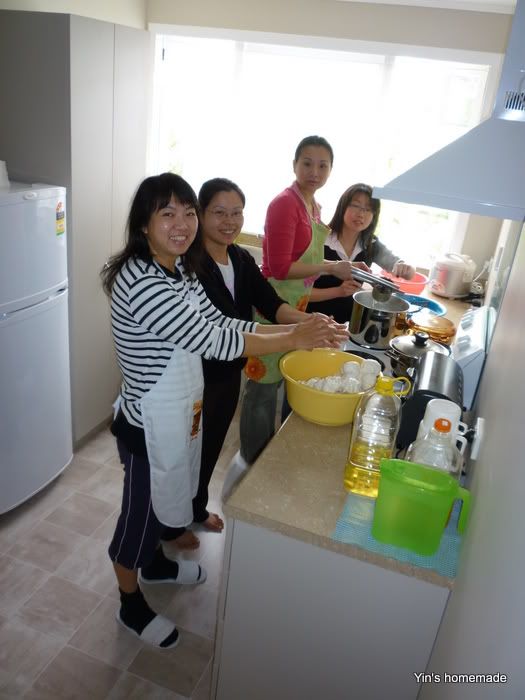 Yenny the Chef (in Pink) and her 3 kitchen helpers - Yin, WC and PY
I got to taste the homemade Lo See Fun which was not available in Auckland. Some other types of rice noodle like Hor Fun (Koey Teoh) 粿条, Lai Fun (濑粉 )are easily available in Asian grocery shops in Auckland but not Lo See Fun (老鼠粉/米台目).
After some sweating out, it was time to sit down and enjoyed the noodles with my Penang Assam Laksa soup.
HOMEMADE LO SEE FUN
INGREDIENTS:
A
2 packets Rice flour (500g/packet)
1 packet and 1 rice bowl Tapioca starch
1 rice bowl wheat flour
B
1 rice bowl cooking oil
2 rice bowls hot water
2 rice bowls water (room temperature)
METHOD:
Place A in a large mixing bowl and mixed well.

Gradually add in cooking oil, hot water and cold water and stir well and knead to form rice dough.

With the help of JS's strong hands

Boil a big pot of hot water, using a potatoes press/ ricer press rice dough into rice pin shapes and add into the hot boiling water.



Once rice pin floats on surface, the noodle is cooked. Use a strainer to dish up and place into a pot of cold water.

Drain up the noodle from the cold water and mix with cooking oil to prevent the rice noodles from sticking together.




Separate into bags and refrigerator, it may last for a week. For longer storage, keep in Freezer compartment.
Tips:
To have fresh noodles texture, is ok to leave outside on the day made. If not consume within 24 hours then only keep in refrigerator.



自制老鼠粉



老鼠粉是大马与新加坡人喜欢的米粉面食之一,它也就是台灣人的

"米台目"或香港人的"銀針粉

材料:

A
2包粘米粉(500g/packet)
一包和1碗木薯粉
1碗澄粉

B
1碗食油
2碗热水
2碗水(室温)

制作:
1。把干粉放置在一个大碗里搅拌和混合好。
2。慢慢加入食油,热水和冷水,搅拌均匀后搓揉成面团。
3。煮一大锅热水,用土豆挤压器/挤压面团成针形状。假如没有挤压器, 就用手把面团搓成细长型,然后一粒粒的拉断它,让它看来有老鼠粉的样子后,直接挤到滚水里的锅内煮。传统方法是在

锅上架置一块打满圆洞的铁皮或米台目枋,将粄团放在枋上,像搓洗衣服双手不断在枋上搓擦,粄脆便和钟乳石一样成细条状。




4。一边挤边搅动以防粘锅,一旦

老鼠粉

浮在水面上,面条煮熟捞出,倒入一盆冷水过冷河。





5。冷却后再捞出加入食油以防

老鼠粉粘合在一起。
6。分隔成袋,放入冰箱可保持一个星期。也可放进冷藏室贮存,以保存较长时间。



温馨提示:


当天做的老鼠粉可在24小时内不需要放进冰箱,可以等到过了24小时才放入冰箱以保持更久。