Healthy Vegetarian bread
Ever since I successfully made my 1
st
loaf of
Tangzhong (Water Roux Starter) bread
, I was addicted to its super soft and fluffy texture. Whenever I think of baking bread I would try out as many variations of Tangzhong bread recipes as possible. With ingredients such as instant oat and sugar-free soya milk, this one was a healthy and nutritious bread and especially great for vegetarians.
The original recipe also suggested adding raisins which I excluded as both Ming Ray and I do not like raisins in bread.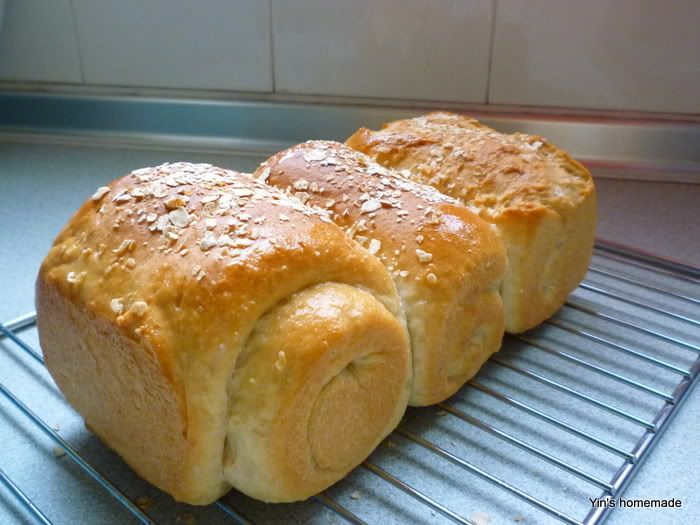 Instant Oat Soya Milk Bread 豆浆麦片土司

INSTANT OAT SOYA MILK BREAD
INGREDIENTS:

A: Oat Tangzhong(Water Roux Starter )
50 ml Soya Milk (sugar-free)
15g Instant Oat
5g (1tsp) High grade flour
Method:
Mix all A ingredients in a small pot, stir well at low heat on stove until creamy.

Remove from heat and let it cool at room temperature (1 hour) before use or

Wrap mixture with plastic wrap and leave in refrigerator overnight.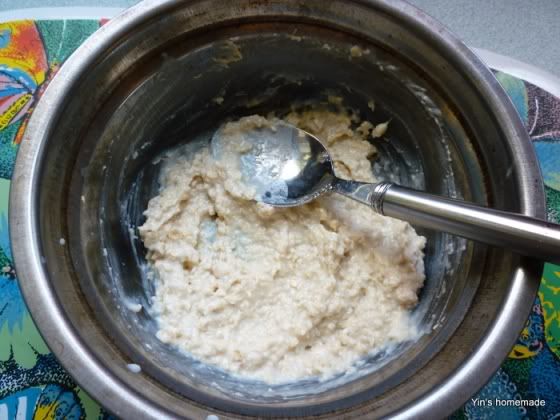 B:
210g high grade/protein flour (Bread Flour )
20g caster Sugar
3g (½ tsp + ¼ tsp) instant Dry Yeast
¼ tsp Salt
110 ml Soya Milk(sugar free)
C:
20g melted unsalted butter
D: (optional)
50g Raisins (chopped)
DOUGH MAKING METHOD: (HAND KNEADING METHOD)
Pour bread flour into mixing bowl; add in the rest of ingredients B. However, avoid having the salt come in direct contact with the yeast which might dehydrate and kill the yeast.

Add in ingredient A and use spatula to mix the dough until the dough is too sticky to move then start using hands to knead the dough in the mixing bowl.

Initially, you will experience very gluey dough, just continue to mangle the dough, after 10 minutes it will gradually firm up.

Once the dough firms up, you can start to knead the dough on a clean, smooth surface at your comfortable height. I did not flour the surface, the more I kneaded the dough the less sticky the dough became.

It took me at least another 10-15 minutes to knead to transform the initial glob of gooey dough into smooth dough which was ready for the final ingredient C.

Check to evaluate on the gluten development of the dough before adding in butter. The dough should be stretchy.

Place the dough back into mixing bowl and pour in melted butter, knead to combine.

Be prepared to deal with oily dough for another 5 minutes before the butter is totally blended in.

Once the dough is not so oily, move back to kneading surface and continue to knead until forming smooth and elastic dough. (It took me about 10-15 minutes)

Test by pulling the dough, it should be stretchable to form a thin sheet and does not easily breaks off. The dough is then ready for its first rise.

Once the dough becomes double in size (Finger test – Poke finger into center of the dough and depression does not rise up, dough fully proof) punch it a few times to deflate it (using hand knuckles). Cover and leave dough to rest for 15 minutes.

Roll dough into 20cm square shape; turn over and sprinkle with chopped raisins and press flat by hand. Cut into 3 equal length, place into a greased dish or toast bread boxes covered with plastic wrap and continue to proof for 2nd time. (I skipped the step 12 of sprinkle raisins as my boy dislikes nuts and raisins)

Preheat oven to 190 degrees. Brush egg wash, sprinkle with oatmeal and bake for 30-35 minutes.

Instead of using egg wash, I spray the bread dough with water before I place the loaf pan into the center of the oven.

To avoid over burnt crust, after 15-20 minutes of baking, I cover the loaf tin with lid, you can also lightly cover the bread and continue to bake until the required time is reached.
豆浆麦片土司
这配方也是摘自孟老师100道面包,十分健康的超软面包。
A:高粉1 茶匙 (5克),无糖豆浆奶50克,即食

燕麦片15

克
将A材料放入锅内

,

用橡皮刀拌匀后,小火煮,边煮边搅拌,煮成团状,盛出让它在室温冷却(1个小时)后再使用。也可冷藏保存隔天使用。
吐司材料:
B:
高筋粉210克,细砂糖20克,盐1克,豆浆110克,酵母粉3克(½ 茶匙 + ¼茶匙)
做法:
將B材料放入攪拌盆,要把酵母和糖、鹽分開放。以免脫水。再加入材料 A,后用将面粉攪拌成团,直到面团太粘,才开始用双手揉面团。

最初5分钟,你将体验非常黏手的面团,只要继续揉,面团将逐步成形。

一旦面团成形,你可以开始把面团倒在干净光滑的台面继续揉。不需要在台面上撒粉。我花了至少10-15分钟才把面团搓成有弹性和筋膜的面团。

然后把面团放置回盆里,加入融化的牛油。这时你将面对很油腻很不像样的面团。

但坚持搓下去,5分钟后,一旦面团没那么油腻,回迁台面揉面至光滑,富有弹性可扩展阶段的面团。把揉好的面团放入干净的容器中,跟着用保鲜膜盖好,作第一次发酵,至面团发大两倍。(手指测试 - 将手指戳下面团中心起不来,就证明面团充分发酵)。

用手关节拍下排去面团内部的空气,分割成3份滚圆,松弛15分钟。

将面团擀成约20CM的正方形,翻面后撒上切细的葡萄干,用手压平卷成长柱体.切成等长的3份,切口朝上,依次放入排入抹油的面包盘或吐司盒用保鲜膜覆盖继续进行最后发酵。

把烤箱预热190度。刷蛋液,撒上燕麦片(我没在面团上塗蛋液我只用少量的水喷在面包团才放入烤箱中)烘烤30-35分钟。

为了避免面包过于上色,烘烤15-20分钟后我上盖,也可用铝箔轻轻盖上面包,继续烘烤,直到所需的时间。出炉后立即脱模。