24

th

August 2012 marked the 8

th

day of the 7

th

month in the Lunar calendar and was my late mother in law's 4 years passing anniversary.

To commemorate that, Auntie Lan reminded us to pay respect by making a lunch meal as prayer offering at home.
With a week-long Raya break at home not going anywhere, I offered to make cake and my signature dish Hong Kong Style Crispy Roasted Pork Belly as part of the offering.

As I remembered my late MIL loved eating roasted pork.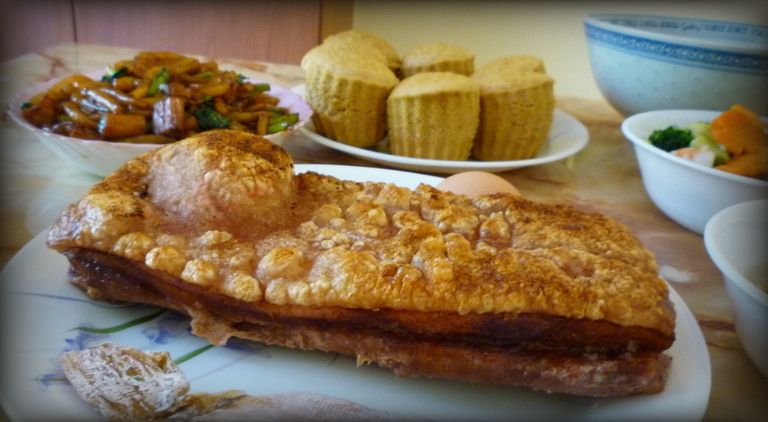 HK style Crispy Roasted Pork Belly
The following steamed cake is a type of Malay Kuih/cake which is similar to Chinese "Huat Kuih" (
发糕
) commonly served in Chinese prayer offering.
Palm Sugar Steamed Cake 椰糖马来糕
Palm sugar
, also called Gula Melaka in Malaysia is a type of sugar made from palm tree. In Malaysia, this dark chocolate colored sugar is usually sold in a solid log form and the Malay loves to use it as sweetener to their dessert.
Ingredients
A
50g plain flour
15g caster sugar
70ml water
1tsp instant yeast

B:
3 egg
100g caster sugar
200g plain flour (sifted)
1/4tsp dark soy sauce (for coloring purpose, optional)
90g melted margarine/butter
¼ tsp baking soda
1tsp baking powder

D:
200g palm sugar/gula Melaka
100ml water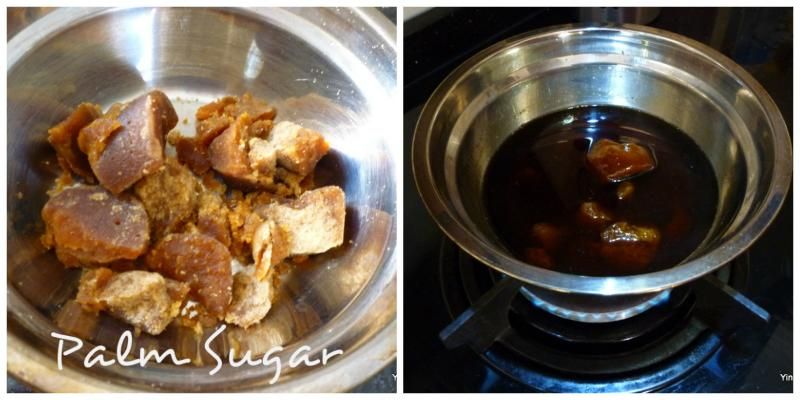 Steps:
D Syrup:
1. Smash palm sugar into small pieces and boil palm sugar with water until it dissolved, set aside to cool.
(
It is best to crush the sugar into pieces and dissolve in hot water before boiling to speed up the process in dissolving the sugar.)
A Cake dough starter:
1. Add in A ingredient stir till well blended.
2. Cover and set it aside to proof for 1hour.


B Egg batter:

1. Whisk eggs and sugar together until light and fluffy.
2. Lightly fold flour into egg batter by batches.
3. Mix melted margarine, black soy sauce and syrup together.
4. Add in fermented cake dough starter mix until well blended.5.Lastly, sift baking soda and baking powder into batter and mix well.
6. Pour batter into greased small cake moulds.
7. Steam in a preheated steamer at high heat for 10-15 minutes until cook.
8. Remove cake and cool it on a wire rack.
7
。
把面糊倒入
抹油的小蛋糕模具里
,大火蒸
10-15
分钟。