Traditionally for the older generations in Penang, Lam Mee is a must serve during birthday celebration to symbolize longevity. Therefore last July when we had a small birthday party for Ming Ray, his favourite Auntie Lan insisted to make Lam Mee as his main lunch meal.
The specialty of this dish lies in the gravy, which is made of clear soup by boiling pork ribs/chicken bones for hours which gives strong flavour of the meat taste. It is then served with yellow noodle topped with shrimps, shredded meat, pink colored shredded omelets, shallot crisps and coriander leaves. Different from the variation served in Kuala Lumpur, Penang Lam mee is not as starchy and not as dark colored compared to
KL Lam Mee
.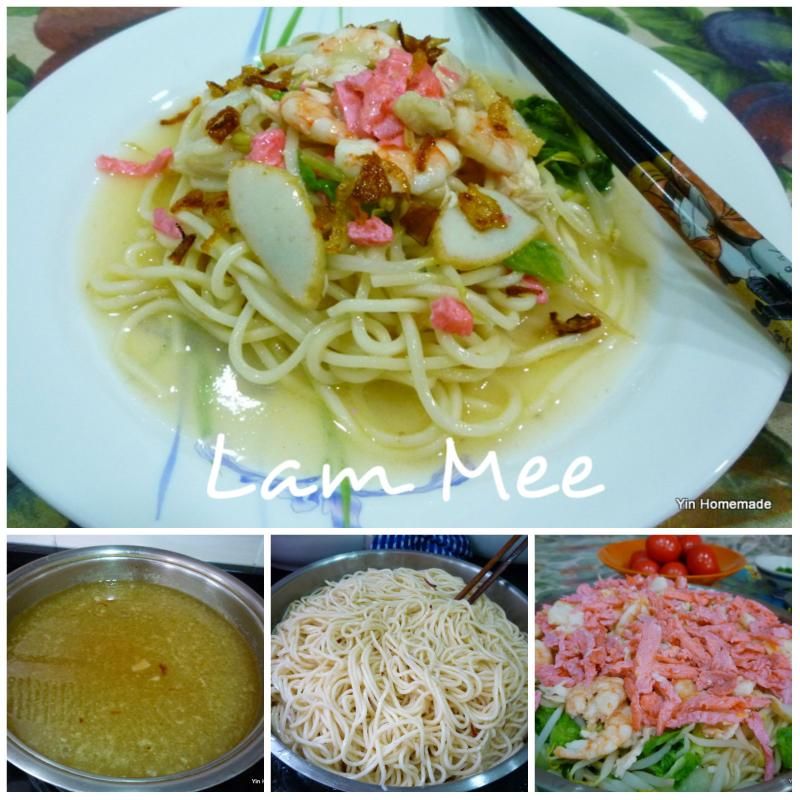 For a true authentic way of eating Lam Mee is best eatenwith a little bit of Sambal Belacan.

However since our host and his 2 little guests couldn't take spicy food, we did not make effort to prepare it.
LAM MEE (BIRTHDAY NOODLES)
Medium prawns (shelled)
Fish Cake (optional)
Yellow noodle
Eggs
Pink shredded Omelet (egg mixture with a few drops of pink coloring)
Bunch of Chinese cabbage/Bean sprouts (blanch)
Bunch of coriander leaves
Shallots (slice thinly)
Sambal Belacan (optional)
1.
Blanched pork/chicken bones with boiling water for 5 minute. Pour away the water leave it aside.
2.
Bring water to boil, blanched prawns for 3-4 minutes or until cooked. Remove prawns.
3.
Add in pork/chicken bones to the boiled water; simmer on low heat for about 1-2 hours.
4.
Adding salt and pepper to taste. Add in starch mixture and stir to thicken gravy and leave to keep warm. For thicker gravy add in more starch.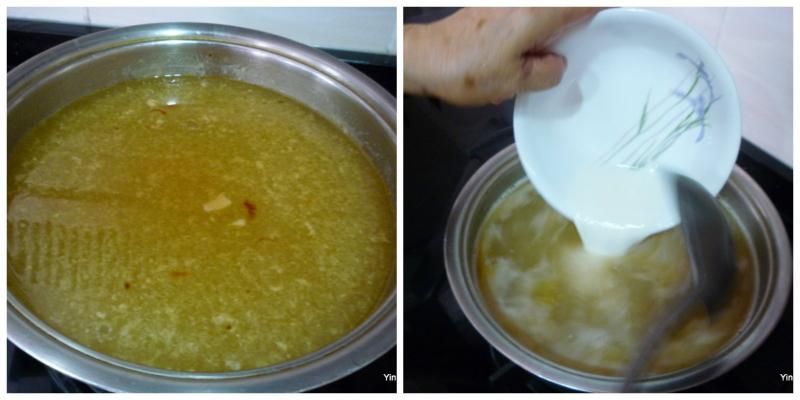 5.
Lightly beat the eggs and add a few drops of red coloring, pan fry the egg mixture into thin omelet and cut it into strips.
6.
Deep Fry sliced shallots on low fire until crispy, remove and set aside.
7.
Cook noodles for 2 minutes, dish and drain in a large pot and pour in some cooking oil to avoid noodles stick to each other.
8.
To serve, place some yellow noodle in a bowl, add in prawns, pork ribs, shredded omelet and coriander then pour in soup and last by not least to garnish with crispy shallots.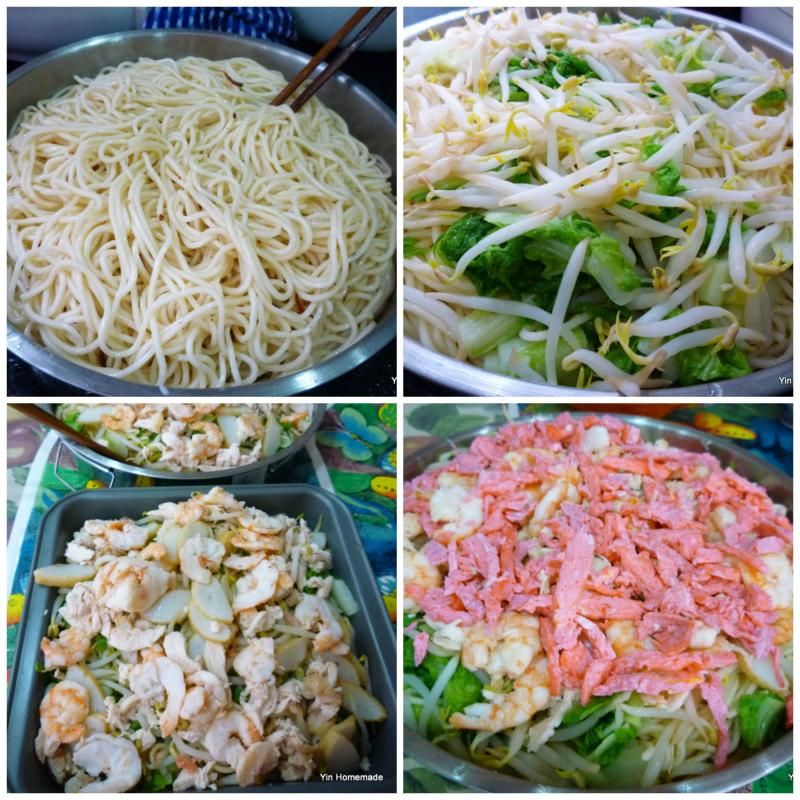 9.
Serve hot, optional adding 1 tsp of sambal belacan/chili paste.
槟城淋面也可称为生日面
,
以黄面配上虾,蛋丝,肉片和炸油葱,再配上三巴辣椒酱。
粉红色蛋卷切
切成条
(蛋液用几滴粉红色着色)
一束香菜叶,
适量豆芽,青菜 (焯水)
葱(切薄片)
三峇马来栈(可选)
淀粉的混合液
玉米粉
水
方法:

1
。用开水中烫一下猪肉
/
鸡骨头,倒掉水,把它放在一边。。

2
。把水烧开,焯烫虾约
3-4
分钟或至熟, 拿起放在一边。
3
。加入猪肉
/
鸡骨头进开水,低火煨约
1-2
小时。加入盐和胡椒调味。加入淀粉的混合液,搅拌至汤汁变稠,保暖。添加更多的淀粉假如要较稠的汤汁。

4
。轻轻地打蛋,加几滴红色着色,蛋液放入油锅内煎成薄蛋卷,拿起并把它切成条。

5
。小火油炸切片葱,直到酥脆,捞出待用。

6
。煮面条
2
分钟,捞起沥干,以避免面条粘,倒入一些烹调油在一个大锅里,。

7
。把一些黄色面条在碗里,然后加入虾,排骨,肉丝煎蛋卷和香菜后倒入汤,最后加上香脆葱装饰。

8
。趁热吃,假如喜辣可添加
1
茶匙叁峇马来栈
/
辣椒酱
。