Chinese New Year Dishes – Part 6(

年菜之六)
This was my last CNY dish prepared on Thursday 17
th
February "Chap Goh Meh". After our heavy "Chap Goh" lunch sharing, I was saved to prepare dinner as there was still pretty much left over food especially sweet and sour fish.
However, to add some lucky chime to our dinner I had fried some wontons. The shape of the deep fried golden color of the wontons resembled gold ingots (Yuan Bao元宝) widely circulated during the Ming Dynasty. It was a great auspicious symbol of wealth. Best of all, this snack was so simple and flexible to make. Other than the normal mince fillings you could opt for any ingredients which you could find in your fridge!
J
If you wish to eat healthier, you can make the
wonton soup
instead. Check out my previous post on
this
.
金黄色的炸云吞外形元宝状可是新春佳节好意头的
吃
食
,云吞馅料除了肉馅你也可随意添加,看看冰箱有什么就放什么。皮脆馅鲜超好吃!
Deep Fried Wontons 金元宝炸云吞- Featured in Group Recipes 20/02/2011
Check out the step by step in folding wanton into Gold ingots shape.
DEEP FRIED WONTONS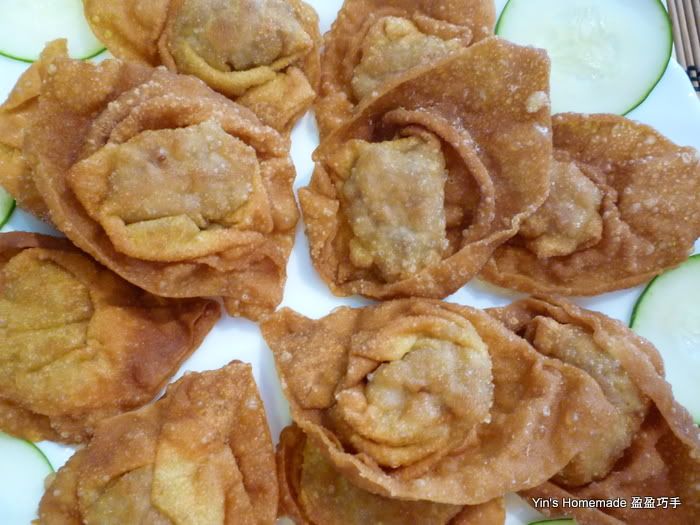 Ingredients:
1 packet of wonton wrappers (square ones)
½ small bowl of water (use to seal wanton skin)

Fillings:
Minced pork/chicken, prawns ( you can replace with veggie fillings)
Spring onions – finely chopped
Light soy sauce to taste
1/2 tsp. sesame oil
1 tsp. corn flour or potato starch (to soften the mince)
Sprinkle of pepper

Garnish:
Cucumber/tomato – slice into thin pieces and place around the plate
Methods:

In a bowl, combine minced pork with the marinade ingredients. Mix them well and set aside.
Place a wonton wrapper on the palm of your hand. Place ½ tsp filling in a corner of the wrapper, fold up to make a small triangle.
Fold the triangle to the middle.
Turn wonton with triangle face down and moisten the left corner edge of the wrapper with water.
Overlap the right end corners to left moist corner and pinch the ends firmly to seal it creating a nurse cap looks.(refer photo)
Once completed, place them on a plate, cover with a dry towel and set aside.
The wontons can be prepared in advance covered with plastic wrap and refrigerated, rest at room temperature before frying.
Heat up oil in a wok over medium heat.
Frying in batches, slowly slide the wontons into the hot oil and fry until golden brown.
Remove and drain oil on paper towels, transfer to platter and garnish with cucumber slices.
Serve hot as finger food with chili or mayonnaise sauce as desired.
金元宝炸云吞
材料:

馅类:半肥瘦肉,鲜虾肉,青葱(剁碎)
适量生抽(酱油), 麻油(1/2茶匙),太白粉,胡椒粉少许
先将肉碎和虾碎加油,酱油等配料一起和好搅至胶,加入葱碎再拌和。

包法:
把一块四方的云吞皮放好,在角落放半茶匙肉馅。

对上把皮和肉包上行成小三角形,成三角形的面皮后再次折上

在左上角边

皮粘上少许的水,然后将

右端角重叠到左角

压一压贴起来

,造一个护士帽

状

(参考附图)

就形成了元宝状的云吞。

一旦完成,放在盘子里,盖上干毛巾,备用。

你也可预先准备后用塑料包装和冷藏,在油炸提前拿出稍

至

室温。

把油烧热后,才把元宝状的云吞一个个的平放到油里(让它保持不变其原来的形状)炸至金黄色即可.