Chinese New Year Dishes – Part 2
(年菜之二)
Nowadays with so many restaurants operating nearly 365 days even during Chinese New Year eve, it has become a trend that more and more families opt to eating out instead of having homemade reunion dinners like the old days. Many prefer having reunion dinner at restaurants not only to enjoy the lavish dinners but most importantly to save time and hassle in preparing big meals especially for large families.
Having said that, I still prefer the homely and warm feeling of cooking at home for all the family members. Knowing reunion dinner fell on a Wednesday and with Ming Ray's repeated request to invite his Lego playmates to come over, I had initiated an early reunion dinner last Sunday and invited 3 other families to join us. The task to prepare dinner for more than 16 people was a bit too daunting I thought. At the end I asked the invited families to each bring a plate (Kiwi slang for pot –luck). On my own I had prepared 3 dishes for this dinner.
As The Chinese New Year's Eve dinner was commonly very sumptuous and traditionally included chicken, duck, pork, prawns and fish, I decided to try out something more difficult with pork. I dug out my recipe books and finally picked this,
Dongpo Pork Belly
东坡肉, which I adapted from another of my favourite Malaysia's Chinese best-seller cookbook by Chef Alan Kok.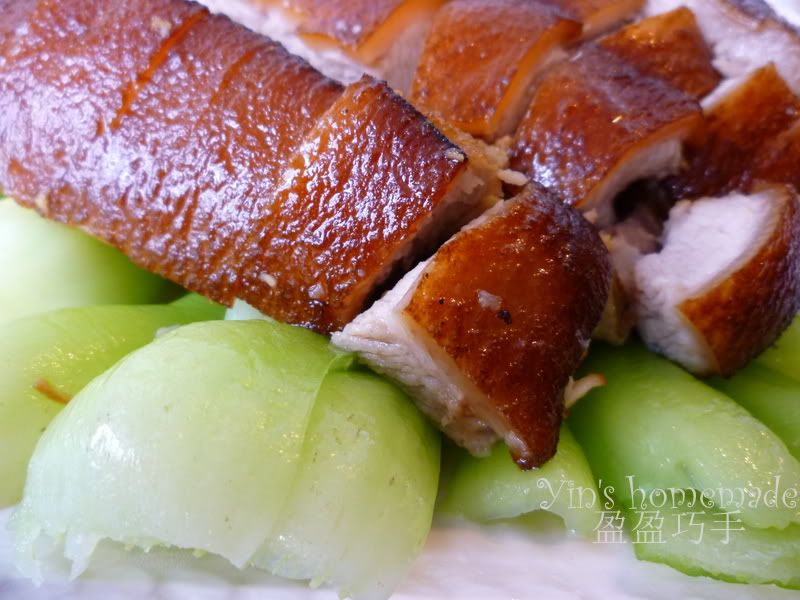 Dongpo Pork Belly 东坡肉 - Featured in Group Recipes 04/02/2011
The dish was regarded as China Hang Zhou (杭州) signature dish, named after their famous scholar Dong Po 东坡 in the Song Dynasty.
This dish was very time consuming to prepare, requiring 3 hours of slow cooking. Due to an unexpected visitor during the process of cooking, I only managed to steam for 2 hours. Otherwise I believed the pork would have been even tastier and would melt in the mouth!
杭州的名菜, 由北宋名诗人苏东坡所创制而得名. 传说他在杭任太守期间组织民工治理西湖,功成后,把杭州人民送给他的贺礼猪肉与绍酒命人烧成红烧肉慰劳挖湖民工,后人遂称东坡肉. 它的特点是肉呈乳红色,汁浓味醇,酥而不碎,肥而不腻,香气四溢,入口不油不腻。
INGREDIENTS:


600g pork belly

1 tbsp light soya sauce

3 cup of cooking oil (for deep frying)

2 stalks spring onion

5 slices ginger

1 star anise

300ml water




SEASONING:

5 tbsp light soya sauce

100ml of Shaoxing cooking wine ( more if you prefer the wine taste)
-If you do not prefer to use cooking wine, you can opt for water or chicken stock.

3 tbsp of sugar

1tbsp corn flour water for thickening




Garnishing:

Few stalks of blenched green vegetables/Xiao Bai cai

(When blench add 1 tbsp oil and pinch of salt to the boiling water, makes vegetables looks vibrant green)




METHOD:
Blanch pork belly in boiling water until half cooked. Dish and drain.

Rub all over with 1 tbsp of light soya sauce and marinate for 10 minutes.

Deep fry in hot oil with skin face down until golden brown, dish and cool.

Arrange pork belly in a steaming bowl and pour remaining ingredients and seasoning into it.

Seal well with heat proof plastic wrapper and steam at high heat for 3 hours or until pork is tender.

Remove and leave to cool before cutting into slices.

Reheat the gravy and thicken with corn flour water. Pour over pork belly and serve hot.
东坡肉
材料:

600克五花肉
1大匙酱油
3杯油(炸)
1茶匙姜末
2 根青葱
5 片姜
1粒八角
300ml 水
1大匙太白粉水, 打芡用

调味料:

5大匙酱油
100ml绍兴酒 (如喜酒味,你可添加)
3大匙糖

配菜:100g 烫熟小白菜

方法:
把五花肉放进沸水中烫至半熟,捞起沥干水,涂抹1汤匙酱油,

腌

10

分钟。




再放进热油中, 把花肉皮向下油炸至皮呈金黄色,盛起备用。


准备一大碗/盘排上五花肉加入调味料及

其他材料

伴

均,用耐热保鲜纸封好后,放进蒸笼里大火蒸

3

小时

直到花肉软即可

取出。待冷切片。


将

烫熟小白菜铺底,排上东坡肉后,将汁倒回锅里煮滚,打芡淋上即可享用。