There is a saying that baking can be a great bonding activity and I agree fully to it. Last Sunday, I had a fun cookies baking session with my son Ming Ray. He enjoyed his little master chef task assigned by me to cut the dough into assorted shapes that he liked with cookies cutter. Not only he gave a big thumb up to the taste of the cookies he made, the following day he proudly shared the cookies with his buddies at school too.
J
This easy cookies recipe was adapted from Baking Made Easy by Agnes Chang (蓝赛珍,轻轻松松学烘焙); it was named Almond Cookies in the book. However I found the cookies were overpowered by the buttery flavor. To me it tasted more like butter cookies than almond cookies. Hence, I am renaming this recipe to Almond Butter Cookies. Having said that, the cookies are tasty to eat, not too sweet and it was really crunchy on the outside but soft from the inside.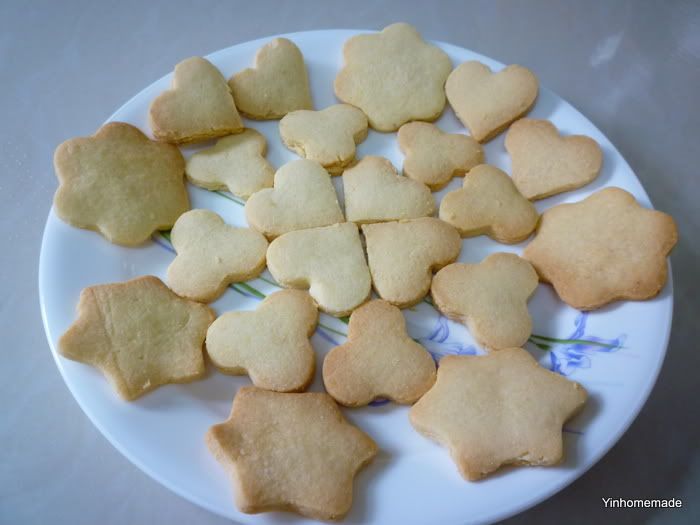 ALMOND BUTTER COOKIES 杏仁牛油饼
ALMOND BUTTER COOKIES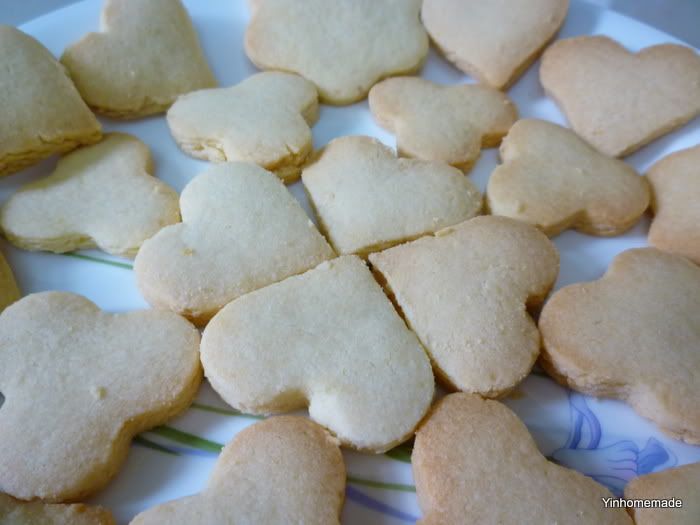 INGREDIENTS A
180g butter
90g castor sugar
1/8 tsp salt
½ tsp Vanilla essence
INGREDIENTS B
(sifted together)
135g plain flour, sifted
90g rice flour, sifted
90g ground almond
DECORATION
50g almond flakes on top as decoration
METHOD :
Cream butter and castor sugar till light and fluffy, add salt, vanilla and mix well.

Fold in B: plain flour, rice flour and mix into soft dough.

Roll dough between 2 sheets of plastic into 3mm thick.

Using cookies cutter cut into desired shape.

Arrange cookies onto a greased baking tray.

Decorate top with almond flake. (I skipped this)

Bake in a pre-heated oven at 180 degrees C for 15-20 minutes, till lightly brown.

Remove and cool before storing into air-tight container.
材料
A
180
克牛油
90
克幼糖
1 / 8
茶匙盐
半茶匙香草精
材料
B
(一起筛过)
135
克低筋面粉,过筛
90
克粘米粉,过筛
90
克杏仁粉
装饰
50
克杏仁片作为装饰
方法
:
1
。牛油与幼糖粉一起打至松发变白,加入盐,香草拌匀。
2
。将低筋面粉、杏仁粉
,
粘米粉过筛,加入作法
1
中混合拌匀成软面团。
3
。将软面团放在
2
张保鲜膜之间,将面团杆成约
3
毫米厚的面团。
4
。使用饼干压模压出所需的形状。
5
。把杏仁薄片装饰饼干面团顶部。
(我跳过这部份)
6
。烤盘铺上烤盘纸,将作法
4
排入烤盘中,再放进烤箱上层,
以
180
℃
烤约
15-20
分钟即可
7
。取出,待凉才存储。