Time flies, I just realised that it has been a year since I started this blog in September 2009. Recalling the time when I experienced living overseas in Auckland, with the purpose of occupying my time and learning to blog as part of my Information Technology assignment, I created this blog.

I had never expected to receive such warm acknowledgement and getting to know so many wonderful food bloggers who shared the same passion in food blogging. Thanks to all those who had visited my blog, some even signed up as followers to my blog.
I just wish to say a big
Thank You
to you all! I hope you will continue to check out my blog once in a while and I will try my best to share more cool recipes.

I believe in the value of sharing.

Every recipe I shared is treated as one good deed of the day
J
"The fact that I can plant a seed and it becomes a flower, share a bit of knowledge and it becomes another's, smile at someone and receive a smile in return, are to me continual spiritual exercises. "
For this anniversary post, I would like to share the recipe of this healthy potato buns. Many would have tasted these potatos buns commonly found in bread shelves in supermarket or bread store. These buns are made from a variation of sweet buns dough. To have better flavour, add a little butter cream as fillings or any fillings to your liking.
This recipe was adapted from Agnes Chang's " I can bake". However I was not satisfied with the custard toppings suggested in the original recipe, where the custard topping was merely a mixture of custard powder with water uncooked.

As a result, the topping that was too watery resulting in the poor cross shape topping. Furthermore, the custard topping was tasteless after baking.
In view of that, I found this creamy custard topping on the Net which I reckon should make a better alternative for easy pipping and nicer taste.
INGREDIENTS ( Make a tray of 9 potato bread)
320g high protein flour (Bread flour) sifted
1 tbsp bread improver (optional)
B:
150g boiled potatoes, peeled and mashed
80ml

water used to boil the potittes
C:
1 egg, lightly beaten wtih
Recommended

Creamy Custard topping:
2 tablespoon custard powder
3/4 cup fresh milk
3 tablespoons sugar
Method for Custard :
1. Put all the ingredients for custard in a small pot. Mix well.
2. Place the pot over low heat and keep stirring till the mixture thickens.
3. Set aside and pipe to make cross shape on buns when cool.
1.
Mixed A into a mixing bowl. Add B and mix into a sticky dough and continue to knead until dough is semi-developed about 5 minutes (with dough mixer)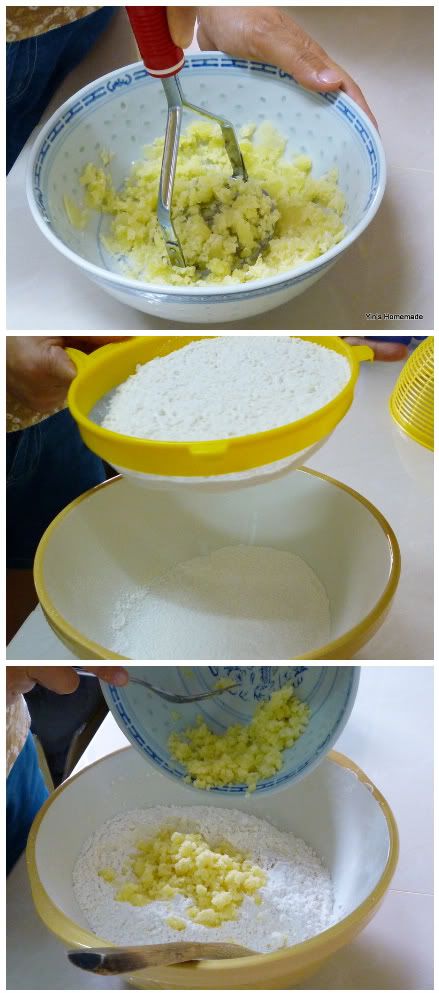 2.
Add c and knead for about 10 minutes until the dough is smooth and elastic and fully developed.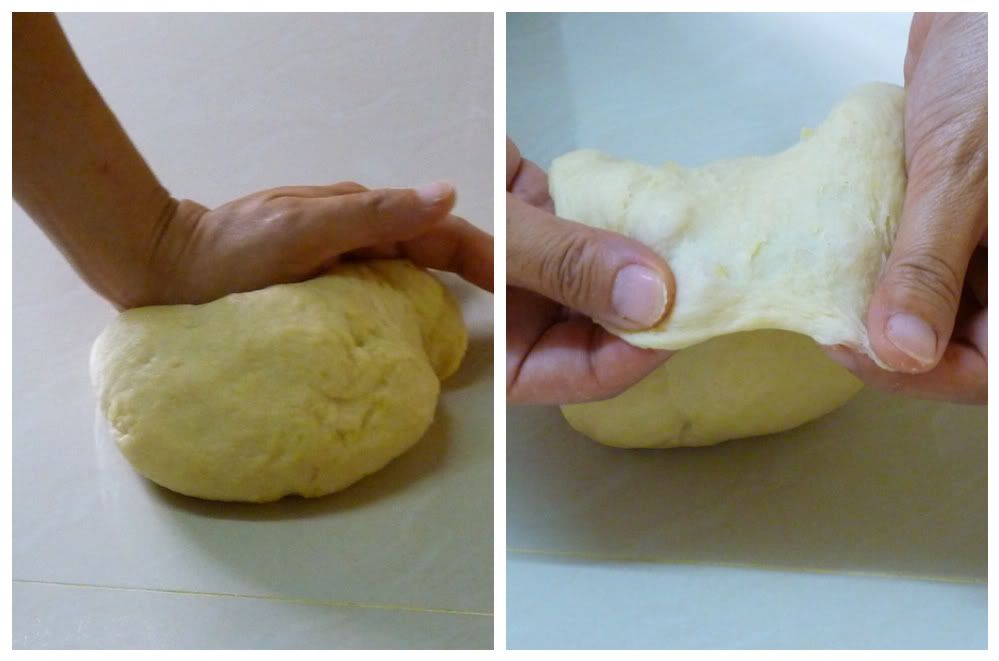 3.
Form into a ball and leave to rise in an oiled mixing bowl
covered with damp cloth or greased plastic wrap
until dough doule the size.
4.
Punch the dough down and knead for 3 minutes until smooth again. Divide the dough into 50g pieces and form into rounds.

5.
Arrange 9 rounds on a greased and floured square baking tray in 3 rows of 3. Cover with a piece of clean damp cloth greased plastic wrap

and leave to prove the second time until double in bulk.
6.
Glaze the tops with egg wash.
Pipe custard crosses on each round.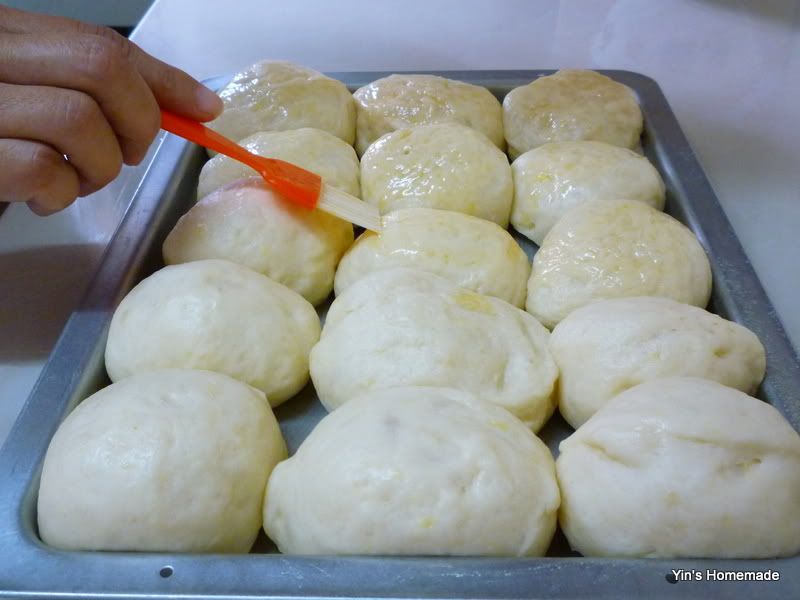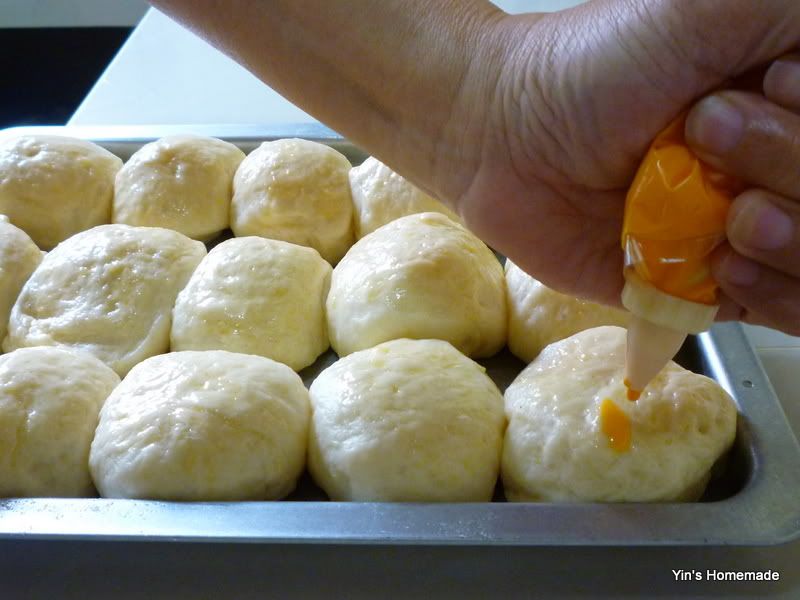 7.
Bake in a pre-heated oven at 200 degree celcious for about 15-20 minutes until cooked and golden brown.
8.
Remove from the oven leave the bread on a wire rack to cool.
The boiled potato and water used for boiling, make a very good rising agent. Adding this into bread dough helps it rise better.
材料
(
9
粒
马铃薯
面包)

A
:

320G
高蛋白
质
(面包粉)
过筛

½
茶匙
盐

2
汤匙奶粉
汤匙即食酵母粉

70
克糖

1
汤匙面包改良剂(可选)


B
:

150
克煮土豆
/
马铃薯
,去皮,
捣碎

1
个
鸡蛋

80
毫升水,
烧开
来煮土豆
C
:

75
克牛油,
软化
上光:

1
个
鸡蛋,轻轻
拌打

½
茶匙
盐
吉士奶油:

2
汤匙吉士粉

3 / 4
杯
鲜牛奶

3
汤匙糖
吉士的方法:

1
。在一个小
锅里放入
吉士的所有成分。拌匀。

2
。放在
锅里用小火,并不断搅拌,直到混合物变稠。

3
。待凉
时
在發酵面
团
上用管道
挤
出十字架的形状。
方法:

1
。把
A
材料混合
搅拌
,
添加
B
成粘稠的面
团,
用面
团搅拌机继续揉
面
团约
5
分
钟
。

2
。加入
C
揉
约
10
分
钟,直到面团光滑,
充分的
发展
有
弹性
。

3
。形成球状,把球状面
团
放置在上油的
搅拌碗
盖上保
鲜膜
,,直到面
团
發酵两倍大。

4
。把面
团
打下,再揉至光滑
约
3
分
钟
。把面
团
揉成
50
克球状形。

5
。把
50
克球状面
团
排列在
3x 3
抹油的方形烤
盘
。用一
块干净的湿布
或盖上保
鲜膜
,第二次發酵直到两倍大后擦上蛋汁上色。

6
。用管道
挤
出十字架的形状在發酵面
团
上。
7
。
预热烤箱摄氏
200
度,烤
约
15-20
分
钟直到熟
和金黄色。
8
。把面包从烤箱中取出放在架上冷却。
煮土豆的水和土豆昰一个很好的面包發酵
剂
。添加到面
团,这有助于它
發酵更好。
温馨提示: