Last week, I received an invitation from my finance team members to join their pot luck lunch on Monday in the office in celebration of
Raya Adilfitri
(Muslim New Year).
I happily accepted the invitation and even offered to bring one of my specialties to support their function. But later I realized that I would not have time to prepare fancy dishes in the morning, as I started work as early as 8am.
And so I struggled to think of what party food that could be easily prepared in advance, best the night before and its taste could be sustained when brought to the office the next morning for reheating or served cold during lunch time.
After cracking my head, I concluded dessert is the best answer. Yes, dessert could be prepared in advance and easily stored up to a day or two without compromising its quality.
I came out with this simple no bake cheesecake, which was just ideal for this function.
Again, this recipe was shared by Helen in Auckland. I found this simple cheesecake recipe so versatile that different variation of cheesecake look can be produced by merely changing the toppings. Her original topping called for fruit jam; however I was no fruit jam lover.
I ended up with gelatin lime topping instead as I wanted to go in line with the Muslim's Raya colour – green.
I used the juice of half a lime and one to two drops of green food coloring to come up with the lime green topping cheesecake
J
The topping was not well turned-out as I expected to have a smooth layer of jelly looking topping. This might due to overnight chilled effect in freezer.
Nevertheless, the cake received great comments from my colleagues. I was overly flattered when one of my colleagues came to me the next day and wanted to place an order to make this cheesecake as birthday cake for his little nephew. He told me that he brought back a piece to his nephew and he loved it so much and asked to have the same for his birthday!

J

150g Oreo

Chocolate cookies
INGREDIENTS B ( FILLINGS)
Few drops of lemon/lime juice
2-3 tsps. fruit jam (or replace by other topping to your preference)
1.
Put all the Oreo biscuits into a plastic food bag and crushed into fine crumbs.
2.
Melt the butter and add to biscuits crumbs to form moist biscuits mixture.
3.
Place a round greaseproof paper in the base of a 20cm/9in spring form cake.
4.
Pour the crumbs mixture into the bottom of the cake tin. Using the back of a spoon, gently smooth and level to form moist biscuits base of the cheesecake.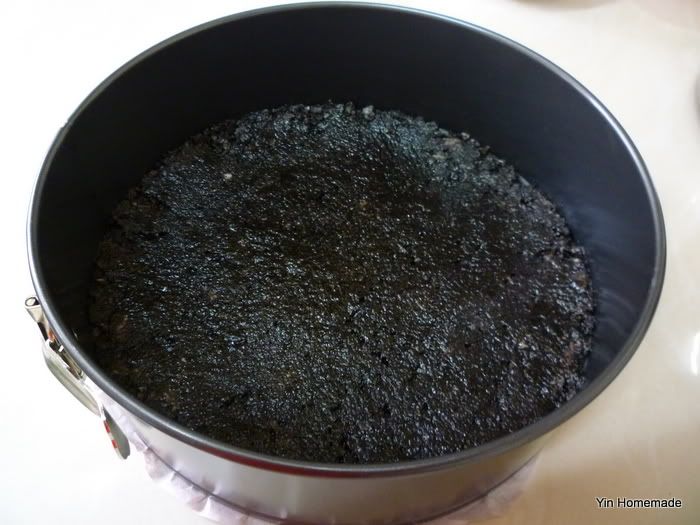 5.
Chill in the fridge for at least 10 minutes while making the filling.
6.
Pour fresh cream and caster sugar together in a bowl and use hand mixer to beat until you have creamy mixture.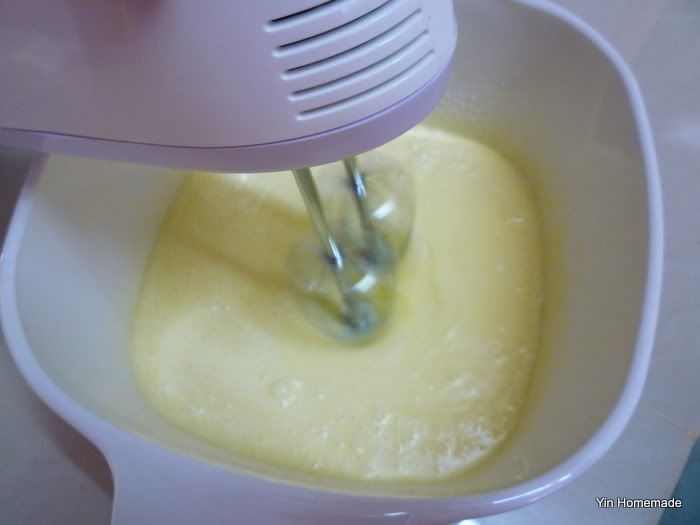 7.
Use separate bowl and blend cream cheese with few drops of lemon/lime juice. ( I just use half a lime)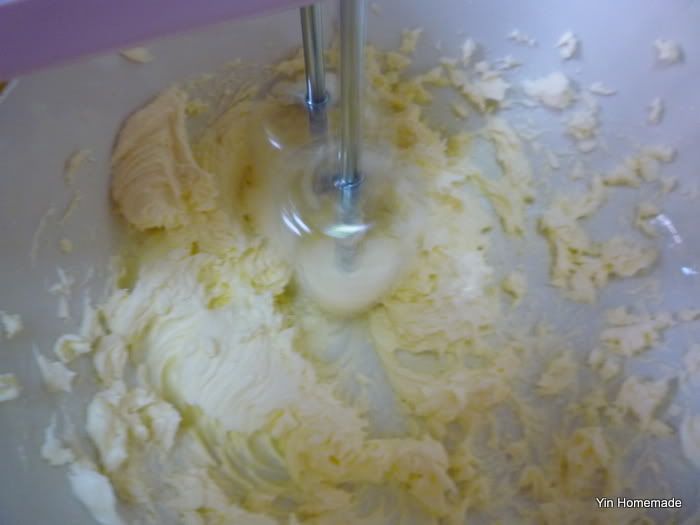 8.
Use half cup of hot water and stir to dissolve 3 tsp. of gelatin, set aside to cool before use.
9.
Combine both creams with cool gelatin mixture and use hand mixer to blend until smooth creamy mixture.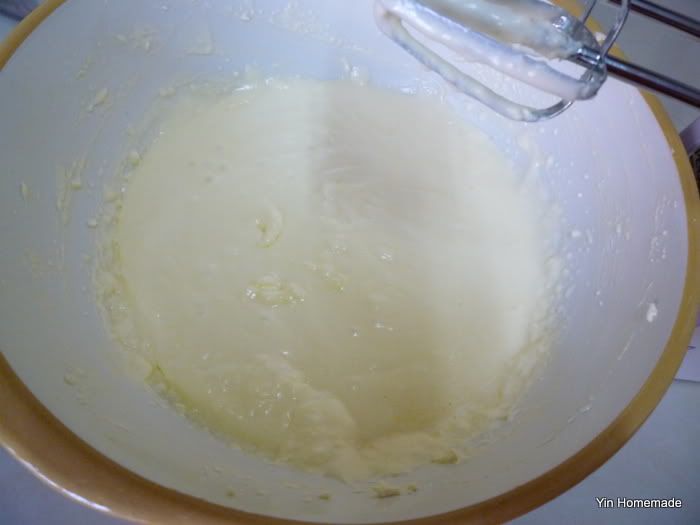 11.
Chill in the fridge for at least 3 hours.
12.
For topping, dissolve 100ml hot water with 1tsp. gelatin and add in fruit jam and stir well and set aside.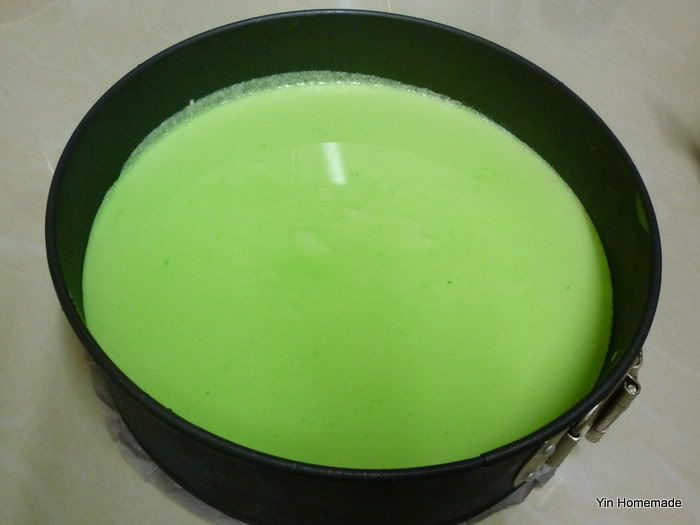 13.
Once fruit gelatin cool down, pour on top on cheese cake and leave to set in the fridge for another hour until the topping has set.
150
克
Oreo
巧克力饼干

60
克牛油,融化
馅料

250
克奶油芝
士
100
毫升热水

2-3
茶匙果酱
方法:

1
。在塑料袋中放入饼干用擀面杖碾碎,移到容器
中
。加入熔化的牛油,搅拌均匀。

2
。在一
个
20cm/9in
圆形蛋糕模型底部先铺上一层烘焙纸。
3
。倒入饼碎混合物,使用汤匙的背面,轻轻抚平
填满
蛋糕模底部。
后
在冰箱冷藏至少
10
分钟
。
4
。将鲜奶油放入一个容器加入砂糖,用打泡器打到奶油粘膏状程度

5
。在另一个容器中放入奶油芝
士
加
入
柠檬
汁
,用手搅拌机搅拌搅拌均
匀。
6
。用半杯热水,搅拌溶解
3
茶匙明胶,冷却后再使用。

7
。
将
3
其一点一点地加入
奶油芝
士
中
,后加入
冷却的明胶用手搅拌机打至无颗粒粘稠状
态。
8
。从冰箱中取出模型,倒入原料,在放入冰箱冷冻
3
个小时以上至成型
。

9
。约
3
个小时
后
取出冷冻芝
士
蛋糕来装饰。
10
。把
1
茶匙明胶溶于
100
毫升热水后添加果酱搅匀,待用。

11
。一旦水果酱明胶降温倒入芝士蛋糕上,放回冰箱再冷冻一个小时。

12
。美味的的芝士蛋糕就这样新鲜出炉
了!

13
。你也可随意放上自己喜欢的水果或者饼干、巧克
力。