My first order!
As mentioned in my previous post
no bake cheese cake
, during recent Raya lunch sharing session one of my colleagues shared with me that he brought back a slice of cheesecake for his little niece and she liked it so much that she wanted it for her birthday cake.

I thought it was no more than a flattering compliment.
2 weeks later, to my surprise he really approached me to ask for the same

cheesecake

for his niece's birthday celebration!
So here is another version of the no bake cheese cake with lemon.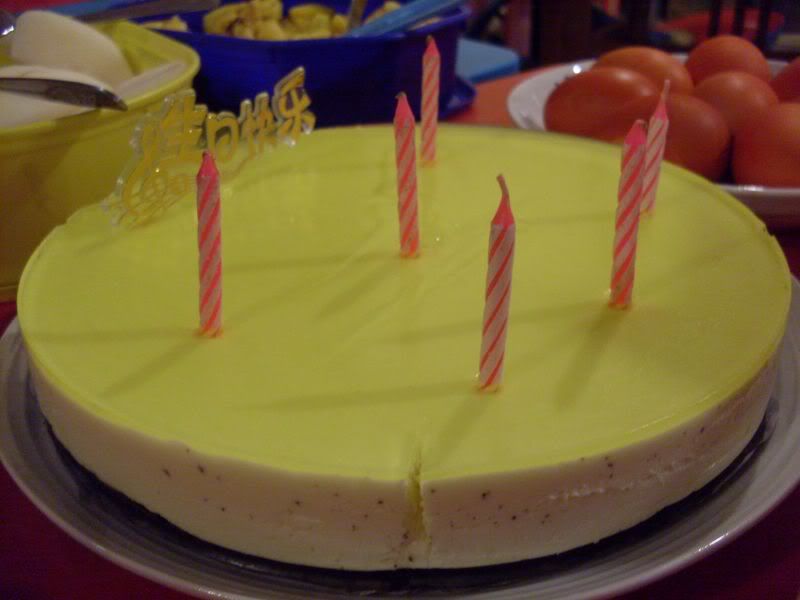 Lemon Cheese Cake 冰冻柠檬芝士蛋糕
I was glad that the cake turned out nicely and the six years old birthday girl and family members liked it very much. She even made me a lovely little thank you card!
J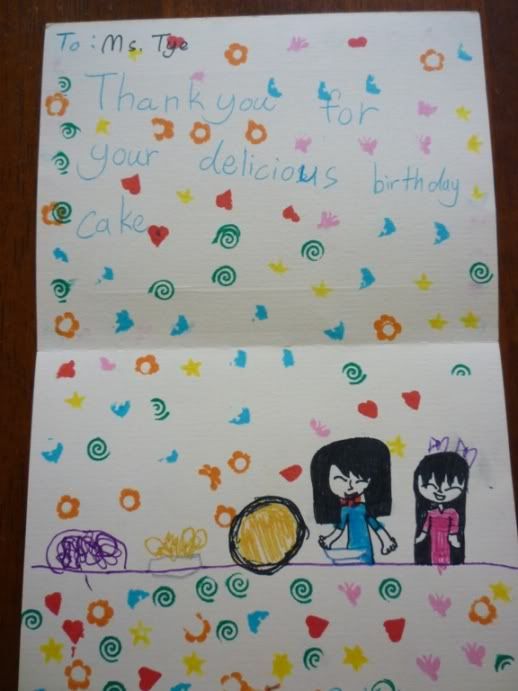 Non- bake Lemon Cheese Cake
150g

crushed Oreo Chocolate cookies
250gm cream cheese softened
250ml whipping cream, whipped
1 lemon, zest and juice (use half for the fillings)
2 tsp or half of the balance of lemon juice
Few drops of lemon paste/yellow-colouring
1.
Dissolved 3 tsp. gelatin powder into half cup of hot water.
2.
Beat cream cheese with sugar till smooth.
3.
Mix in lemon juice and gelatin

and beat well.
4.
Gently fold whipped cream into cheese mixture.
5.
Pour into the cake pan and chill in the fridge for 3 hours before decorating with the toppings.
1.
Heat gelatin powder in a small saucepan with water, sugar and lemon juice, till dissolved.
2.
Remove and add in a drop of lemon yellow colour.
3.
Cool slightly and gently spoon on top of the cheesecake.
4.
Chill again in the fridge for 3-4 hours.
150
克
Oreo
巧克力饼干

70
克牛油,融化
馅料
250
克奶油芝士
250
克
生奶油(英文:
whipped cream
)
1
粒柠檬,榨汁,使用一半柠檬汁
300
毫升鲜奶油
200
毫升热水

2
小匙砂糖
2
茶匙或适量柠檬汁
适量柠檬香精或黄色素
2.
用半杯热水,搅拌溶解
3
茶匙明胶,冷却后再使用
.
3.
将
奶油芝士
放入一个容器加入砂糖,用打泡器打到奶油粘膏状程度
4.
加入冷却的明胶和
柠檬汁
搅拌
,
后
加入
生奶油
搅拌均匀。
5.
从冰箱中取出模型,倒入原料,在放入冰箱冷冻
3
个小时以上至成型
装饰(可选)
1
。把
2
茶匙明胶溶于
200
毫升热水后添加糖和适量柠檬汁搅匀,待用。
2
。添加几滴柠檬香精或黄色素。
3
.一旦柠檬明胶降温倒入芝士蛋糕上,放回冰箱再冷冻
3-4
个小时。