Since I resumed working, I must confess that my passion in cooking, baking and blogging took a back seat in life. If you've following me, you would have noticed I was more lax in updating my blog posts than before.

I have to apologise for that.
From my recent posts, you would notice I worked more on baking rather than cooking right.

Frankly, with a full time job, juggling work life balance can be quite demanding.

I am thankful to have our Auntie Lan to come back and stay with us and continue to be our master chef to relieve my burden of day to day cooking.
J
Having said that, I still try my best to explore new recipes at least once a week in the weekends.
Currently, the baking I continue to do nearly every week is the homemade water roux
starter
(Tangzhong) bread (
汤种面包
). Last Sunday, I decided to
use part of the
Tangzhong dough to make Meat Floss (
肉松
) Mayonnaise Bun.
If you are bread lovers in Malaysia and Singapore, you would have tasted this delicious Floss Bun which was introduced by famous Singaporean chain bakery shops
Bread Talk
. This signature floss bun once captured many bread lovers' attention when it was first launched in Singapore and Malaysia, and I was one of them. That time whenever I came across a Bread Talk bakery shop, I would end up buying a few floss buns for breakfast or tea break.
J
Pork Floss Mayonnaise Buns 汤种肉松面包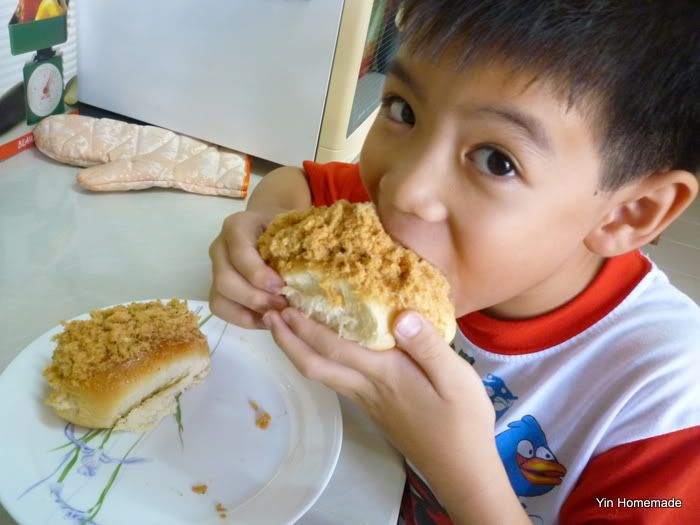 Ray with mouth full of pork floss mayonnaise bun
MEAT FLOSS
MAYONNAISE
BUNS
Dough:
A
350 gm high grade flour (bread flour )
10
gm milk powder (optional)
100-125 ml milk/water (slowly add in, stop adding if dough too gooey)
120 gm Tangzhong (refer

here

for making tanzhong)
30 gm butter ( softened at room temperature)
Topping:
300g meat floss (chicken/ fish/ pork)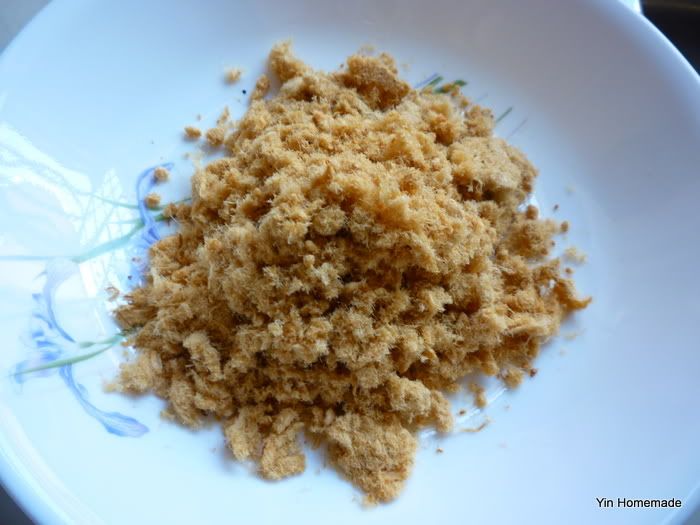 1 bowl of mayonnaise mixed with
2 tbsp. condensed milk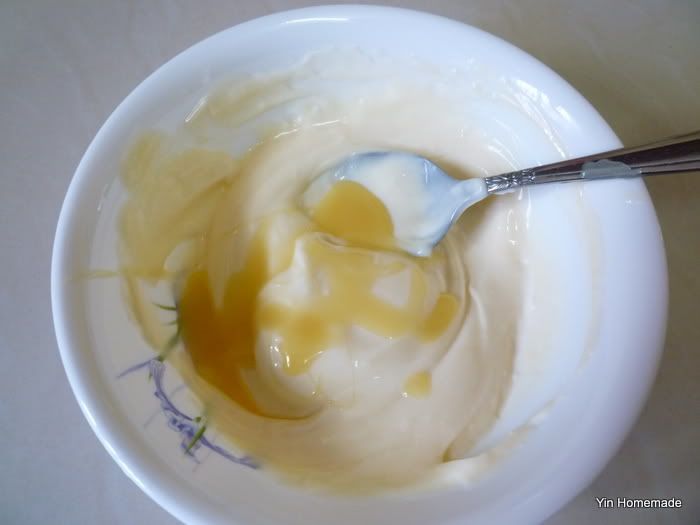 1 egg, lightly beaten with
2.
Shape Tangzhong dough into oblong shape and let it proof on greased baking tray, separate them 5cm apart from each other.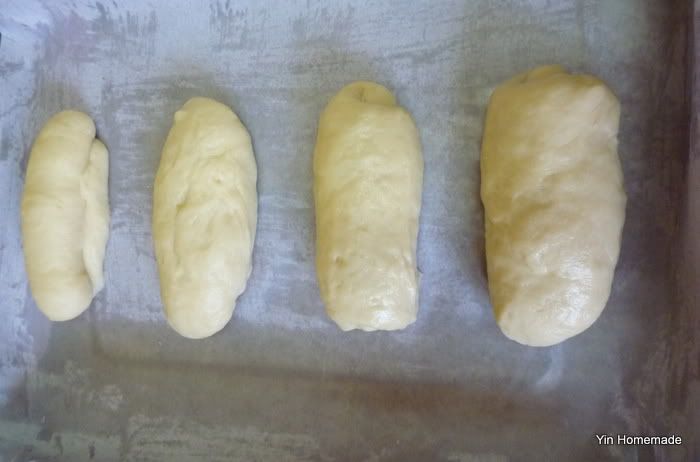 3.
Cover the rolls using damp cloth for another 45-60 minutes or until dough is double in size.
4.
Glaze the tops with egg wash or spray with water.
5.
Bake in a pre-heated oven at 200 degree Celsius for about 10-15 minutes until cooked and golden brown.
6.
Remove from the oven leave the bread on a wire rack to cool.
7.
Slit bun lengthwise, spread mayonnaise mixture inside and on top of the buns and coat generously with pork floss.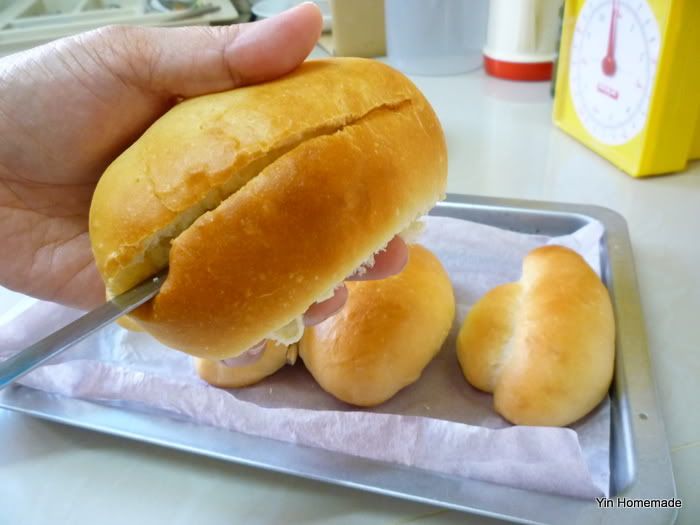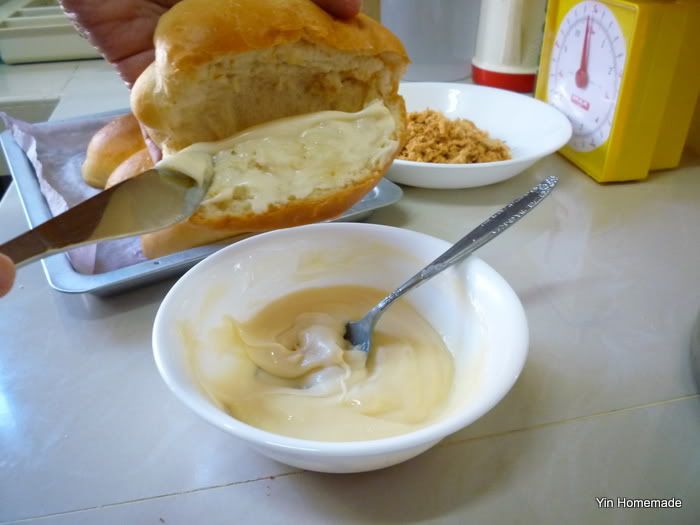 B
56
克全蛋液
(一粒蛋)
100-125
毫升水
/
牛奶
(
慢慢加入避免面团过湿
)
120
克汤种
(
做法参考此
食谱
)
C
3
0
克牛油(奶油,置室温放软)
(
待面团起筋,即成团后,才加入
)
300
克肉松(鸡
/
鱼
/
猪肉)
1
碗
美乃
滋
沙拉酱
2
汤匙炼乳
上光:

1
个
鸡蛋,轻轻
拌打
1/8
茶匙
盐
方法:
1
。
面包外皮面团做法请参考
:
汤种面包
面团
2
。
第一次发酵完成的面团分割成等份滚圆
(
每个约
5
0g)
3
。
橄成橄榄形餐包长形然后收口朝下间隔
5
厘米整齐排入烤盘中
,
盖上拧干的湿布再发酵
45-
60
分钟
直到两倍大
。

4
。
烤箱打开预热至
20
0
度
c
,
发好的面团表面轻轻刷上一层全蛋液
或
表面喷些水
5
。
将烤盘放进已经预热至
20
0
度
c
的烤箱中烘烤
1
0
-1
5
分钟至表面呈现金黄色即可
6
。
从烤箱中取出
,
面包烤好移到铁网架上放凉
。