年年有余
(
鱼
) To be abundant, to be plentiful year after year
I know this post comes a bit late since Chinese New year was over for 2 weeks now, better late than
never I guess.
J
It is customary for Chinese to have a feast of symbolic dishes to welcome the Lunar New Year
.
There are a few "must serve" auspicious-sounding dishes during the Chinese New Year Eve "Family Reunion Dinner". Other than the usual chicken, duck and pork, fish is one of them that plays major role in festive celebrations.
Fish in Mandarin
鱼
is pronounced as "Yu".

A homonym of fish, is the word abundance/surplus (
余
). Hence it is a Chinese ritual to serve fish during the reunion dinner to signify a wish for abundance and plentiful harvest year after year
年年有余
(nian nian you yu). In addition, the fish is to be served whole, with head and tail attached, symbolizing a good beginning and ending for the coming year.
For this dragon New Year, it was our first CNY since we got back from Auckland. We were delighted to have a bigger group of 30 family members in celebrating reunion dinner. We joined my dad along with all my brothers and sister and her in-law Lee's families' to dine at Red Rock Hotel, Tian Tian Restaurant.
The following were some of the signature New Year dishes we had from our 8 course sumptuous reunion dinner.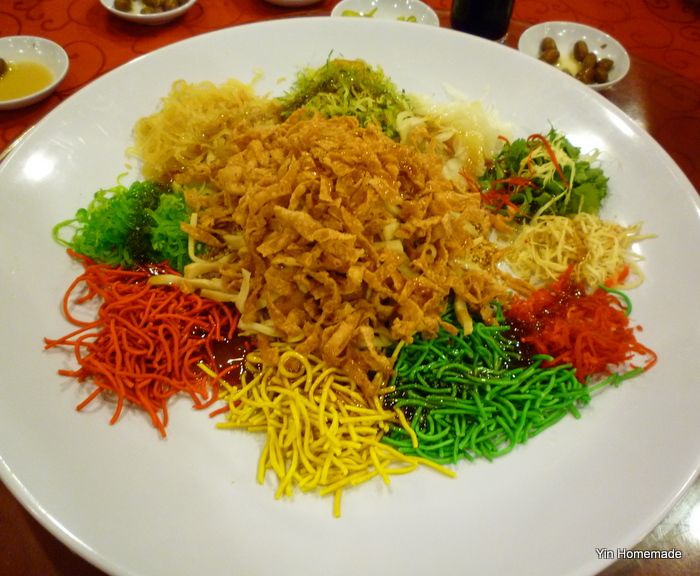 Prosperity salmon Yee Sang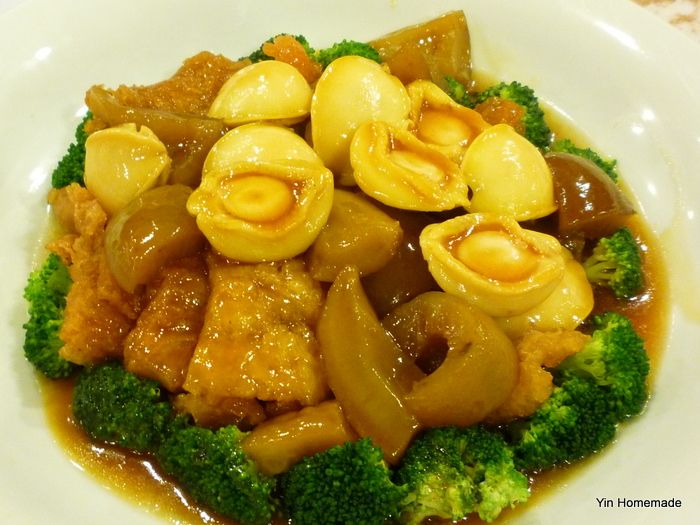 Braised abalone, sea cucumber, mushroom and broccoli

Last but not least the FISH!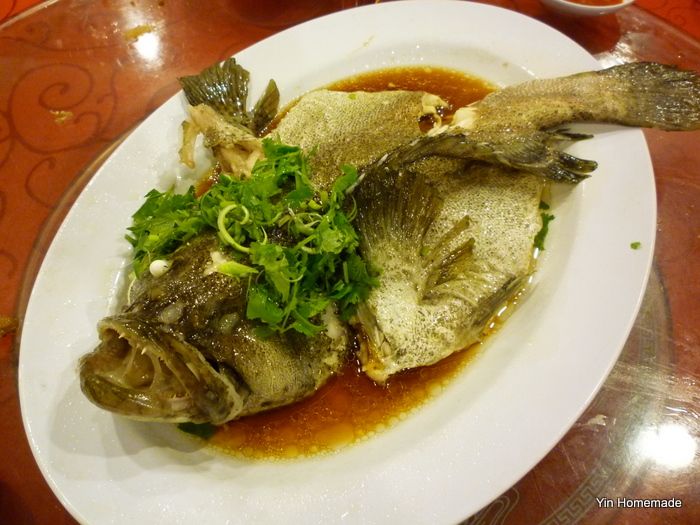 Soya sauce steamed grouper
For the 2nd day of CNY, my 2nd sister-in-law suggested to have simple homemade family lunch at home.

In view of the fact that during the first few days of Chinese New Year, dining out was very difficult because many restaurants were close for the New Year break, I gladly supported her idea and contributed my help in the kitchen.
The following was one of the dishes that I helped my sister-in-law to prepare. Steamed fish in Teochew Style, a favourite steam menu I often cook at home.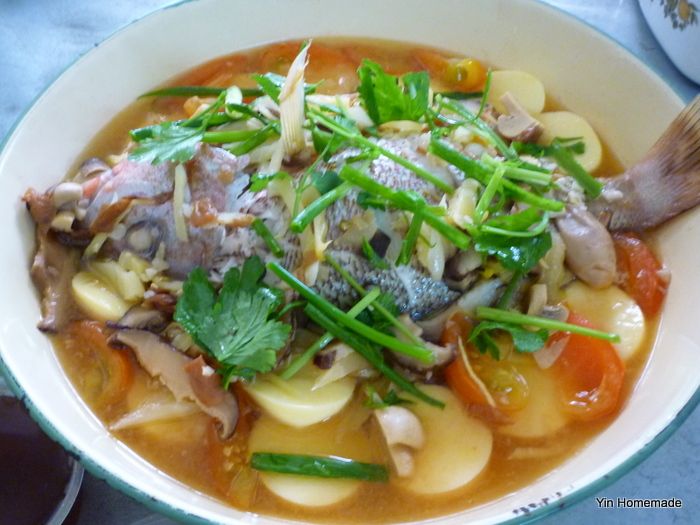 Teochew Style Steam Fish 潮州式蒸鱼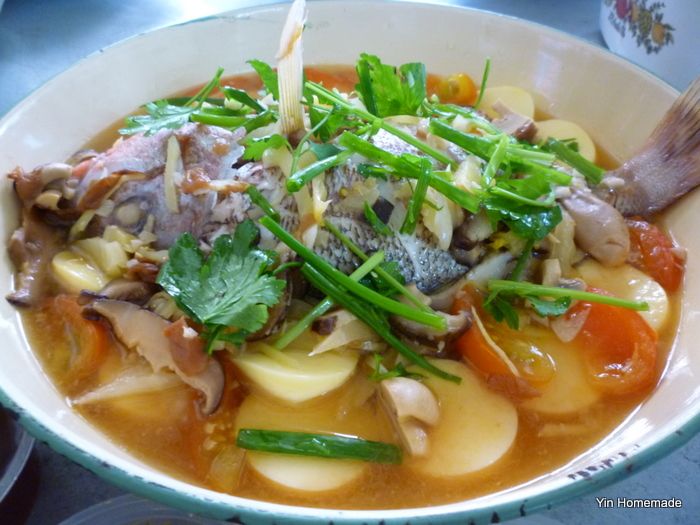 Featured for Feb 19th in Group Recipies
- 1 stalk spring onion, cut into 3cm length
- 1 piece bean curd (tofu) cut in 4 cubes
B
- 1 tbsp oil, ½ tbsp. chopped garlic
- 1 tbsp shredded ginger
- 2 stalk mushrooms, soak, stems removed, sliced thinly
- 1-2 medium tomato, cut to 4 wedges
- 100g salted vegetables, clean and sliced thinly
- 1 red chilli sliced (optional)
Seasoning:


-1 tbsp light soya sauce
-1 tbsp Shaoxing wine/Cooking rice wine
- 2 tsp sugar (adjust to your liking)
- 8 tbsp water (adjust according to your preference)
- dash of pepper
1.
Heat up 1 tbsp oil and sauté chopped garlic until fragrant.
2.
Add in shredded ginger, mushroom and stir well.
3.
Continue adding in remaining B ingredients, seasoning and bring to boil, dish up.
4.
Clean and cut three slits on the fish. Arrange fish on steaming tray, place tofu on the plate.
5.
Pour over with the (3) mixture and spring onion.
6.
Steam at high heat for 8 minutes or until cooked (test with fork, come out clean)
7.
Remove and serve hot with rice.
材料
B
:
油
1
大匙
蒜茸
½
大匙
冬菇,切丝
2
朵
姜丝
1
大匙
蕃茄
1
粒
咸菜,洗净,浸泡,切丝
100g
红辣椒,切丝
1
条
水酸梅
2
粒
做法
:
1
.烧热
1
大匙油,爆香蒜茸,加入姜丝、冬菇丝炒匀,加入其余的
B
材料和调味料煮滚,
盛起。
2
.鱼洗净,用刀在鱼身上斜割
3
刀,用碟盛起,淋上煮好的
(1)
料和青葱段。
3
.煮滚蒸笼水,放入鱼大火蒸约
8
分钟或至熟,取出趁热享用。
贴士
:
潮州蒸可用白鲳,斗底鲳,石斑,石甲,马友等等
。