Last Friday when Ming Ray learnt that my sister from Penang planned to bring her daughter Kyra to spend a weekend with us in KL during the Raya holiday, he anxiously counted down the days looking forward to welcoming his little cousin sister and to show her around. However, we were surprised with the little 6 years old Kyra asking for a baking session with me. Seeing my little niece being so keen to learn baking, of course as her aunt I had no reason to disappoint my adorable niece.
J
When Ming Ray knew about this plan, he too eagerly wanted to join his cousin sister in baking.
Kyra asked to make heart shaped cookies.

As teaching 2 kids to bake was undoubtedly a challenging task, I decided to make this simple butter chocolate chip cookies. With kids around, you could expect this wouldn't be a proper baking session.
Yes, it ended up more like a play dough time to the kids. In between both of them had arguments to take turn to use the mixer and to mould the cookies dough but we were pleased to see both kids enjoyed their baking session anyway.
Heykids, baking or play dough time?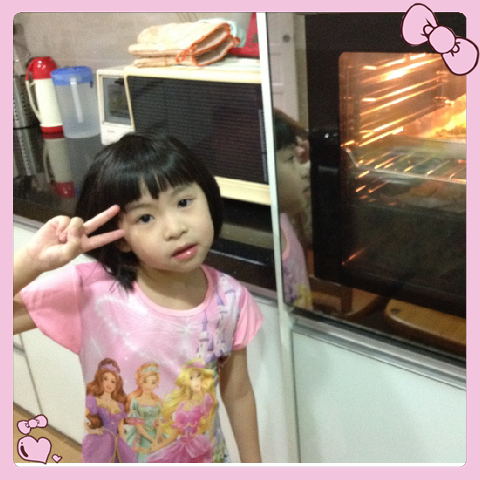 I was so relieved to see the cookies came out from oven still in one piece and in proper shape. Most importantly, Kyra enjoyed her baking time and loved her cookies very much and even gave 2 thumbs up for the taste of the cookies!
J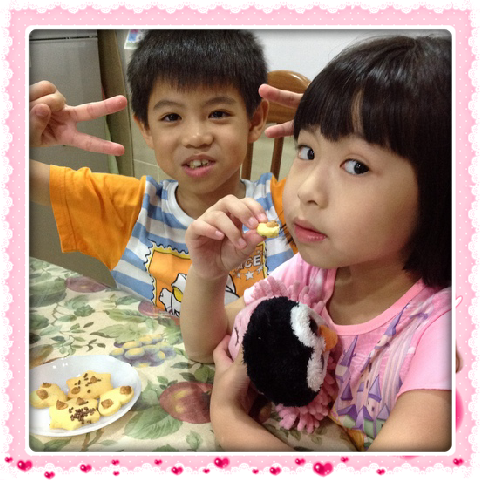 CRANBERRY CHOCOLATE CHIP COOKIES
100g dried cranberry (chopped)
1.
Beat butter and sugar until creamy; add in egg beat well and 1 tsp. vanilla essence.
2.
Fold in sifted flour, baking powder and cranberry, mix forms dough.
3.
Roll the dough into small balls. Arrange one baking tray with baking sheet, press slightly.
4.
Decorate with chocolate chips.
5.
Bake in preheated oven at 180C for 18 to 20 minutes or until cooked.
If omitted cranberry to add in more flour to make dough firmer and kept in fridge for at least 30 minutes before shape.
125

克牛油,


60

克细砂糖




鸡蛋

1

个,


200

面粉




¼茶匙发粉
1
茶匙
香草精

100

克干蔓越莓(切碎)


125

克巧克力芯片





制备方法

:


1

。
用搅拌机搅拌牛油和糖粉。先把牛油搅拌,分次加入糖粉打发至膨胀变白才加入香草精。
2

。
将面粉和
发粉
一起筛过后
加入
蔓越莓
搅拌混合
均匀
成
面团。
。

3。面团擀成小球或

以餅乾壓模壓切成
形
,
排入垫烤盘纸的一个烤盘
.
4

。用巧克力片装饰。


5

。在预热烤箱烘烤

180
摄氏度
18

至

20

分钟或至熟
烤至表面呈现浅浅的金黄色取出放在冷却架上冷却
。
提示:
如果省略蔓越莓
,
加入更多的面粉
,
或
在冰箱中保存使至少
30

分钟前面团
变硬
。