Red Bean Paste filling
As promised in my wholemeal steamed Pau post, this post I will illustrate

how to make homemade red bean paste.
Red bean paste is a common ingredient for Asian cuisine especially for Chinese and Japanese cuisines. It is usually used as a filling ingredient for buns, dumplings, desserts and confectionaries.
I know it is not difficult to source ready-made red bean paste at bakery ingredients shop. In fact even when I was in Auckland I could easily find it in most Asian groceries shops. However, the homemade version always seems to
taste better and feels healthier, doesn't it
?
J
In return to enjoy better quality and healthier food we have to spend a little more time and hassle to prepare for it.

It is quite time consuming to cook the dry red bean into its paste form. Normally you will need to soak the beans for hours or even overnight before cooking to soften the beans. A quicker alternative is to skip this step

is by using a pressure cooker or a slow cooker.

Cook until the red beans turn soft. To have very fine and smooth texture, it is best to blend the cooked red bean puree until creamy form. Lastly, cook it again with oil and sugar to transform it into smooth creamy red bean paste that is ready for use.
For this trial, I used slow cooker to cook red beans overnight, this has cut down my hassle in spending time to monitor the red beans over stove.

The whole process took me more than 9 hours, but my actual working hours on blending, and stir frying the bean puree into paste only took me around an hour.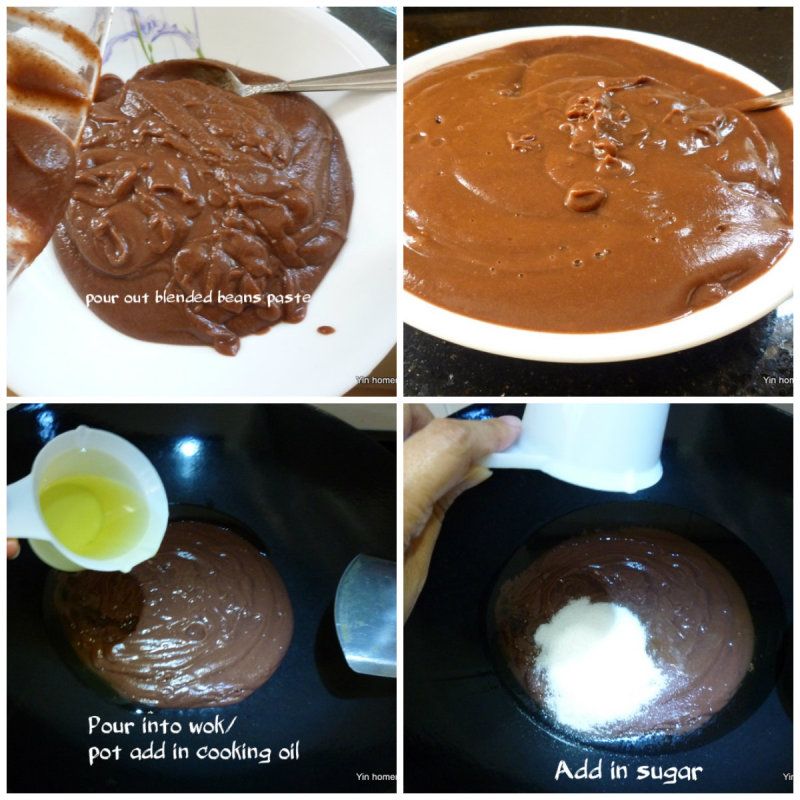 As mentioned it was pretty time consuming to get this paste done, but when you think of your loved ones getting to consume homemade paste which is free from preservative and unknown additive, plus the added benefits of adjusting the sweetness to your own preference, it all seems to justify the effort.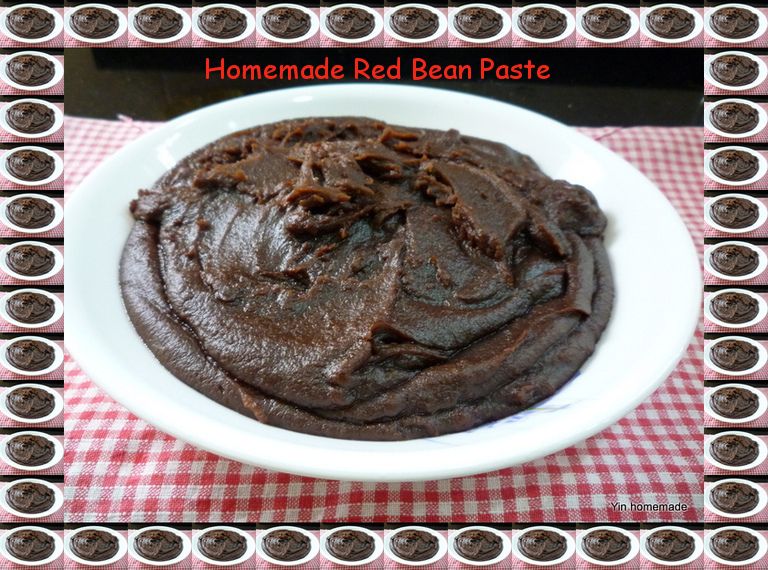 Mid autumn festival is around the corner. Why not give it a try to make your own red bean paste for the moon cake fillings to enjoy a healthier red bean flvaour moon cakes? You can also try out Yam/Taro paste filling, and the traditional
moon cake recipe
here.
1/2 cup oil for frying (more oil if wish texture glossy and creamy)
½ tsp. salt (add in little salt can enhance sweetness of red beans paste)
1.
Rinse red beans and soak for 2 hours. Transfer into slow cooker and cover with water slightly over the red beans about 1 inch and switch on auto/low mode and cook over night.
2.
The next day, switch off slow cooker and leave to cool.
3.
Transfer the red beans soup into a blender and blend until smooth, remove from the blender.
4.
Pour puree into wok/sauce pan and add in oil and stir fry beans on medium-low heat and slowly add in sugar, taste test.
5.
Stir gradually until red beans puree dry up to form paste.
6.
Cool and use as called for in the recipe.
7.
Stored in a sealed container in the refrigerator, homemade sweet red bean paste will last for approximately one week.
盐少许(往红豆沙里加入一点盐这样可以提升红豆沙的甜味)
1

、红豆洗净
,
浸泡
2
小时
.
转移到慢炖锅中,后
加适量水
盖过
红豆
稍逾约
1
英寸,
调
自动模式
煮开通宵。
2

、
第二天,
即可关
掉慢炖锅待冷后
将红豆和汤汁一起放入搅拌机中,将红豆搅打成蓉。为了口感更细腻分两份打了两遍。
3

、
从搅拌机中取出,倒入炒锅
/
平底锅,添加油
,
并慢慢加入糖
和少许盐
,口味测试,
将豆沙炒至水份蒸发。要耐心翻炒至干即可。
4

、
存放在冰箱的密封容器中,自制甜豆沙可持续大约一个星期。