Tangzhong bread again?
I was kind of into baking these days as I was trying to clear my pantry as much as possible seeing I have another bag of high grade flour (bread flour) and sugar to get rid of.
J
This is the second version of sausage rolls I had made. In the first version, I used sweet bun dough recipe which I extracted from my first baking book by Agnes Chang that I shared
here
. The following recipe used Tangzhong (Water Roux) method which I adapted from
Christine's Recipes
. Christine is my mentor in Tanzhong bread making. I had also introduced the same Tangzhong bread making technique in my previous bread making posts for
whole meal bread
and
cottony toast bread
.
Again I hand kneaded my bread dough. I was pleased to see the dough nicely doubled after two hours. It gave me confidence to expect a nice batch of fresh breads for dinner that night.
True enough, another batch of soft and fluffily textured sausage rolls out from oven just in time for dinner
J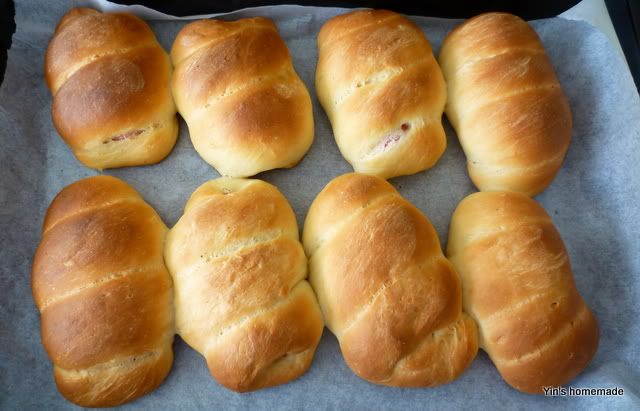 Hong Kong Style Sausage Rolls港式肠仔包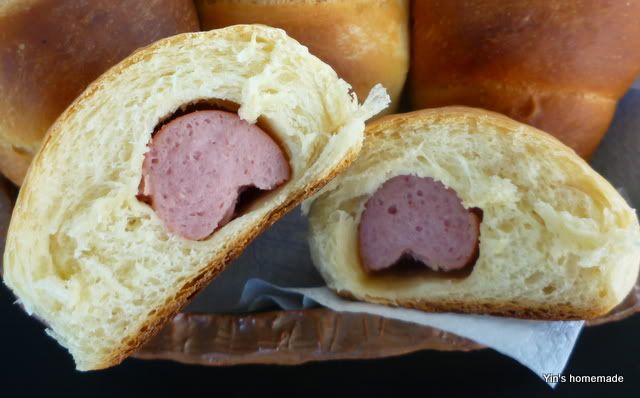 Wanna have a bite? Incredibly cottony-soft bread texture, just yum!
HONG KONG STYLE SAUSAGE ROLLS
Featured in Group Recipe - 19/03/2011
Ingredients
8 Frankfurt sausages or any kind to your liking
A
350 gm high grade flour (bread flour )
55 gm caster sugar
5 gm salt
7 gm milk powder (optional)
5 to 6 gm instant dry yeast
B
1 egg
100-125 ml milk (slowly add in, stop adding if dough too gooey)
120 gm Tangzhong (refer
here
for making tanzhong)
C
30 gm butter ( softened at room temperature)
Method:
Combine all dry ingredients: flour, salt, sugar and instant yeast in a bowl. Make a well in the center.

Whisk and combine wet ingredients: egg and Tangzhong, then pour into the well of the dry ingredients. Slowly add in milk.

Knead until you get a dough shape and gluten has developed about 10-15 minutes (hand knead), and then knead in the butter.

If you hand knead like I do, do expect to deal with gooey dough at this stage. You can opt for bread maker if you have one.

Keep kneading until the dough is smooth, not sticky and elastic. The time of kneading depends on how hard and fast you knead. I used to set the timer to 15 minutes to monitor my kneading time.

Test if the dough is ready by stretching the dough with two hands. If it forms a thin "membrane" that's very elastic in texture. That means you have successfully kneaded the dough to a perfect stage.

If you use bread maker then add wet ingredients into bread maker first, then followed by the dry ingredients. The yeast is the last to add.

Knead the dough into a ball shape. Place in a greased bowl and cover with a wet towel or cling wrap.

Let it proof till it's doubled in size, about 2 hours. Use finger to test doneness. Poke in and if finger impression remains, this confirms the dough is nicely proofed.

The time will vary and depends on the weather. The best temperature for proofing is 28C. You can place a cup of water in microwave and heat at high for 2 minutes to create a warm spot, once done then place the dough in to proof.

Transfer to a clean floured surface. Deflate and divide the dough into eight equal portions. Knead into ball shapes. Cover and let them rest for 15 minutes.

Knead each part into a long tube, depends on the length of your sausages. Roll to enclose the sausage, with seals facing down.

Place rolls on a tray lined with baking paper, covered with cling wrap or a wet towel. Leave for the 2nd proofing, about 45 to 60 minutes or until double in size.

Brush whisked egg on surface of rolls or lightly spray water on the shaped dough. Bake in a pre-heated 180C (356F) oven for 25 minutes, or until golden brown. Transfer onto a wire rack and let cool completely.
港式肠仔包
材料:
香肠8条
A
350 克高筋粉
55 克糖
5 克盐
5至6克快速酵母(Instant Yeast)
7克奶粉 (增加香味,可不加)
B
56 克全蛋液 (一粒蛋)
100-125毫升水/牛奶 (慢慢加入避免面团过湿 )
120 克汤种 (做法参考此
食谱
)
C
30克牛油(奶油,置室温放软) (待面团起筋,即成团后,才加入)

做法:
面包机做法:
把所有材料(除牛油外)依次倒进面包机(先放湿的材料,然后才放干的材料):牛奶,蛋,汤种,盐,糖,奶粉,高筋粉,最后放酵母。我习惯在面粉中央拨开一小洞,把酵母放进去。
选择面包机的basic功能,材料搞拌至成一面团,就放进已融解的牛油,继续搞拌,成一光滑面团。 测试面团搓到是否合格程度,面团可张开成一薄膜,而且坚韧即成。当面包机停机,等待面团第一次发酵完毕,见面团发大两倍就取出。
手搓麵粉做法:
把所有A&B材料放入一盘中,酵母不直接接触到盐和糖就可以,以免酵母脱水死亡。搞拌至成一面团, 搓成有弹性和筋膜的面团。要有心理准备,面团会很胶粘的坚持搓下去,搓至完全光滑大约15分钟。加入软化的牛油再搓15分钟有至弹性,面团可张开成一薄膜即成。跟着用保鲜膜盖好,作第一次发酵,至面团发大两倍约2个钟头。用手指测试,如果手指戳的印象仍然存在,这印证了面团发得很好。
放在清洁的工作台上,洒点高筋粉。用手按压面团,挤出空气。切割成八个等份,滚圆,收口朝下。用保鲜膜盖着,静置15分钟。把每个面团分别搓成长条形视乎肠仔的长度,把肠仔卷起。如是者,把所有肠仔分别卷好,放在铺了baking paper的焗盘上。盖上保鲜膜或湿布进行最后发酵,至两倍大,约60分钟。
涂上蛋汁或轻轻喷一些水,放入预热至180C (356F) 的焗炉中,焗约25分钟,直至转金黄色为止。放在铁架上放凉,即成。