What for afternoon tea? A bowl of famous Nyonya Dessert – Bubur Cha Cha
With our master chef around, we are not only getting to eat real "home" flavoured dinner, in weekend we get to enjoy authentic Malaysian desserts and snacks. The first on the list requested by hubby was Bubur Cha Cha.
This is one of the renowned Penang Nyonya desserts. Bubur is Malay word for porridge or congee, as for Cha Cha , no one seems to know how this name originated. However, my aunt shared this with us. She said this dessert is one of the main desserts serve on 15th day and last day of Chinese New Year especially by
Hokkiens
. In Penang Hokkien dialects, bubur cha cha is pronounced bubur che che – and "che che" means abundance or plentiful. So, it's considered auspicious to serve bubur cha cha to family and friends on that day.
This dessert is a sweet concoction with various types of sweet potatoes (the Kiwis call it Kumara), yam or taro, sago (Tapioca peals) and coconut milk (santan). Do try to use different types of sweet potatoes, to make the dessert more colourful. For healthy version you can change the coconut milk into evaporated milk instead, however you will miss the creamy coconut flavor. This dessert can be served warm or cold.
We steamed all sweet potatoes and taro until tender then added with boiled coconut milk. This way the kumara and taro would not be too mushy. Hubby loves the taste of sago, which is chewy and stretchy in its texture, so we were asked to put more sago. One of the common cooking habits of the older generation is that they tend to cook more, so we ended up with a huge pot. Well, this seemed to be good news to my friends who stayed around my neighbourhood
J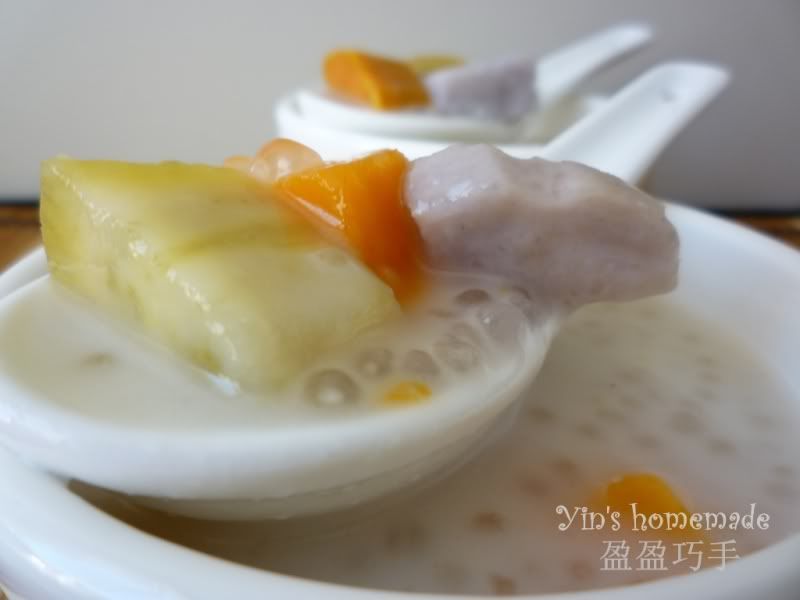 Bubur Cha Cha 摩摩喳喳 - Featured in Group Recipies 28/11/2010
No question needed to be asked on how good the dessert was, as both of my young and old food critics asked for second bowl, this showed how good the dessert was! I must say the kumara in NZ tasted much sweeter and aromatic than that in Malaysia. It also has a smoother texture.
BUBUR CHA CHA
INGREDIENTS:
450g Orange Sweet Potato
250g Yellow Sweet Potato
500g Yam (Taro)
175g sago pearls
Coconut Milk Base
2 liter water
400g coconut milk (1 can) or evaporated milk
Sugar to taste
2-3 stalks Pandan leaves
METHOD:
1) Soak sago in warm water separately, drain.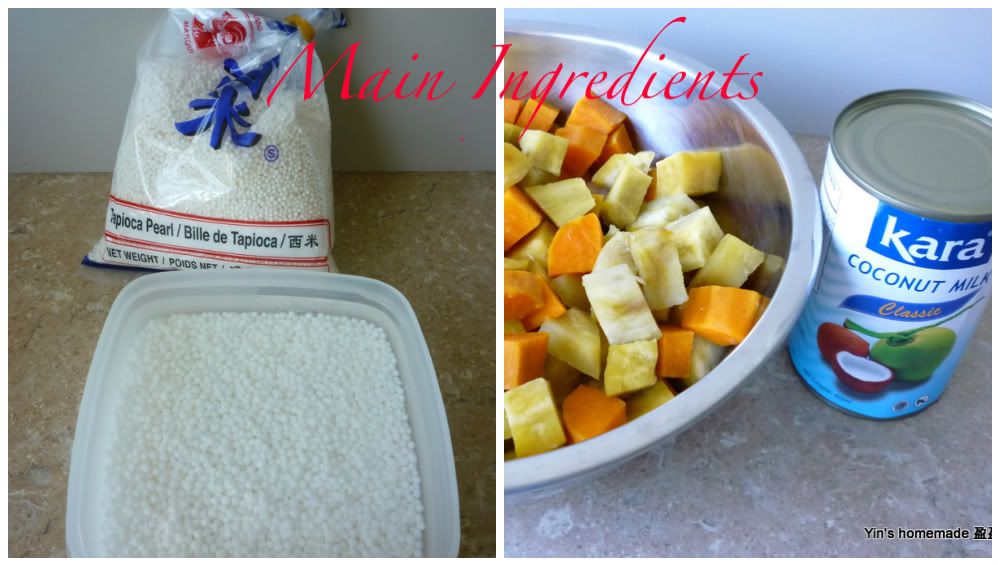 2) Peel and cut all potatoes and taro into chunks of desired shapes. Steam, separately, until cooked.

3) Bring a pot of water, add enough sugar to just sweeten the soup and bring water to boil to dissolve the sugar. Add in pandan leaves and stir occasionally.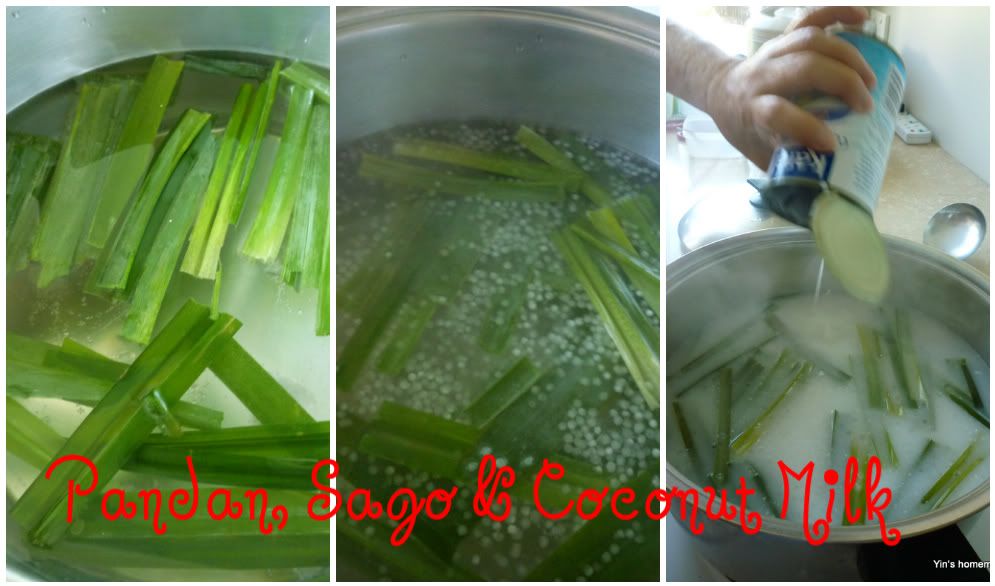 4) Reduce heat to medium heat and add in sago, coconut milk (evaporated milk), simmer about 10 minutes and keep stirring.
5) Pour in all the ingredients stir evenly and simmer for another 5 minutes. The sago may still have some white uncooked starch in their center but the longer they are soaked in cooked bubur, the more translucent they will turn albeit slowly
.
6) Removed pandan leaves and serve either hot or cold.
摩摩喳喳
主材料︰175g 西谷米/西米露
650g番薯 (使糖水色彩缤纷,用红白黄甜薯)
500g芋頭
制作步骤:
西米温水中浸泡备用。
主料去皮切成方丁分别蒸至熟。
锅内放入2 公升清水,加入糖及班兰叶,偶尔搅拌将水煮沸溶解糖。
转中火加西米露再加入椰浆或淡奶并不断搅拌煮约10分钟。
把主料芋头和红白薯丁倒入,搅拌,小火再煮5分钟即可。
一些西米可能仍然半白,但浸泡在热糖水的时间越长西米露越会变成半透明.
把班兰叶去掉即可食用,这糖水可冻或热食