Rice is my family main staple food, a family of three, my guys at home can eat average 2 cups rice for a meal! But, to me noodles are my choice. I can eat more than a bowl of rice noodles but just a small bowl of rice.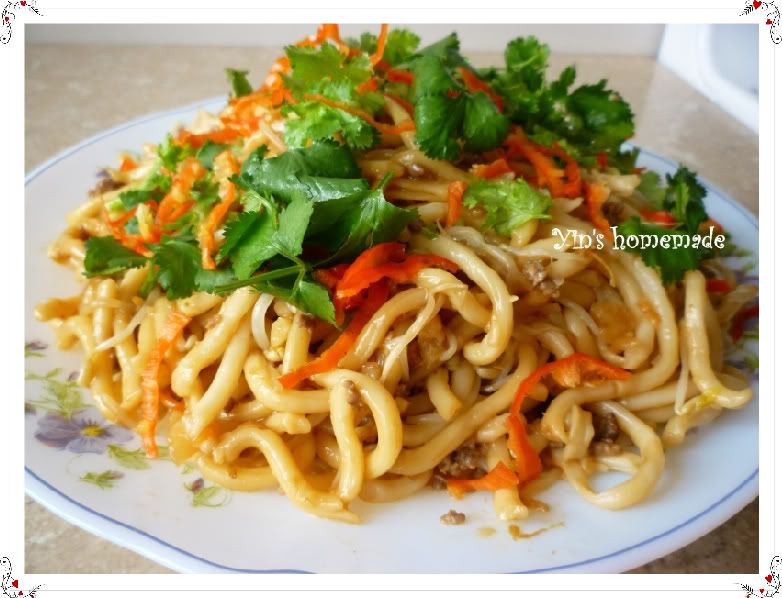 @16/09/2010
Let me started off my series of noodles recipes with Fried
Udon
with dried shrimp which I had served in one of my lunch sharing gathering.
FRIED UDON WITH DRIED SHRIMP RECIPE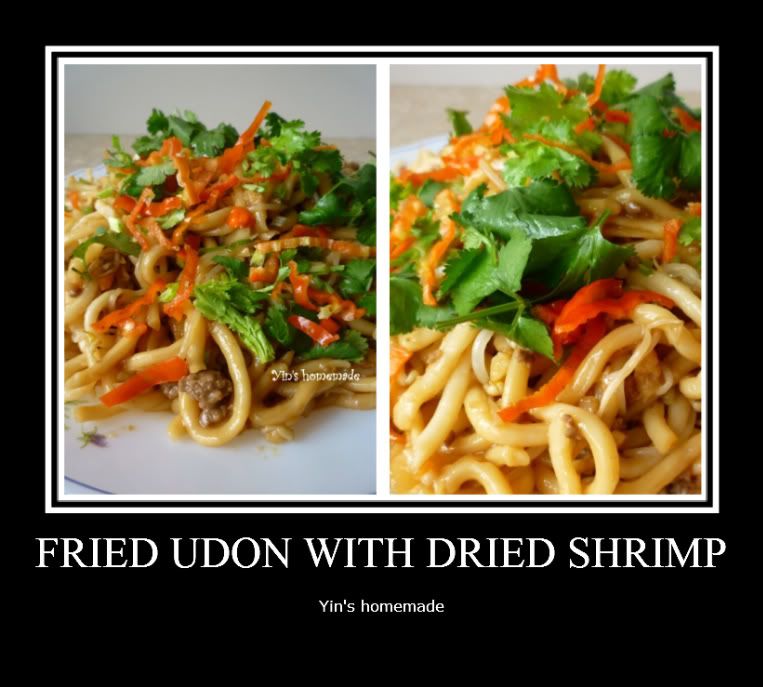 INGREDIENTS:
2 tbsp oil
1tbsp chopped garlic
3 tbsp dried shrimp (soaked and chopped)
2tbsp chopped preserved radish (soaked 20 minutes and drained)
½ tbsp ground black pepper
100g minced meat
2 packets Udon noodles
Coriander/parsley/chili to garnish

SEASONING:
1 tbsp oyster sauce
½ tbsp light soya sauce
½ tsp salt
150 water

METHOD:
Heat up oil, sauté chopped garlic and dried shrimp until fragrant and shrimp started to dance.
Add in chopped preserved radish, ground black pepper and minced meat and stir fry until aromatic.
Add in Udon, seasoning and stir fry until well mixed. Dish up and serve.
Garnish with coriander/parsley/chili as you like.

虾米炒乌冬面食谱
材料:
2汤匙油
1汤匙切碎的大蒜
3汤匙虾米(浸软,切碎)
2汤匙切菜脯碎(浸泡20分钟,沥干)
半汤匙黑胡椒
100克肉碎
二包乌冬面


香菜

/

辣椒


调味料:
1

汤匙蚝油




半汤匙酱油


半茶匙

盐


150

水


方法:
热油爆香蒜茸和虾米, 添加菜脯碎,黑胡椒和肉碎炒香。
再加入乌冬面,调味,翻炒均匀即可上碟享用。香菜/辣椒装饰

。