Want some simple and fast snack? Let's puff!
This morning after finished making
Kaya
jam (Ming Ray has been bugging me to have this coconut egg jam to go with his toasted bread for quite sometimes), then it struck my mind to use this Kaya jam to make Kaya puff.
In fact, I already planned to use yesterday leftover ham and eggs to make a few small puffs for morning tea. In the end, we enjoyed two types of puff for morning tea
J
Below is another simple and easy snack idea using ready made puff pastry, go and try it!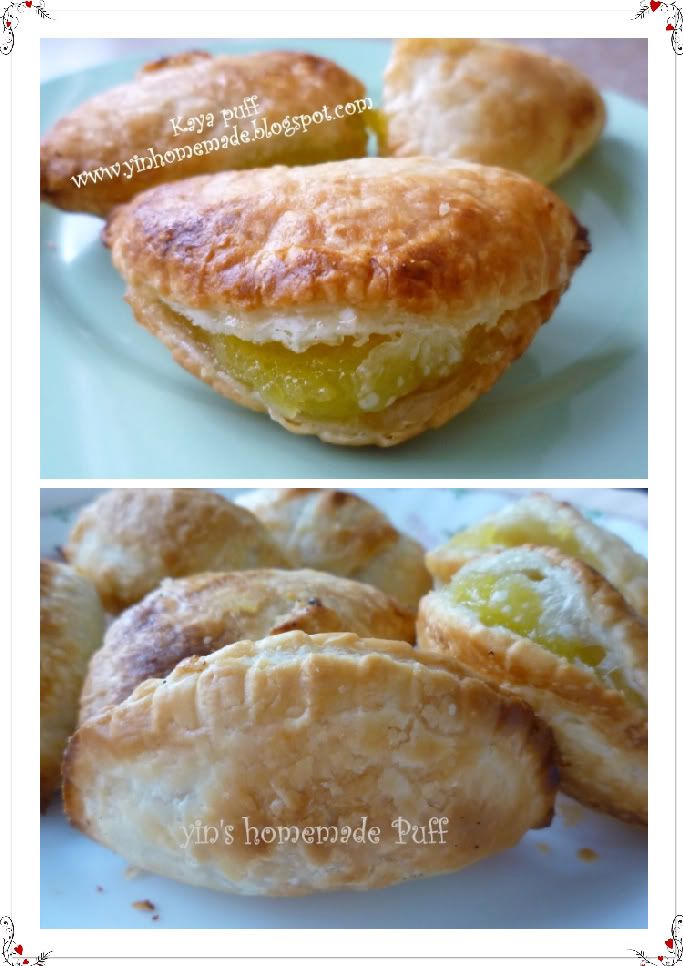 Kaya Puff @ 30/09/2010
INGREDIENTS:

Ready made Flaky Puff Pastry

Filling:
Kaya
1 egg lightly beaten for glazing

Method:

Pastry sheet cut into smaller sheets. (Size as you like)




Place filling in the center of pastry sheet and fold into the shape as desired i.e. Triangle, Rectangle or dumpling shape. (I have this cute little mold to make nice little dumpling shapes).

Use fork to slightly press the edge to seal the pastry after wrapping filling.
Glaze with eggs mixture.
Bake for 10 minutes. ( I used my small bench top oven toaster)
Notes:
For Ham and eggs puffs, replacing filling with chopped ham and eggs or any leftover meats you have in the fridge.