Surprise Christmas High Tea

Last Friday was our monthly Healthy Eating on a Budget seminar; it was the last cooking class for year 2010. We were looking forward to learn new Christmas recipes but surprised by our lovely cooking instructor Cushla with a table of fabulous Christmas feast. Not only that, she even made each and every one of us a gorgeous hand knitted Christmas sock with flavorful aromatic mix in it.

I had been attending this cooking class for over a year since last November. I'm truly grateful to North Shore Women Center who organizes such meaningful classes, not only I get to know various ways of budget and healthy cooking and knowledge of Western Cuisine, I get to know a charming group of Kiwi ladies.

I was happy to learn that the cooking class acquired new funding and was going to resume in February 2011. On behalf of all the ladies I want to express our gratitude to Harbour Health who sponsors this program. Last by not least, I would like to thank our gorgeous instructor Cushla Marsh for her time and patience in sharing her skillful cooking with us.

Below are some of the highlights we had last Friday, the quality of photos was not so impressive because this was a surprise party I was not prepared with a proper camera.


Read on for the Christmas recipes by Cushla and hope these will help to add some new ideas to your Christmas meals.
APPLE AND ALMOND TARTLETS (ALTERNATIVE TO CHRISTMAS MINCEMEAT TARTS)
You can opt to use ready-made off the shelf pastry or make the easy pastry as shown below: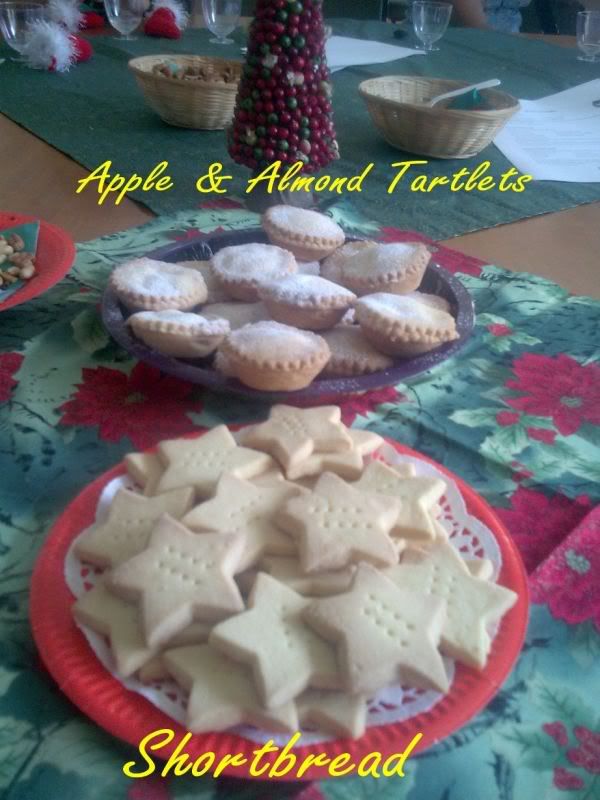 INGREDIENTS:
400g Readymade sweet pastry
567 can apple slices or pieces
About ¼ tsp almond essence
2 Tbsp sugar
Icing sugar
METHOD:

Roll out pastry on a lightly floured board to 5mm thickness. Cut out 24 rounds and place 12 into patty tins. Set remaining pastry aside.
Empty the apple into a mixing bowl. Carefully stir in the sugar and almond essence.
Place a few apples into each prepared pastry case. Place remaining pastry rounds on top. Press edges lightly together.
Bake at 190C degree for about 20 minutes or until golden.
Leave in the tin for another 5 min before carefully lifting and transferring to a cooling rack.
When cold, dust with icing sugar. Repeat to use up remaining pastry and apple.
Sweet Short crust Pastry

INGREDIENTS:
200g butter
½ tsp vanilla essence
½ cup icing sugar
2 cups plain flour

METHOD:

Warm the butter to room temperature. Cream until easily worked in food processor with metal cutting blade.
Add icing sugar and vanilla and mix to a light, smooth constancy. Add flour and mix well.
If mixture is too crumbly to stick together, add milk using as little as possible. Chill until firm.
SHORTBREAD
INGREDIENTS:
¾ Cup icing sugar
¾ cup Corn flour
220g butter
1 1/2 cup plain flour
METHOD:
Cream butter and icing sugar, add sifted flour and corn flour

Roll out 1mm thick. Cut into shapes as desired and prick with fork.

Bake 30 min at 150C degree.
CURRIED CHEESE LOG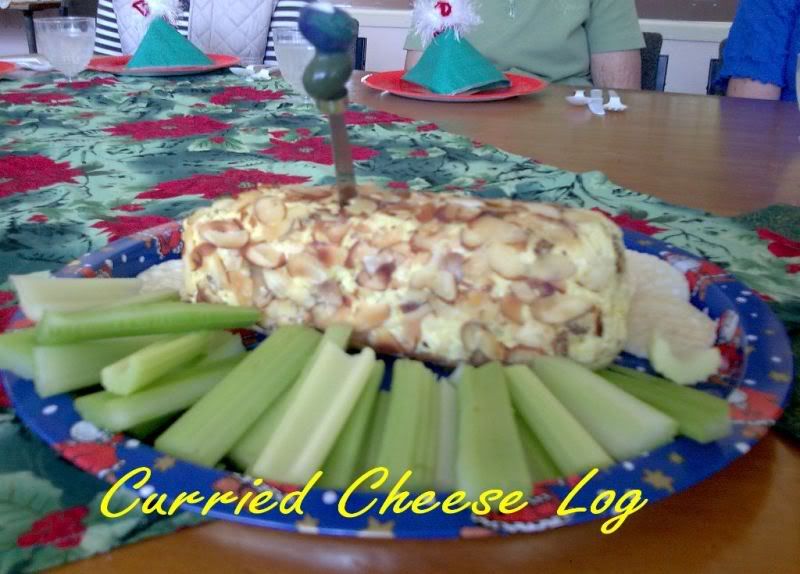 INGREDIENTS:
250g cream cheese
1tsp curry powder (mild)
¼ cup raw peanuts, chopped
½ cup flaked toasted almonds
250g grated tasty cheese
1tsp ground fennel or coriander
¼ cup sultanas, chopped
METHOD:
Let cream cheese soften at room temperature and then beat until smooth.

Add remaining ingredients except the almonds, mix well.

Turn on to a piece of non-stick paper and mould into a log shape. Wrap securely and chill until firm.

Roll in toasted almonds and serve with crackers, sliced French bread, dried apricots or celery.
SMOKED CHICKEN SALAD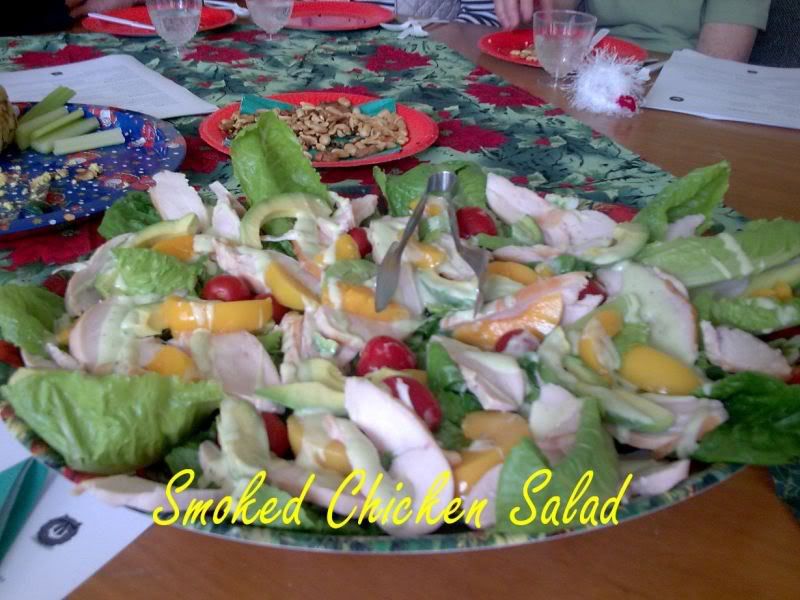 INGREDIENTS:
2 smoked chicken breasts
1 can peach slices (drain)
Cherry Tomatoes
Lettuce
1 – 2 avocado
Spring onion or chives (chopped)
Avocado salad dressing (peel and slice)
METHOD:
Slice chicken attractively.

Arrange lettuce leaves on a platter. Then add in more lettuce, chicken, avocado, peach slices, onion and whole tomatoes.

Drizzle over the avocado dressing.