Finger licking good?
This is yet another simple recipe kids are sure to love. This recipe also demonstrates a healthy way to prepare kids' favorite chicken meals by oven baking rather than deep frying which can be quite oily. I used chicken wings because they were on special; however you can use drumsticks with this same recipe.
The wings are truly inviting with their caramel skin appearance, aren't they?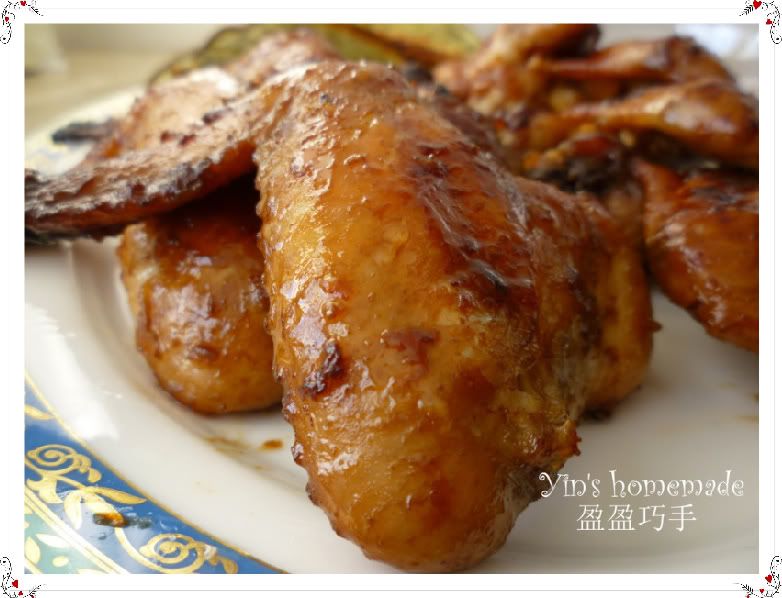 Baked Hoisin Sauce Chicken Wings 海鲜酱烤鸡翅 - Featured in Group Recipes 4/12/2010
BAKED HOISIN SAUCE CHICKEN WINGS
INGREDIENTS:
8-10 whole chicken wings ( you can also cut into drummettes and wings)
MARINADE:
1 tablespoon honey
3 tablespoons Hoisin sauce
1 garlic cloves, finely minced
1 tsp of Sesame oil
1 tbsp of Shaoxing cooking wine (optional)
Dash of pepper
METHOD:
Clean wings and pat dry with kitchen towels, set aside.
Marinate chicken wings for at least 1/2 hours, best leave over night.
Heat oven to 180 degrees, arrange chicken wings on a baking sheet and bake for 30-35 minutes, Turn wings every 10- 15 minutes and basting with marinade.
Bring baking tray to higher rack to grill for the last 5 minutes to allow caramel appearance.
Keep close eyes on the wings to avoid over burning.
Use skewer to test doneness, poke into center of wings, if juices run clear wings are ready.
Transfer chicken wings to a serving platter and serve.
材料
8-10只全鸡翅膀

(
你也可以分切成鸡翅中段和小腿)
腌料:
一汤匙蜂蜜
3汤匙海鲜酱
1瓣蒜头,剁碎
1茶匙麻油
一汤匙绍兴料酒(可选)
做法:
将鸡翅膀用腌料腌至少1 / 2小时或腌过夜更入味。
烤箱预热至180度,将鸡翼放入焗炉内,焗30-35分钟或至熟。中途10-15分钟将鸡翅膀反转淋上腌汁。

最后5分钟将烤盘移上较高

的架子上

烤上色,注意

避免鸡翼过度烧焦。
使用竹签测试翅膀是

否烤熟,假如

清澈鸡汁流出翅膀已

熟

。

取出上碟。