Yesterday 22
nd
December was what we Chinese call 冬 至which is translated in Englih as
Winter Solstice
. On this day in Northern hemisphere is the shortest day and longest night but we over in the Southern hemisphere experience the longest day and the shortest night of the year instead. Chinese believe after today the day will get longer and longer and this generates"Yang qi" a.ka. Positive forces so it should be celebrated. Hence, to some Chinese especially those in the mainland China, celebration for this day is even more important than the Chinese New Year (冬至大过年). If you are keen to find out more on the history, I will leave it to the experts to do the explanation, here's the
link
.
Frankly I didn't understand the reason of celebration until I wrote this post. What in my memory since I was a small kid was on this day my mum would make Tang Yuan (glutinous dumplings) and asked us to eat. She said once we ate the Tang Yuan then we would get older by a year. I couldn't believe I did buy her saying when I was small and ate as many as I could so I could grow up faster. But I doubt I would want to eat any now if the saying is true!
J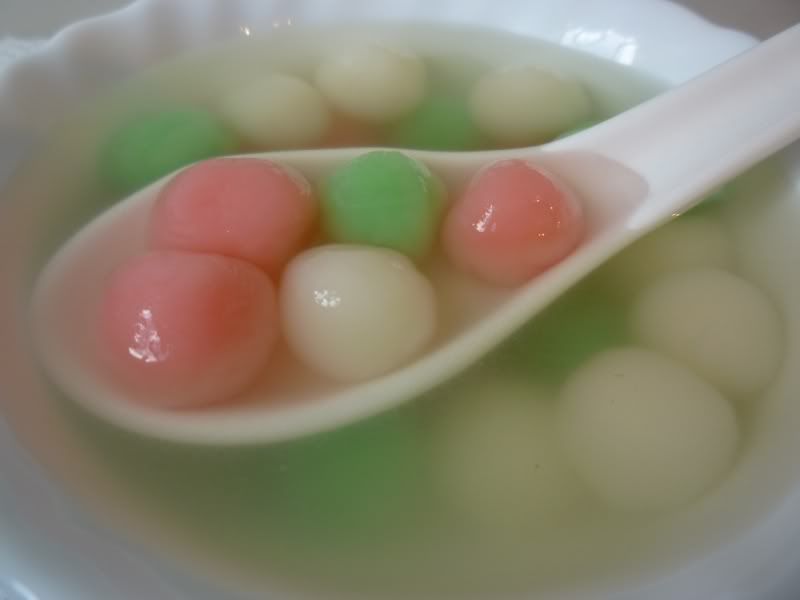 Tang Yuan (Sweet Glutinous dumplings) 汤圆
There are mainly two types of Tang Yuan one with filling and another without, which was the one I used to eat since I was small. Tang Yuan is not difficult to make at all, in fact it is the easiest Chinese dessert to make. Still, we got it wrong for the first time when I made this with hubby.
The first year when we were married, we did not go back to home town to celebrate with our parents. Hence, he suggested making Tang Yuan on our own as he is a Tang Yuan fan. At that time I had little knowledge about cooking. I wasn't sure what flour to use for the Tang Yuan and suggested to ask mother-in-law for advice, but JS said he knew how to make it. I still could recall we spent whole night kneading the dough, added coloring to the dough and kneaded into many nice colorful round balls, but when we boiled them, the rice balls could not float even after being boiled for a long time (cooked Tang Yuan would float). In the end we realized we had produced a whole pot of bouncy rice balls instead of sticky chewy Tang Yuan, but why?
Then we decided to give my mother-in-law a call to find out why. Only then we realized we had used the wrong flour to make Tang Yuan! We had used rice flour instead of glutinous flour! This is the biggest joke that I always tease him all the time. How bouncy the rice balls we had you might ask? If you run out of ping pong balls then you can try to make this as replacement
J
Well, this time with Auntie Ah Lan around, we won't end up with bouncy rice balls, in fact we get to enjoy the real authentic Malaysian style Tang Yuan, nice round glutinous dumplings in sweet rock sugar soup. This recipe that I'm sharing is without filling, which is very basic and can be prepared anytime of the year not necessarily on winter solstice.
Actually to the Chinese, Tang Yuan with its round shape symbolizes reunion which is why it is also one of the main desserts served during Chinese New Year when all family members get together in a family reunion. Besides, it is also served on wedding day. The groom and bride customarily must feed each other Tang Yuan and they are not allowed to chew the dumplings, instead they are asked to shallow whole so the rice balls would remain intact to symbolize togetherness.
For firmer and chewy texture of Tang Yuan, best knead the Tang Yuan in advance and left overnight to rest.
Making Tang Yuan is also a great bonding time, the kids especially love the idea of kneading the rice dough because kneading the glutinous rice dough is similar to play-doh, and you can see how Ming Ray enjoyed his Tang Yuan play-doh with his auntie.