Flying Water spinach?
Water spinach
a.k.a. Morning Glory is known as Kangkung in Malay. This vegetable is easily available in South East Asia (SEA) and is considered one of the cheapest vegetables as it thrives naturally with little care. I was surprised to find this vegetable here in Auckland. Recently, the price for this vegetable dropped drastically; I suppose the warm weather of summer is the main factor for the abundance supply of this veggie.
There are a few renowned street foods in SEA which feature this vegetable. Malay Cuisine has a dish called Sambal Belacan Kangkung (Chili Shrimp paste stir fried water spinach). As for Thai the signature dish for water spinach is Pak Bung Fai Daeng (Stir-Fried Red Fire Water Spinach), which is Thai's most popular way of stir frying the water spinach. I reckon the dish must be so ordinary and simple that inspires some of the Thai street vendors to come out with more entertaining idea in stir frying the dish in an acrobatic way by literally "flying" it in the process of serving the dish. You can check out this
Flying Morning Glory in YouTube
.
Well, with the electric coil stove in my kitchen, I couldn't fire up my wok in red flame and the kitchen was too small for me to demonstrate the flying dish, yet it still tasted delectable nevertheless.
J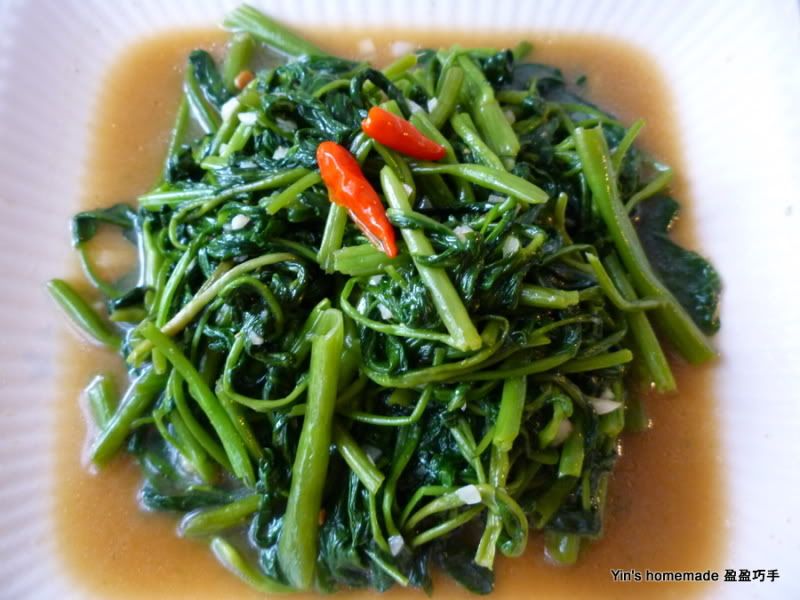 Stir Fry Water Spinach (Pak Bung Fai Daeng) 酱炒蕹菜 - Featured for Dec 15th
One bunch of water spinach
2 tablespoons of garlic, crushed and chopped
4-5 Bird's eye chilies (chili padi), crushed – (Spiciness to your preference)
3 tablespoons of water or chicken broth
SEASONING SAUCE:
1 tablespoon of soy bean paste
1-2 tablespoons of oyster sauce or Fish sauces (to your taste)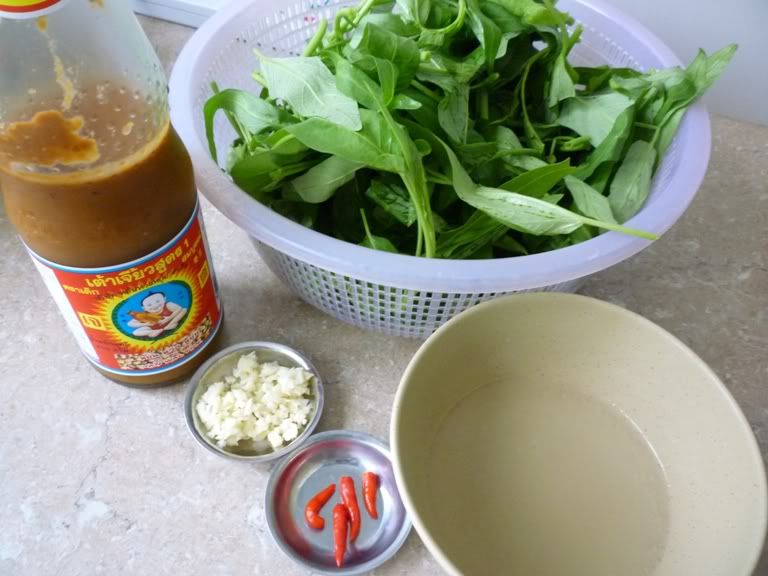 1.

Wash water spinach and discard tougher parts of the bottom stem, select tender stems and leafy parts only, break into 3 segments for each stem and set aside in a bowl.
2.

Place crushed garlic and chilies on top of prepared water spinach.
3.

Heat up a wok with oil over very high heat to almost smoking wok; throw in the vegetables, garlic and chilies.
4.

Stir fry quickly for about a minute, add in seasoning sauce and chicken broth, taste test and adjust seasoning.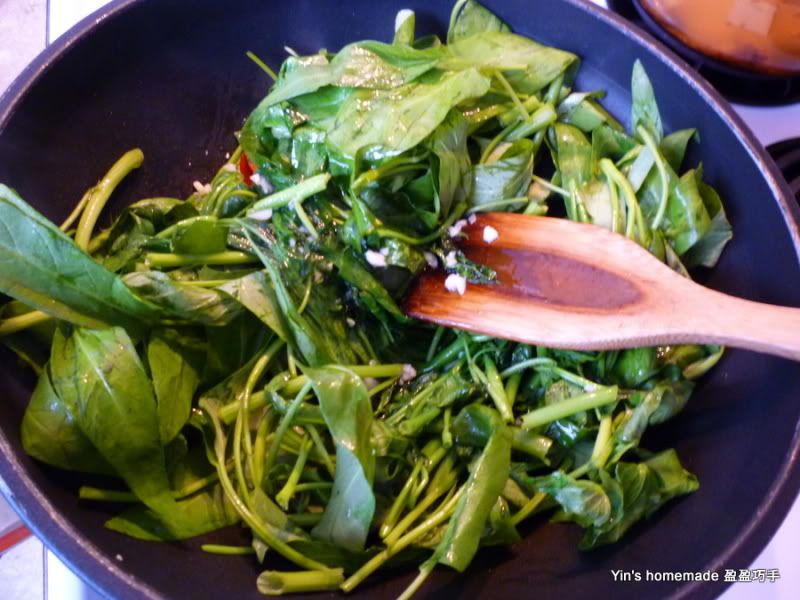 5.

Dish up immediately and serve. Do not overcooks or the water spinach will turn wilted and not in appealing vibrant green color.
材料
一把蕹菜
/

通菜

/

空心菜


2

汤匙蒜末


4-5

只小辣椒,拍扁(辣度随你口味)


3

汤匙水或鸡上汤





调味酱:


1

汤匙豆瓣酱


1-2

汤匙蚝油或鱼露(随你口味)




适量糖





方法:


1

。蕹菜洗净,丢弃底部干硬的菜梗,选择嫩茎和叶,切成三段备用。


2

。把炒锅加入

2

大匙油烧至火红,放入蕹菜,蒜末与辣椒大火快炒约一分钟


3

。加入调味酱和鸡汤,炒至蕹菜颜色更翠绿后即可盛盘。