Wanna a slice of gluten free sweet and chewy Nyonya kuih?
This is another blissfully easy and delicious Nyonya kuih recipe, Kuih Sago. Sago, also known as Tapioca Pearls, is made of
tapioca
. Tapioca Pearls is one of the common South East Asian dessert ingredients, widely used in Malay, Nyonya and Thai desserts.
This recipe was verbally taught by a Malaysian cashier whom I met at my regular Asian grocery store. It happened that one day she showed me the kuih which she made for her colleague as birthday treat and asked me what the proper name was for the kuih in Malaysia which she couldn't recall. I was of no help to her as I had no idea what the name for that kuih was. But since she said the main ingredient was sago, I guessed it must be Kuih Sago. She mentioned that the kuih was super easy to make, just "mix and steam", so it prompted me to give it a trial.
I made this last Saturday and brought over as dessert to our regular Penang families dinner gathering. I used green Pandan flavor sago. Alternatively you can use white sago added with some coloring.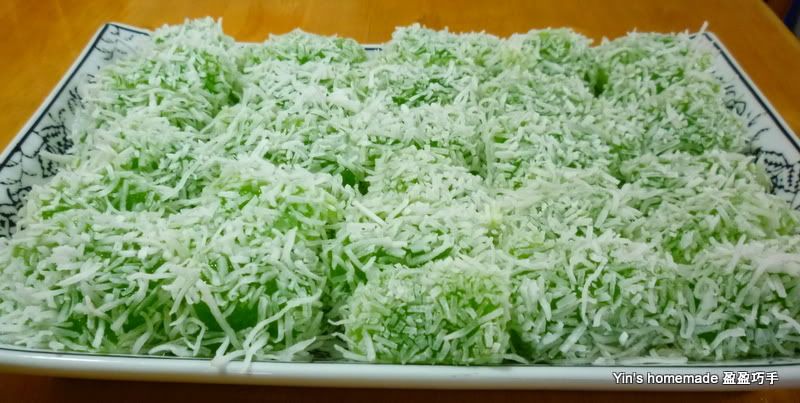 These snowballs like of luscious gluten free kuih , can be a unique Christmas dessert recipe too
.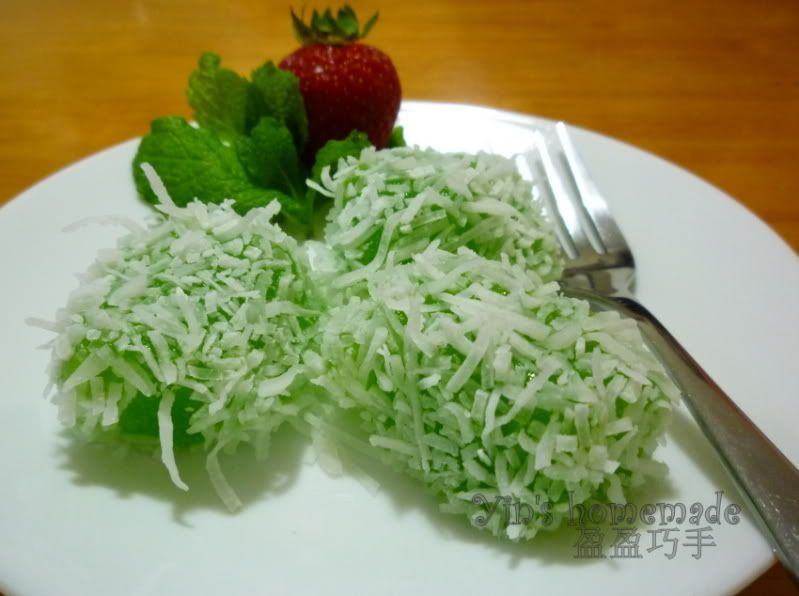 Kuih Sago 椰丝西米糕 - Featured in Group Recipes 21/12/2010
KUIH SAGO

( STEAMED TAPIOCA PEARLS CAKES)
INGREDIENTS:
300g Sago/Tapioca Pearls ( I'm using green color sago)
150g Sugar
1 tsp Vanilla essence
1tbsp corn flour
½ tsp Salt
150g finely grated coconut (or desiccated coconut)
METHOD:
Soak sago in cold water for 60 minutes; wash a few times to get rid of the starch and drain.

Mix in sugar, corn flour and add in 1tsp of Vanilla essence, stir to blend well.

Pour the sago mixture into a steaming tray, steam until cooked (the sago turns transparent in appearance), about 30 minutes.

Remove from the heat and set aside to cool down.

Cut into bite size cube and coat with grated or desiccated coconut and serve.
Tips:
If dried desiccated coconut is used, best to soften the coconut before use.
Pour out sufficient amount of desiccated coconut in a plate, add in ½ tsp salt and sprinkle some water onto it and microwave heat or steam to soften the coconut.
椰丝西米糕
材料:

300
克
西米
/
沙谷米(我使用绿色西谷米)

150
克糖
1
汤匙粟粉
1
茶匙香草精
半茶匙盐

150
克新鲜椰丝或干椰丝
方法:

1
。将沙谷米浸泡冷水
60
分钟,泡洗几次将淀粉洗清沥干。

2
。加入

粟粉,

糖,
1
茶匙的香草精搅拌拌匀。

3
。将西米混合物倒入一个蒸盘,蒸约
30
分钟至熟(西米变成透明)。

4
。取出冷却后切片,拌上椰丝就可以吃了!
提示
如果使用干椰丝要先软化椰丝。把适量椰丝倒入盘中,加入半茶匙盐,洒一些水用微波炉或蒸。
待软化后,才拌入西谷米糕。