Nyonya Cuisine – Part 3
Loh bak (Sausage Pork Roll) is another famous Penang Nyonya food. It is also one of the Penang well known hawker delights easily available at many Penang street stalls or night markets sold as finger food. Usually they are sold in a combo platter of loh bak which includes, prawn fritters, fried bean curd (taukua) , five spice hard boiled eggs, century eggs, and slices of cucumber.
Recalling my school days, I used to eat Loh Bak as supper after late night shopping with friends at night markets. We used to order a combo plate and sit down to share this little snack before heading home. To many Penang families, it can also be served as an entree in a multi-course meal especially during festive celebrations or sometimes even wedding dinners.
I'd been thinking of making this for quite a while now; I had even bought the bean curd sheets but just had not got the right time to make it. With Auntie Lan , our Nyonya expert around, how could we not ask her to make this Nyonya dish while she's still with us?
J
So, again let me feature my guest chef showing off her Nyonya cooking skills.
However, we were unable to come out with the same loh bak taste as back home. This was because I couldn't find one of the main ingredients that's called Sengkuang in Malay or "bangkuang" in Hokkien which was a kind of sweet root vegetable. When I wrote this post, I tried to Google for English name; it gave me a Spanish word
Jicama
and Yam bean. I was surprised to read that some refers to it as turnip. I guess for our next trial we can either use water chestnuts or opt to use turnip as replacement.
My auntie said you can also make this into vegetarian version by replacing the meat with Yam. Vegetarian Loh Bak (斋卤肉)which has another name "Huang Jiang" in Teochew is one of the many vegetarian dishes prepared by her during the 1
st
day of Chinese New year. This day is also regarded as vegetarian day and following the Chinese customs we are to start off with vegetarian meals.
Penang Loh Bak 槟城五香卤肉
Penang Loh Bak (Sausage Pork Roll)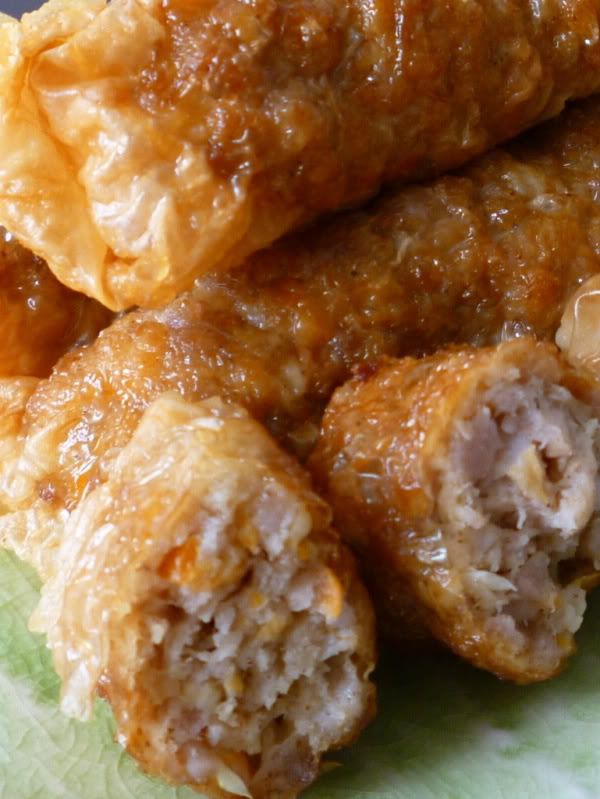 INGREDIENTS:
500g pork mince (for vegetarian version, replace with Yam grated finely)
1 piece bean curd sheets (cut into 6
″
x 8
″
rectangles)
Yam Bean or water chestnuts (peel and grated finely) – I couldn't find so I skip
½ Carrot (peel and grated finely )
1 onion (grated and finely chopped, drained)
1 cucumber/zucchini (optional)
Cooking oil for deep frying
SEASONING:(To your taste)
1 tsp five-spice powder
1 tsp sugar
1-2 tsp salt
¼ tsp of chicken stock granule (optional)
1 egg (lightly beaten) – omit if vegetarian version
2-3 tbsp corn flour or deep fried flour (enough to make the mixture starchy)
Dash of pepper
METHOD:
Combine all the grated ingredients in a mixing bowl, add in seasoning and mix thoroughly.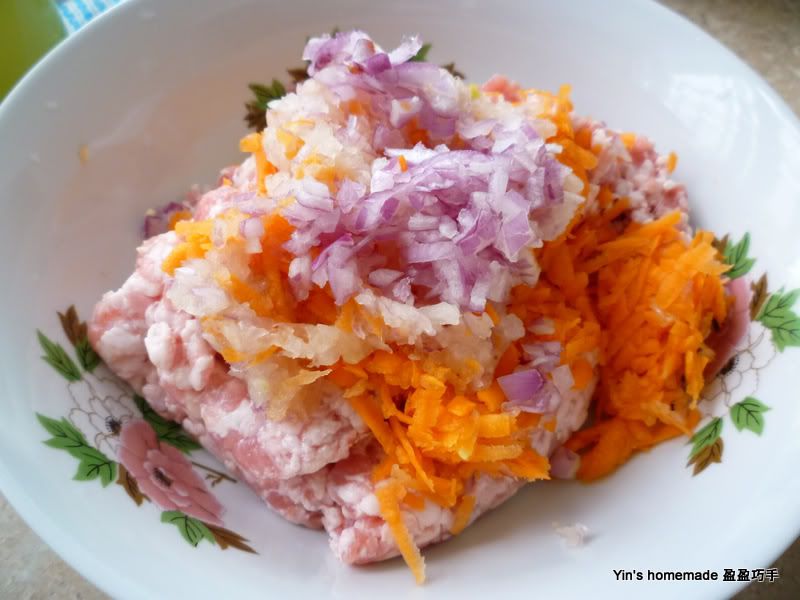 Wipe bean curd skin with a clean damp cloth cut into rectangle sheets.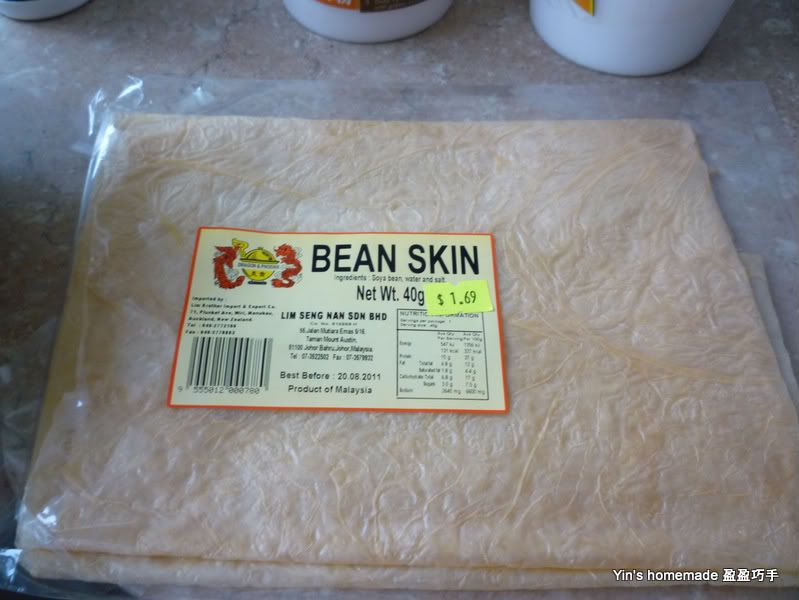 Spoon the mixture onto the bean sheet, fold the two sides to form a long roll and roll up tightly. Seal the edges with the water or egg mixture.
Heat up wok, pour in enough cooking oil and deep-fry the sausage rolls over medium heat until golden brown.
Drain on paper towels
,
slice into small pieces and serve with slices of cucumber/zucchini and dip with chili sauce.
餡料
猪肉
500

克肉(素食版本,用于头代替)


1

片豆腐皮(
剪成
6"× 8"

方形)
马蹄或豆薯
/

沙葛(去皮,磨碎)(我找不到没用)




半条红萝卜(去皮,磨碎)


1

个洋葱(切碎,沥干)


1

条黄瓜切片(可选)
些许胡椒粉
调味料:
(

随你口味

)
1/2

大匙五香粉


1

茶匙糖


1-2

茶匙盐


¼

茶匙鸡精粉(可选)


1

粒鸡蛋(打散)

-

素食版本可省略


2-3

汤匙粟粉或油炸面粉
方法:
1

。将餡料和調味料放入撹拌碗内,撹拌至均匀。
2

。攤開腐皮用干净湿布轻抹、放上適量餡料、緊緊地巻起、稍微圧一圧两端用水或蛋液封密。


3

。燒熱炸油、将五香鹵肉炸至金黄色及熟、撈起瀝干油份、切塊。


4

。配上黄瓜片沾辣椒酱享用

.