Teochew Cuisine – Part 2
This is another Teochew dish our auntie used to cook for us back home in Malaysia. When I saw
Ling fish
steak which was also Ray's favourite fish were on special, I wouldn't miss the chance to grab them.
Furthermore, this fish was not available in Malaysia so it would be great experience for our Auntie. I'd asked auntie to cook her specialty Taucheo (bean paste) fish which we missed so much.
If you'd like to have some extra kick of hot and spicy fish, you can use Sichuan chili bean paste instead or add some chilies into the sauce.

Taucheo(Soya Bean paste) Ling Fish 豆酱鲮鱼 - Featured in Group Recipes 1/12/2010

TAUCHEO (SOYA BEAN PASTE) LING FISH
INGREDIENTS:
4 pcs Ling fish steaks
1 cm ginger (finely slice)
1 tbsp finely chopped garlic
2 stalks spring onion (cut into 2 inches length)

Bean Paste Sauce:
1 tbsp Soy bean paste (you can opt for spicy chili bean paste)
1/2 cup water
Dash of sugar

METHOD:
1.
Wash and use paper towel to pat dry fish steaks then sprinkle some corn flour on the fish steaks.
2.
Pan fry the fish steaks until golden brown on sides, dish and drain on paper towels.
3.
Leave 2 tablespoons oil in the pan/wok to sauté garlic and ginger until fragrant.
4.
Add soya bean paste and sauté for 1 minute and then add water.
5.
Allow simmering until gravy thickens slightly, then add in fish steaks and cook for another 5 minutes, turning slices halfway through.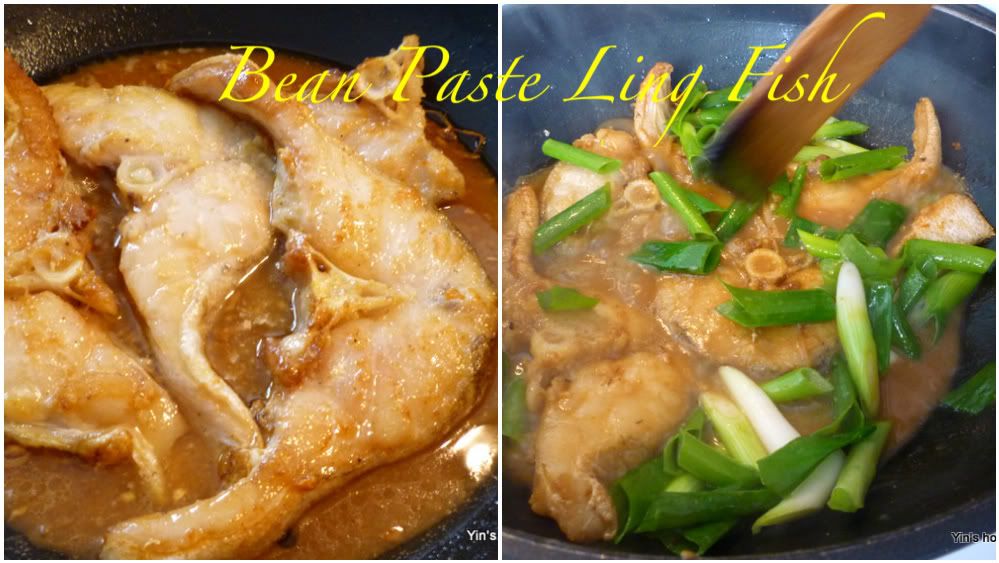 6.
Taste test, if too salty dash in sugar.
7.
Sprinkle in spring onions stir to mix.
8.
Dish and serve hot with rice.
2
汤匙太白粉
半杯炸油
2
棵葱(切
2
英寸长)
豆酱汁:
一汤匙豆瓣酱
(
要辣你可用辣豆瓣酱
)
适量糖
方法:

1
。
鱼排洗净,用纸巾抹干,然后扑些太白粉在鱼排上。

2

。起油锅,煎鱼排至两面呈金黄色,即可起锅备用。


3

。在锅内留

2

汤匙油,炒香姜丝和蒜末。
4

。再倒入豆瓣酱,炒香,然后加水以中火煮至酱汁浓。


5

。才加入鱼排再煮

5

分钟不时翻面让鱼入味。
6

。口味测试,如果太咸加少许糖。


7

。
最后撒上青葱搅拌即可上碟食用。