Cookie dunk?
I had this recipe since last Christmas when I attended my monthly budget eating cooking class
, which I already shared in my
Christmas High Tea post
, but never attempted to make it until now.
Frankly, I'm not a sweet tooth person, I seldom eat sweet biscuits but love to eat savory cracker dunk with hot chocolate or coffee. However I do sometimes like buttery biscuits, especially round tin Danish butter cookies. When I first tasted shortbread in that high tea, the strong buttery flavor and the texture of the biscuit melted in the mouth gave me very close similarity to Danish cookies except it was not so sweet which was more to my liking.
Finally, when I saw that I still had blocks of butter to clear off and my hand mixer was due to be sold off with less than 3 weeks time to return to home country (we are now gradually selling off our electrical appliances online),
I made my first batch of cookies.
The recipe that I shared was the combination of two recipes from my cooking class and the techniques from
Joy of Baking. As my boy Ming Ray loved chocolate, this
Royal shortbread cookies by Joy of Baking
with one end of the baked shortbread dipped with melted chocolate was just right for his taste.
The next day was Ming Ray's swimming sports day and the school invited parents to join the children for picnic lunch. I brought along the cookies to share with his school friends and parents. I was so pleased that my first attempt in cookies making received very good feedbacks.
I love to dunk these cookies in mocha coffee, would you care to have a cuppa with me?
J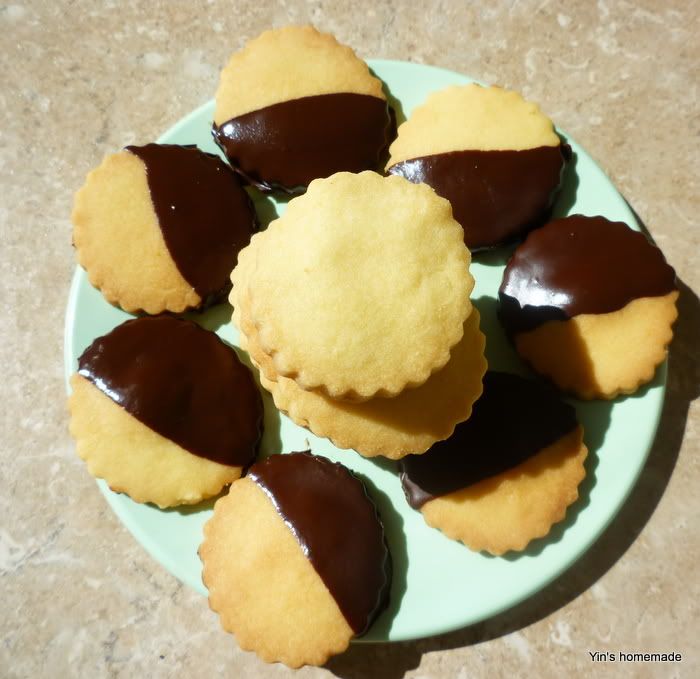 Royal Shortbread - Shortbread with chocolate dipping

Shortbread cookies featured in Group Recipes - 10/03/2011
ROYAL SHORTBREAD COOKIES
INGREDIENTS:
220g butter, room temperature
3/4 cup icing sugar
3/4 cup corn flour
1 ½ cups all-purpose flour
1 teaspoon pure vanilla extract
For Chocolate Dipped Shortbreads:
180 grams semi sweet or bittersweet chocolate, finely chopped
METHOD:
Cream butter and icing sugar. I used hand mixer to beat the butter until smooth and creamy. Add sugar and beat until smooth and beat in vanilla extract.

Add sifted flour, corn flour and mix thoroughly with the creamed butter mixture until it forms dough.

Flatten the dough into a disk shape, wrap in plastic wrap, and chill the dough for at least an hour or until firm.

Preheat oven to 180 degrees C with the rack in the middle of the oven.

Knead dough and then roll out the dough about 10mm thickness on a lightly floured surface. Cut into shapes as desired using cookie cutter.

Place on prepared baking sheets and place in the refrigerator for about 15 minutes. This will firm up the dough for cookies to maintain their shape when baked.

Bake for 8 - 10 minutes, or until cookies are very lightly browned. Cool on a wire rack.
For Chocolate Dipped Shortbreads:
Place finely chopped chocolate in a heatproof bowl and place it over a saucepan of simmering water.

Taking one cookie at a time, dip one end of each cookie in the melted chocolate and place it on a baking paper lined baking sheet.

Once all the cookies have been dipped in the chocolate, place the baking sheets in the refrigerator for about 10 minutes, or until the chocolate has hardened.
Tip:Shortbread cookies that keep in an airtight container can last for about a week or they can be frozen.
這個餅乾只用很多酥油而沒有水份,所以做出來的餅乾很酥脆,十分適合當做下午茶的茶點。
材料:
220
克牛油,室温

3 / 4
杯糖粉

3 / 4
杯玉米粉

1½
杯面粉
(

中筋麵粉

)

1
茶匙纯香草精
蘸
巧克力酥饼:
180
克半甜巧克力或
苦甜巧克
力
,切碎
作法
1
。用搅拌机搅拌牛油和糖粉。
先把
牛
油搅拌,分次加入糖粉打发至膨胀变白
才加入香草精。

2
。将面粉和玉米粉一起筛过后
加入
奶油搅拌混合
均匀
成
面团。
3
。
再把
面团压扁成盘形,
用
保鲜膜包装,
放冰箱冷藏
1

小时以上。
4
。先预热烤箱至
180
摄氏度将中间架烤箱中的。
5
。面团
取出后稍回温

再擀成
1

公分厚片,以餅乾壓模壓切成
形。
6
。放置在冰箱的地方约
15
分钟
变硬定型保
持其形状。

7
。
排入垫烤盘纸的烤盘
烤
8 - 10
分钟,或烤至表面呈现浅浅的金黄色取出放在冷却架上冷却
。
將巧克力碎片放進大碗中,然後把碗放進一鍋滾水裡,隔水加熱溶化巧克力碎片,邊加熱邊攪拌,感覺一半的碎片開始溶化即可取出(勿加熱太久),繼續攪拌,碗裡的餘熱會溶化剩下的巧克力,全部溶化之後,繼續攪拌直到巧克力漿滑順且表面發
亮。
将饼干一半蘸于溶化的巧克力后放置在烤纸上。一旦所有的饼干蘸了巧克力,放进冰箱约
10
分钟,或直至巧克力变硬。
饼干收在一个密封的容器可保持一个星期左右,也可以被
冷藏
。