The Pumpkins Series – Part 1
Farewell Healthy Eating on a Budget cooking class
Last Friday 18/03/2011 was my last day to attend this cooking class. As I mentioned in this
Christmas posting
, I had joined this class since November 2009. Ever since then I had been looking forward to the last Friday of every month to attend the class. I had amazing new experiences and tons of cooking fun here. I'll definitely miss these and the friendly group of people I met here. I especially enjoyed our tea break when we all had a cuppa, happily chatting and tasting new dishes that we had just learnt.
On this final class, I had brought my camera to snap as many photos as I could to cherish the happy moments I shared with these lovely ladies.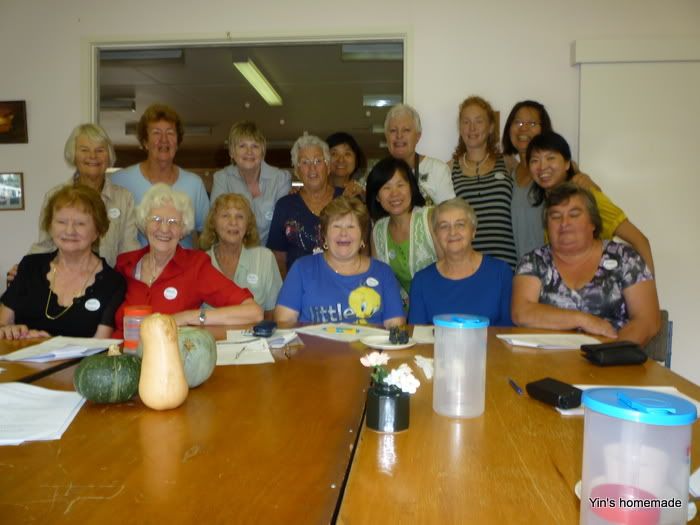 Happy family of Healthy Eating on a Budget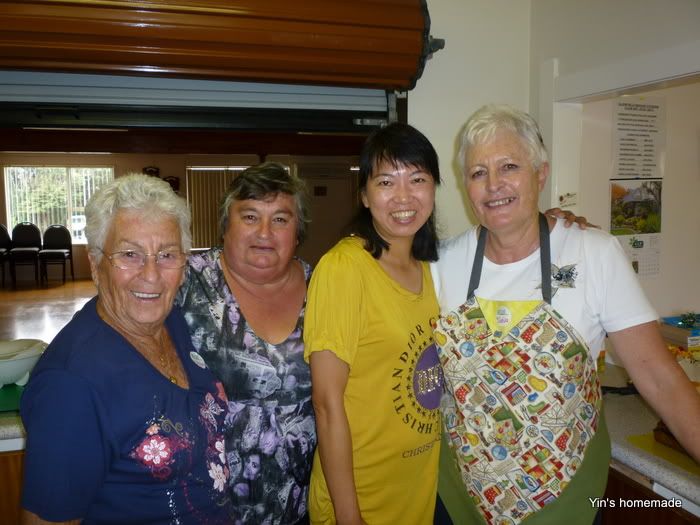 Posing with Cushla (1st right) and her sisters
Once again, I would like to take this opportunity to thank
North Shore Women center
for being a fantastic organizer, actively promoting various workshops ranging from cooking, art crafts, health talks, counseling support groups and even Tai Chi class to local women society, it is definitely a woman's place to be. In addition to this healthy eating on a budget cooking class which has broaden my comfort zone to try out Western Cuisine, I also had wonderful learning experience in their Tai Chi class.
For this class, our charming cooking facilitator Cushla had introduced us to pumpkins. She shared with us numerous nutritious cooking ideas using a variety of pumpkins from Buttercup pumpkin, Butternut pumpkin to crown pumpkin. I would showcase these pumpkin recipes that she had demonstrated one by one, starting with this delectable baked pasta.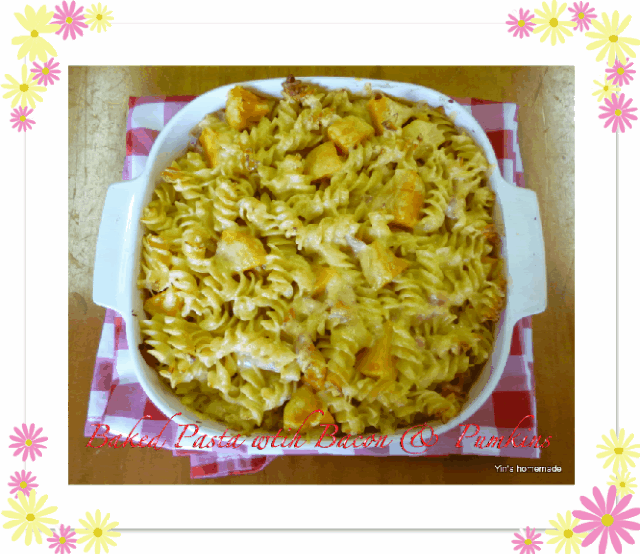 Baked Pasta with Bacon & Pumpkin 南瓜培根焗意粉- Featured in Group Recipes 28/03/2011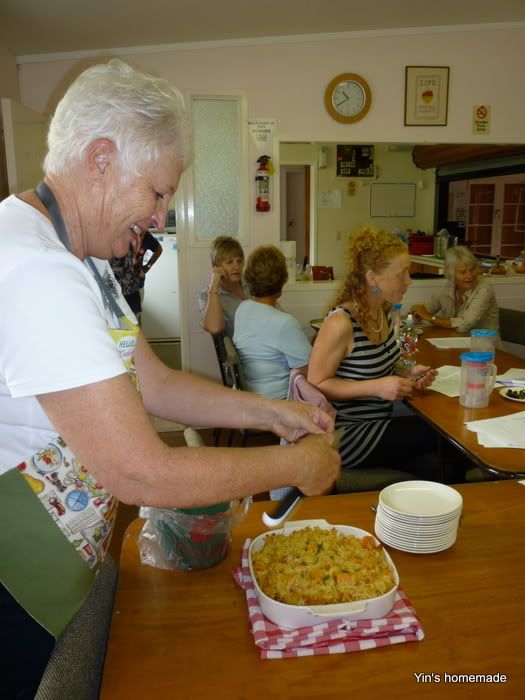 Final garnishing with my home grown spring onion before serving
BAKED PASTA WITH BACON & PUMPKIN
Serves with steamed broccoli and mini Feta Pumpkin bread
INGREDIENTS:
375g packet large spiral or penne pasta
450g butternut pumpkin, peeled and cubed
2 Tbsp Olive oil
*5 bacon rashers, rind removed chopped
2/3 cup chicken stock
2/3 cup evaporated milk
½ cup grated low fat cheese (eg.Edam)
Garnish with chopped parsley
(Serve 4)
* Choose bacon pieces instead of rashers as an exonomical alternative, or use 2 sliced chorizo sausages for a spiecier version.
METHOD:
Preheat oven to 200C, grease a 7 cup oven dish.

Cook pasta in boiling salted water until tender, drain and transfer to prepared dish.

Cook pumpkin in a saucepan of boiling water for 3-4 min or until tender then drain.

Heat oil in a large frying pan over moderately high heat.

Add bacon, sauté and stir for 3-4 min or until browned.

Add pumpkin toss to coat and season with pepper.

Transfer bacon mixture to dish with pasta

Whisk stock and milk in a medium jug, pour over pasta mixture and stir to combine.

Sprinkle with cheese and bake for 10-12 minutes or until golden and bubbly.

Sprinkle with parsley and serve immediately with a green salad or steamed beans or broccoli.
南瓜培根焗意粉
材料:
375克大螺旋
意粉
或penne
意粉

450克白胡桃南瓜,去皮,切块
2汤匙橄榄油
5培根火腿,除去皮,切碎
2 / 3杯鸡汤
2 / 3杯淡奶
半杯低脂奶酪,磨碎(eg.Edam)
装饰用的香菜,切碎

方法:
1)烤箱预热至200℃,用可装7杯水份量的烤盘,抹上一点油备用。
2)烧水加盐煮
意粉
至熟,沥干水,倒入备用的烤盘。
3)烧另一锅水加入南瓜煮3-4分至熟,沥干水。
4)用中度高温烧热油加入培根,爆香搅拌3-4分钟。
5)才加入南瓜拌炒后加入胡椒粉调味。
6)把培根,南瓜和意粉倒入烤盘里。
7)把鸡汤和淡奶轻轻拌打后,倒入在意粉中搅拌均匀。
8)撒上磨碎的奶酪烘烤10-12分钟或至金黄色起泡。
9)撒上香菜配上沙拉或蒸熟豆类或花椰菜即可食用。