I should have posted this earlier but I was trying to tie in the Chinese New Year moods by showcasing CNY related dishes first hence it was archived until now.

24th January 2011 – Cockle Picking with Auntie Lan

After our road trip we had only 3 more days before Auntie Lan would head back to Malaysia for Chinese New Year celebration with her siblings. In order to let Auntie Lan experience a true blue Kiwi holiday in Auckland, we brought her to one of Auckland's interesting summer activities – sea shells picking. It has been a while since our last cockles picking trip to Okoromai Bay, Shakespear Regional Park in October 2010. Cockles picking was best done at low tide. Despite knowing the low tide time for the few days was quite late at 6.30pm we still went for it.

We had only an hour to spare for real cockle picking before the day turned dark and for not wanting to reach home too late in the evening. However, this time we were more experienced and within a short time we had collected more than 200 cockles. This time the sizes of the cockles were much bigger than the last time we came here. As we were only allowed to bring back 50 cockles per head, happily we came home with a bucket of 200 cockles. Seeing both Auntie Lan and Ming Ray both enjoyed themselves very much, we were delighted to declare "Mission accomplished!"

J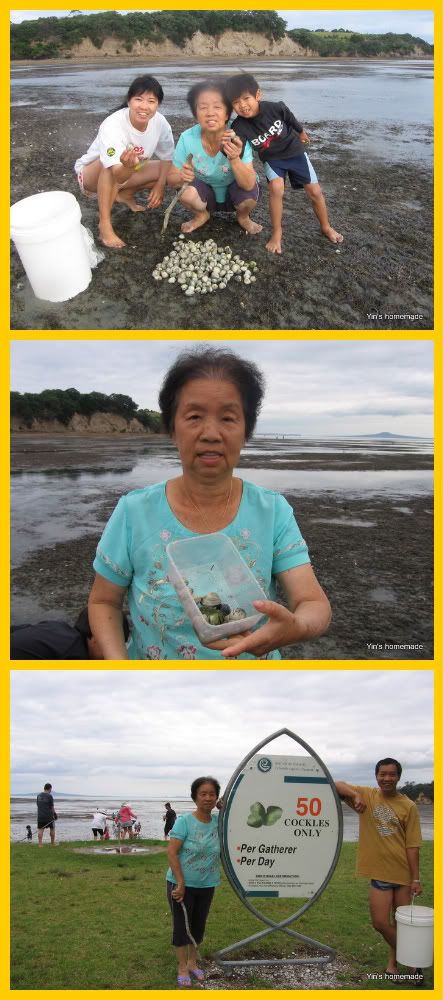 Now what to do with these 200 cockles? Well, this was what we decided – Penang famous Curry Laksa noodle or Curry Mee. Initially, Auntie Lan wanted to make own curry gravy but to spare her from the hassle of grinding chilies, I advised to use ready made curry paste.
I used
Tean's Gourmet Malaysian Curry Laksa Paste
, this
curry paste
was imported from Malaysia and easily available in Auckland Asian food stores. I had used it for curry chicken once. It tasted really delicious and the colour was very nice. Not to mention it was so easy to prepare. May be I should claim advertisement fees from the supplier, hahaha….
J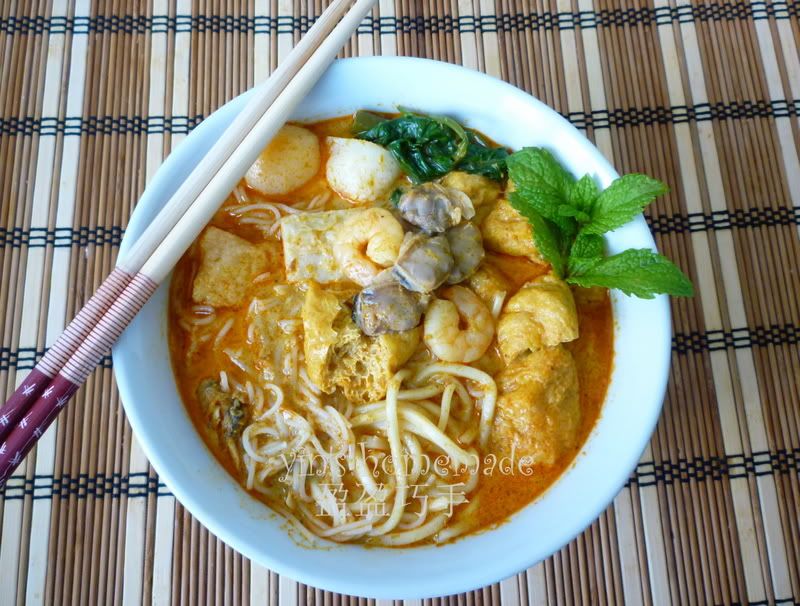 Curry Laksa Noodles (Curry Mee) 咖喱叻沙面 - Featured in Group Recipes 02/03/2011
Blanched cockles
Below is the short cut version of Curry Mee recipe, just grab a few main ingredients; Curry paste, seafood, noodles and coconut milk. For the people of Penang living overseas, it may even help cure your homesick taste buds by making one of Penang signature hawker street food - Curry mee!
Curry Laksa/Curry Mee
Penang signature hawker food - Curry Mee
Ingredients:
Shelled blanched cockles or clams
Prawns, squids, fish cakes, fish balls (any other seafood of your choice can be added)
200g Fried soya bean cubes/toufu pok (halved or quartered)
200g blanched bean sprouts
300g blanched Yellow noodles
300g blanched Vermicelli/ Bee hoon
400ml coconut milk ( one tin)
Water or Chicken Stock (depend on the thickness of the soup you prefer)
Salt (to taste)
Method:
Blanched cockles or seafood of your choice, noodles, vermicelli and set aside.

Heat 4 tbsp oil to sauté the curry paste till fragrant.

Pour in coconut milk; add in chicken stock to the thickness of the soup you prefer. Add in toufu pok and bring to boil. Stir and add in salt and taste test.

When soup comes to a boil, add prawn and other seafood then bring to just boiling point.

Remove from fire and use curry gravy as a soup for the yellow noodles and vermicelli.
To serve:

Divide fresh yellow noodle and bean sprouts into individual bowls arrange seafood on top. Pour curry gravy and taufu pok over and serve immediately.
Delicious Seafood Curry Laksa noodles
咖喱叻沙面
主要材料
:
:
一包现成的咖喱酱- 我用田师傅咖哩雞即煮醬料
300
克黄面条(烫熟
)
300
克米粉(烫熟
)
400
毫升椰奶
水或鸡汤(取决于你喜欢汤的浓度)
盐(适量)
可随意变化的材料
200
克豆芽
去壳蛤
/
蚶(烫熟
)
大虾,鱿鱼,鱼饼,鱼丸(您可以选择任何其他海鲜)

200
克豆腐卜(切半)
方法:
1
。热
4
汤匙油,爆香咖喱酱。

2
。倒入鸡汤椰浆,加入豆腐卜煮滚。搅拌,加入盐后测试口味。

3
。当汤再烧开,加入虾等海鲜,煮滚。

4
。将烫熟的面条,米粉和豆芽分别装入碗中,上放海鲜,后淋上滚烫的咖喱汁和豆腐卜趁热享用。