Hakka Cuisine
This is another great Hakka dish that I grew up with, and one of my childhood favourites my mom often cooked at home. I'm glad that now my family loves this dish too.
PORK BELLY WITH SALTED VEGETABLES 咸菜焖腩肉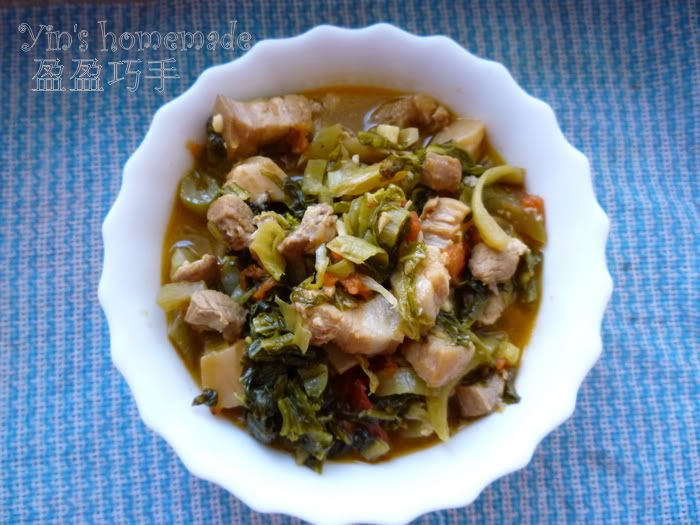 The sour and salty flavor of the dish is not only great to go with white rice but also with congee which is appetizing to eat during summer time. Looking for congee ideas? Click
here
.
PORK BELLY WITH SALTED VEGETABLES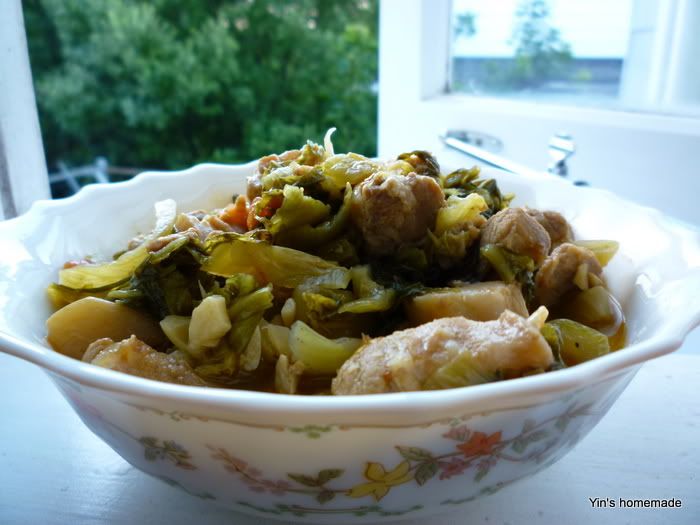 Featured in Group Recipes - 13/03/2011



INGREDIENTS:
1 packet of salted vegetable
400g pork slices (cut into small strips and seasoned with 1 tbsp of soya sauce)
2-3 clove garlic, chopped
2 tomatoes, cut into wedges
½ tsp of sugar (to your taste)

METHOD:

Soak salted vegetable in water for about 10mins, drain & cut into strips.

Slice pork belly into thin strips.

Heat wok with oil and sauté chopped garlic till fragrant.

Add in the pork slices & fry till half cooked.

Pour in salted vegetables and stir fry then add into tomatoes wedges.

Add some water to keep ingredients moist, stir-fry to combine well.

Reduce heat to medium and simmer for 10 minutes before transfer to slow cooker.

Continue to simmer in slow cooker for 1 ½ hour or until pork slices soft and tender.

If not using slow cooker, reduce heat further and continue simmer in wok with lid for about 30min – 45min or until pork slices soft and tender. Add more water if more gravy preferred.

Taste test before serving. If you find too salty then add more sugar.
咸菜焖腩肉



材料:

一包咸菜
400克猪肉腩

(切成小条切,


腌一汤匙的酱油)
2-3瓣蒜头,切碎
2个番茄,切块


半茶匙的糖(你的口味)




做法:

将咸菜洗净,切小段,腩肉切片,备好蒜末。将锅中放少量油,放蒜炒出香味, 下肉片煸炒成半热时,接着放咸菜,略微翻炒后加入蕃茄加入少量水再炒均匀,加盖焖10分钟后才加调味,盛出倒入慢炖锅

继续

焖至少一个半钟头或至肉柔嫩。


如果不使用慢炖锅,减少热量加盖继续在镬

焖

约30 - 45分钟,或直至猪肉片柔嫩。如果喜欢更多汁多补充水分。