BBQ Seafood Part 2 – Cockles
25th October Sunday
After the episode one with mussels, the following day, we had another round of sun, sea and beach with climax on cockle-picking! However, this time we ventured a bit further by driving 45 minutes north from Auckland to Okoromai Bay at Shakespear Regional Park.
We did plan for cockle-picking as part of itinerary of the day but we were also prepared to be empty handed and just spend our day picnic at the beach. But to our surprise we ended up with stomach and bucket full of cockles. I have never seen so many live cockles in my life before not to mention to be able to harvest so many of them.
J
But to get to them, we had to wait for low tide that was when the highlight began! When the sea waters subside, we had to trudge in icky mud all the way and it was quite a distance out from the beach. The further we went the larger the cockles would be. But, everyone is only allowed to pick up to maximum 50 cockles and we had 4 families with headcounts of 16 persons, so do your calculation and guess how many we picked for that day
J
At first, we planned to bring the cockles back to brine for a day to allow the cockles to spit out the sand before we can consume them. But, when I saw others just wash them using tap water and barbecue on the spot. I was curious and checked out with one of the picnickers and they even offered me to taste the BBQ cockle and it was so fresh and no sandy taste at all.
So, when we saw one of the parks wood-burning BBQ was vacant, we quickly occupied it. We were lucky that there was still fire in, which saved us a great hassle to start a fire again. We continued our barbeque by adding dried tree twigs and branches collected from the ground. Later only we realized we had violated the rules that we were not allowed to use any dried branches and twigs in the park for the BBQ:-P
Nevertheless, I must say these were the best cockles I ever tasted, they were so fresh with its own salty flavor, of course it would be even better if we had brought lemons and squeeze on them, yum, yum, yum! Thank god neither of us have suffered any shellfish poisoning which we were so worried about after consuming that many of cockles.
So, here to share our BBQ highlight.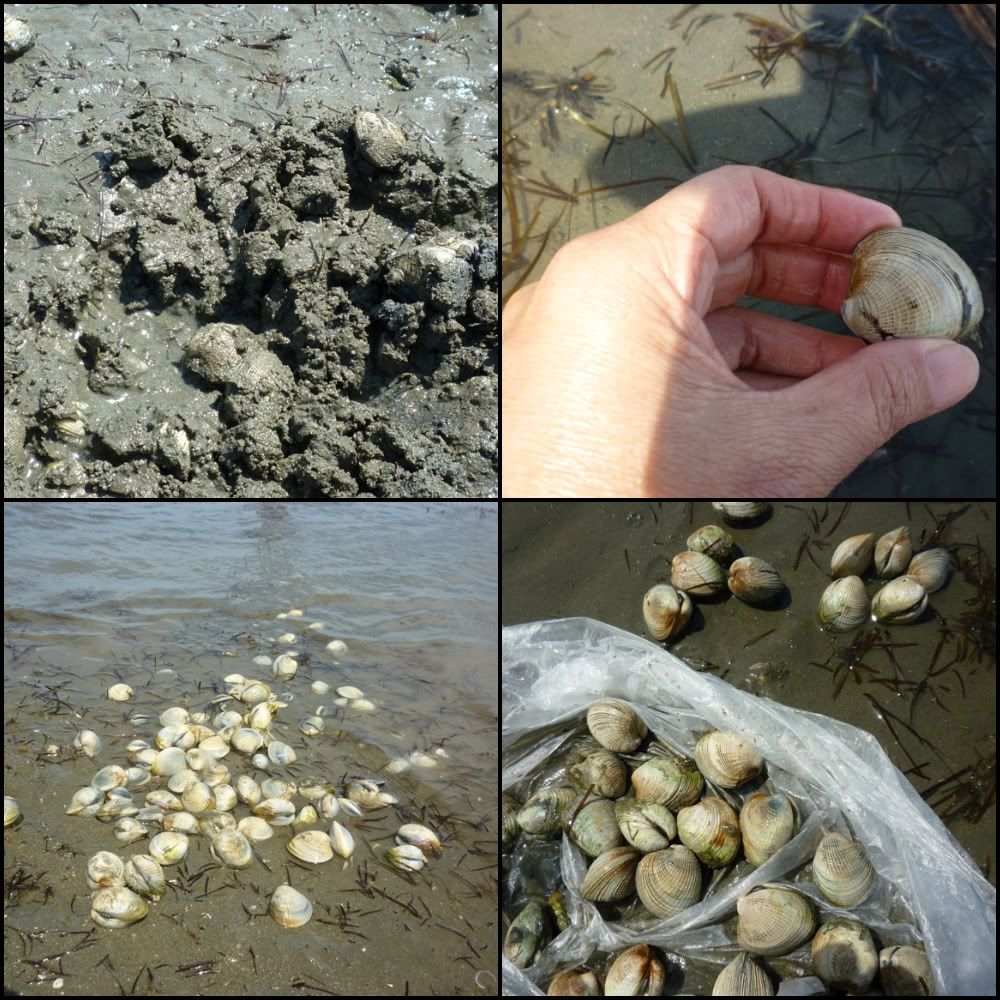 Cockle picking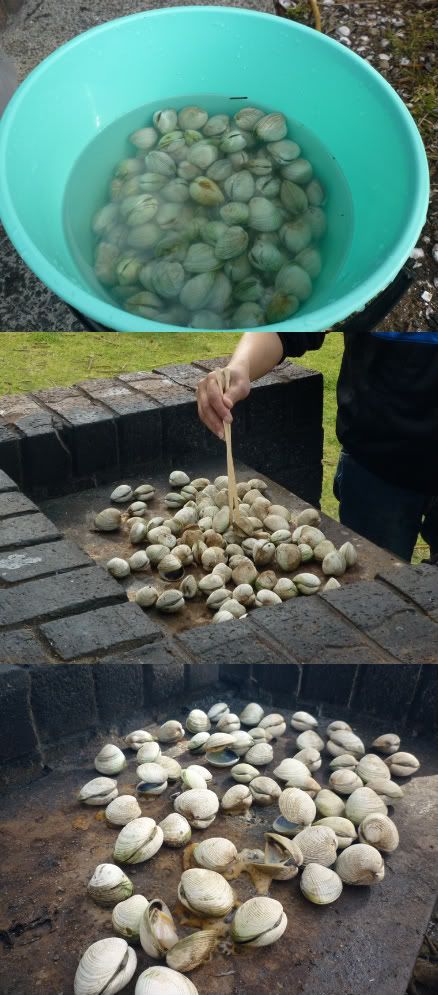 BBQ cockles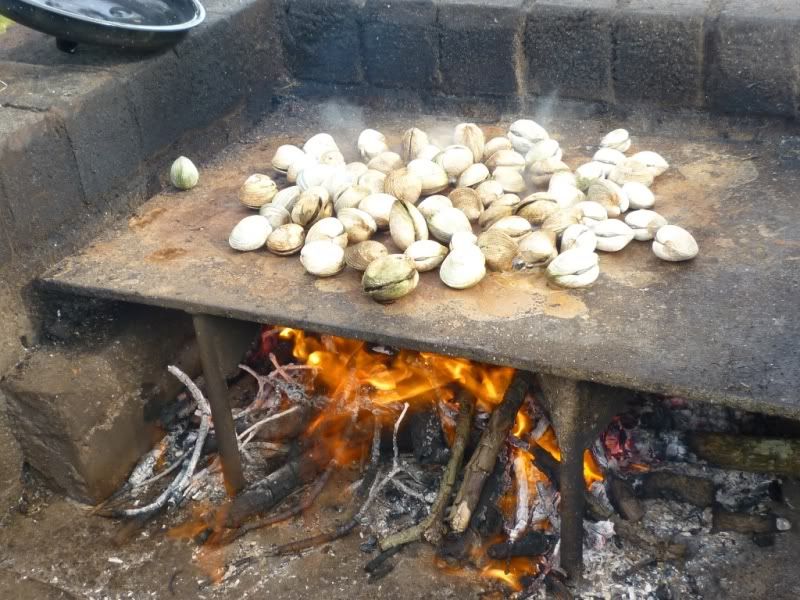 Wood burning BBQ Cockles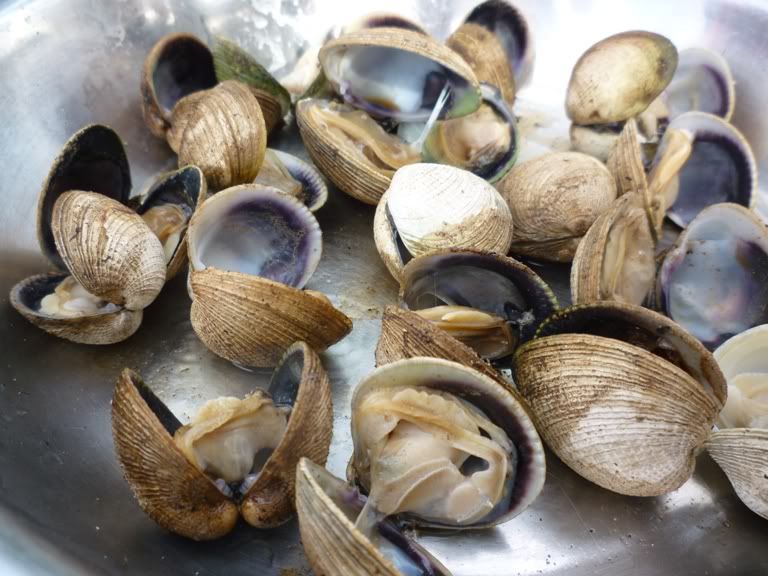 Cooked Cockles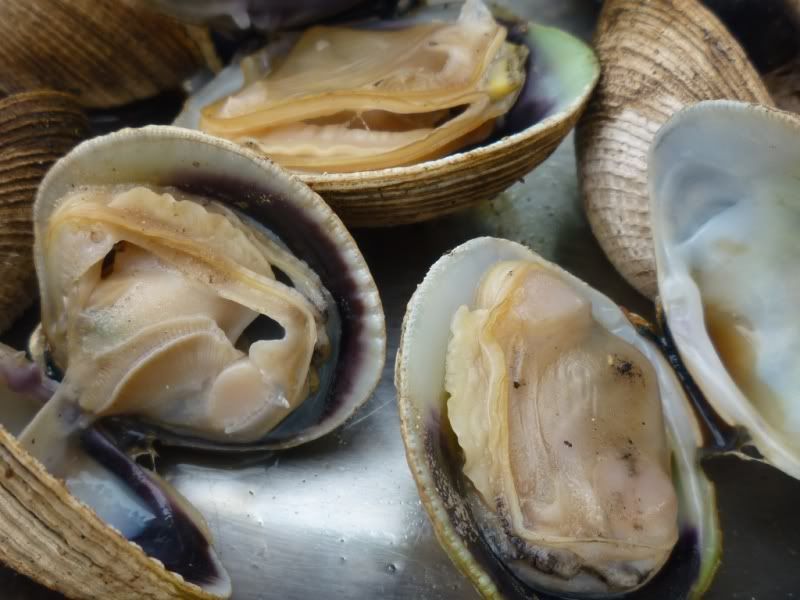 Delicious fresh cockles
Even though we had tried hard to consume as many cockles as we could on the spot, we still had a bag full to bring back. So, what to do with all these cockles?