Cooking porridge the easy way with rice cooker
I tend not to make much cooking during weekend. My weekend lunch menu mostly noodles. Lately, my boy seems to pick up his old baby eating habits longing for porridge. Ever since then my Saturday lunch menu began to swap to porridge and it has remained the same ever since winter season until now.
There are 2 major types of Chinese porridge or congee, one is Teochew "Muay" 稀饭and another type is Cantonese "Chok" 粥. Teochew style is quicker to cook and the texture is firmer more like rice in soup where the rice grains still pretty intact. Whereas Cantonese congee takes hours to cook until rice grains turn mushy. Our preference is Cantonese porridge but not so watery rather starchier, more like baby porridge very creamy.
Instead of using stove which taking hours to cook, I use to cook my porridge using rice cooker which is faster and hassle free. It is very convenient, where you just need to throw in all ingredients into the rice cooker and let it cooks by itself. Off cause it will be even better if you have pressure cooker, where you get to enjoy your "chok" in less than half an hour. I didn't bring mine over here so rice cooker is good enough to help me.
However, for peanuts porridge, I did take extra effort to boil the peanuts first before I transfer the peanut soup to rice cooker; this is because we prefer to eat softer peanuts in our porridge. This is also another nourishing herbal food that can help in clearing lungs and relief cough, not only that porridge is great as slimming diet too.
Find out also how to recycle the water use for rinsing rice into natural facial cleanser and organic fertilizer
.
J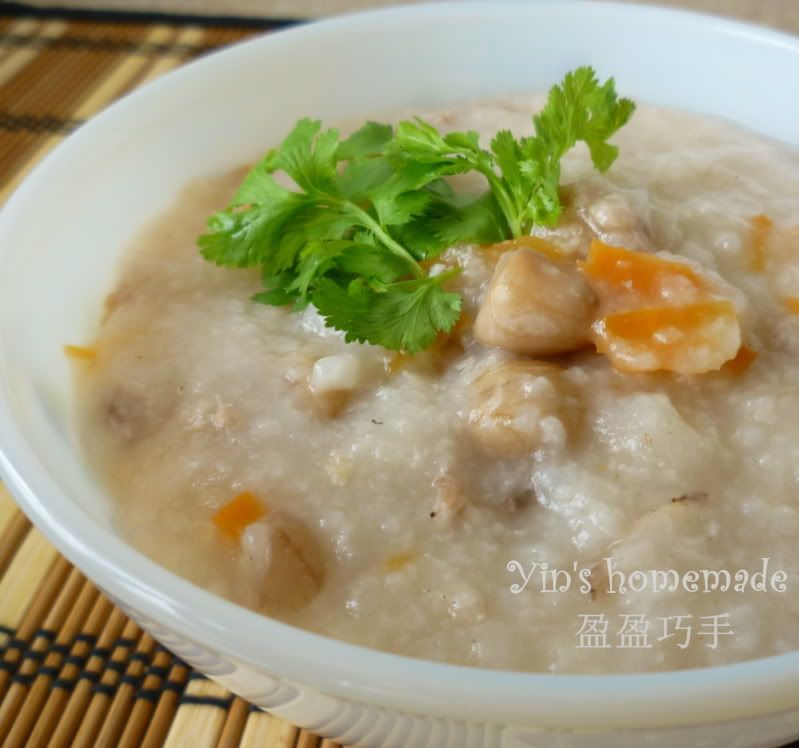 Mince Carrot Peanuts Porridge萝卜丝肉碎花生粥
Mince Carrot Peanuts Porridge
INGREDIENTS
200g Jasmine rice (1 and ¼ rice cooker measuring cups)
10 cups of water
Handful of peanuts (wash and discard skin if possible)
Carrot (quantity as you like)
200 g Pork/Chicken/Beef mince (optional if you opt for vegetarian porridge)
Coriander – For garnishing
Salt, pepper – For seasoning
Marinade
1 teaspoon Soya sauce
Dash of white pepper
Sprinkle of Sesame oil
1 teaspoon of Corn flour
METHOD:
Pour in 10 cups of water in a pot and boil. Once boil add in peanuts and continue to boil under high heat for 10 minutes and reduce to low to simmer for another half to 1 hour.
(If you prefer to eat crunchy peanuts then you can skip this step or cut down the simmer time).
Marinate mince meat with soya sauce marinade for at least 30 minutes.
Rinse rice in a few changes of cold water, pour in to rice cooker.
(KEEP the rinsed water – check the tips for usages of these water)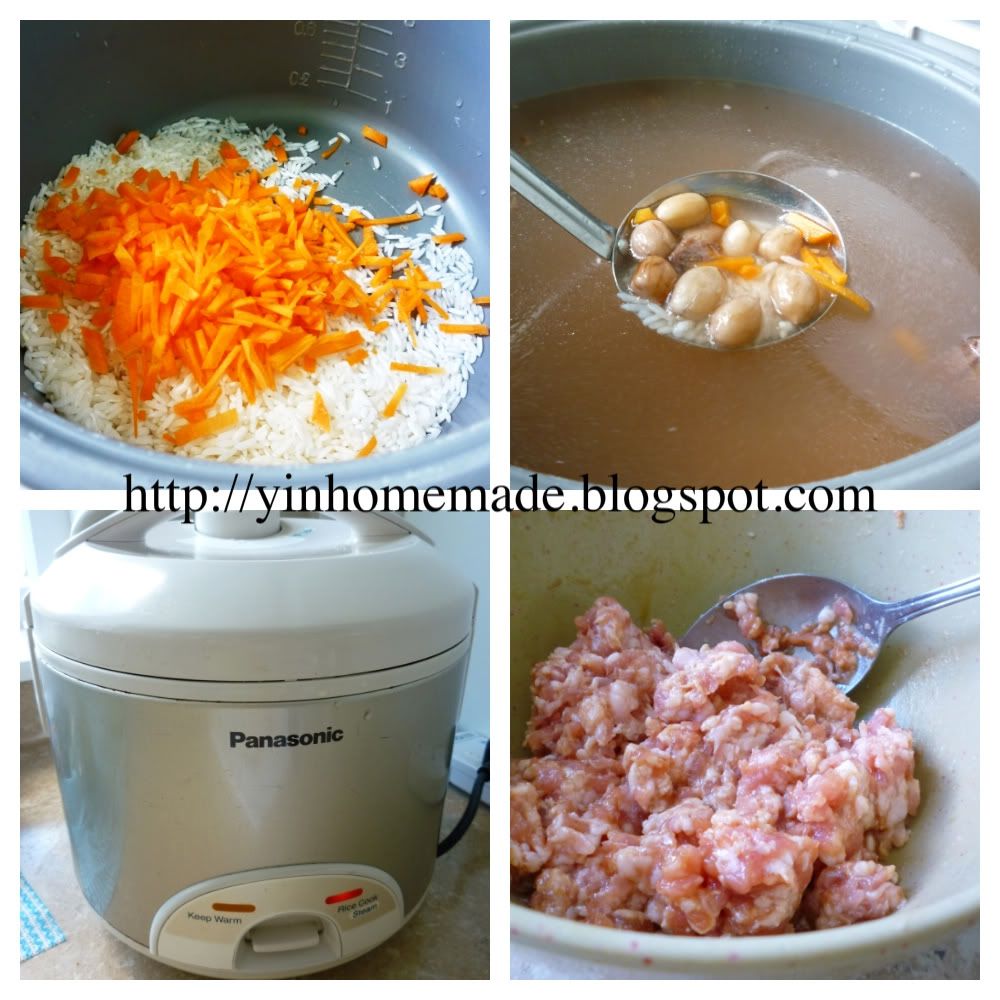 Wash carrots and cut into fine stripes and add in to rice cooker along with rice.
Once the peanuts soup is ready pour into rice cooker.
Switch and press start on rice cooker and let it cook. After half an hour, add in mince meat and continue to cook until the switch pop up again, the porridge is done.
If you feel the porridge is too creamy, add in hot water to dilute the porridge.
Add in seasoning to your taste.
Usage of rinsed water:
You can recycle this rinsed water to wash your face. It regards as great natural skin care cleanser which has whitening effect! This is the secret why olden Chinese women have fair and smooth skins without using any skin care products. Check out the step
here

.
Other than that, if you are into gardening, this

rinsed water

especially the first change of water is great serving as organic fertilizer to your plants. I used this to water my veggie and herbs.
萝卜丝肉碎花生粥
材料
(
4-6人份)

200克香米(1 ¼电饭锅量杯)
200克猪肉/鸡肉/牛肉,肉末(不用如果你选择素食粥)
在一个锅里倒入10杯水煮沸。煮沸后加入花生,并继续在高温下煮10分钟,后慢火炆至1小时。(如果你喜欢吃有口感的花生,你可去这一步或削减炆时间)。
用酱油汁把肉碎腌至少30分钟。
胡萝卜洗净并切细,随着香米添加到电饭煲。一旦花生汤准备好倒入电饭锅。
按下开关,让电饭煲煮。约半小时后,加入肉末,继续煮,直到开关再次弹出,粥就完成了。如果你觉得粥太稠,加入热水搞稀。加入调味。
提示:
洗米水的用途:
洗米水可以用来洗脸,这是自然的护肤清洁剂具有美白效果!这就是为什么古代中国的妇女不使用任何护肤产品皮肤也光滑美白的秘密。
如果你有搞园艺,这洗米水是很好的有机肥料。我用洗米水来灌溉我的蔬菜园。