The day before hubby told me that he couldn't finish the banana on time (It was on sales last week and I had bought more than his usual daily consumption) and there were still two very ripe bananas that needed to be disposed ASAP. Seeing that, it struck my mind to use up these ripe bananas to bake banana bread for our computing class lunch sharing on Wednesday.
Frankly this was my 3rd attempts of banana bread making. I tried using 2 different recipes but having the same failure reason where the bread were a bit over burnt outside but center still mushy. After, getting great baking suggestions from my
Foodbuzz
foodies, I decided to give it another try. Thank god, this time the bread turned out very flavorful and not mushy else it would be very embarrassing for me to be empty handed to the lunch sharing function.
This is a very simple recipe. In fact, I have combined 2 recipes into one. I adapted the main recipe from my sister-in-law who email me from Vancouver. The original recipe used Walnut which my boy does not like it. So, I replaced with two other ingredients Oat and Chocolate chips which I extracted from another recipe recommended in Taste magazine.


Banana Oatmeal Chocolate Chips Bread 香蕉燕麦巧克力面包(mouseover to see close-up)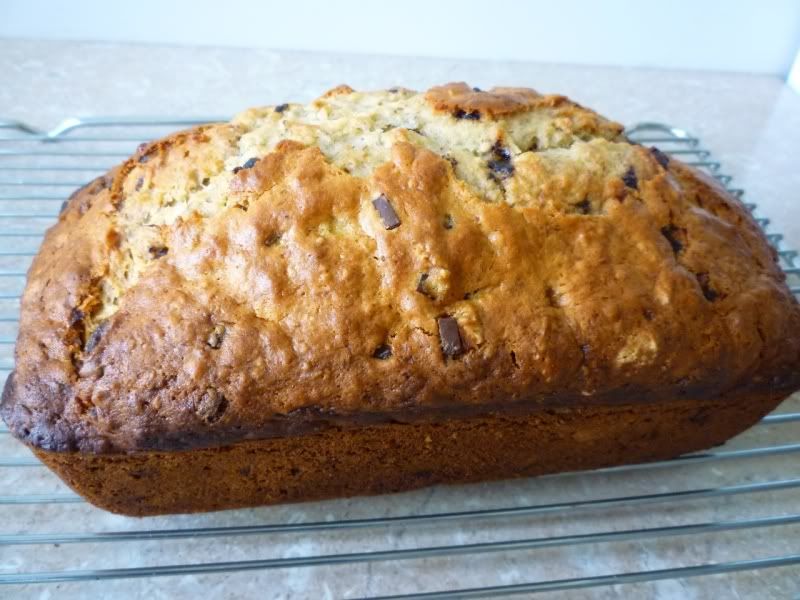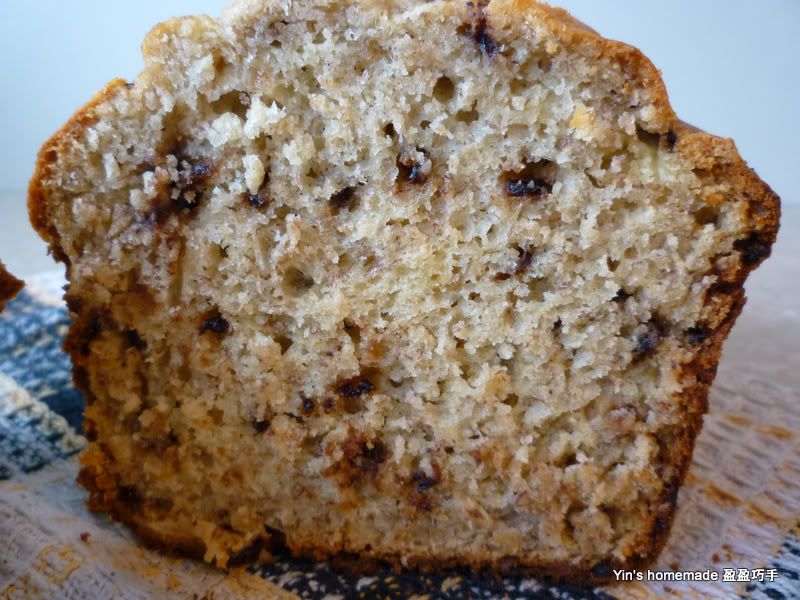 Banana Oatmeal Chocolate Chips Bread 香蕉燕麦巧克力面包 -

Featured in Group Recipes 6/11/2010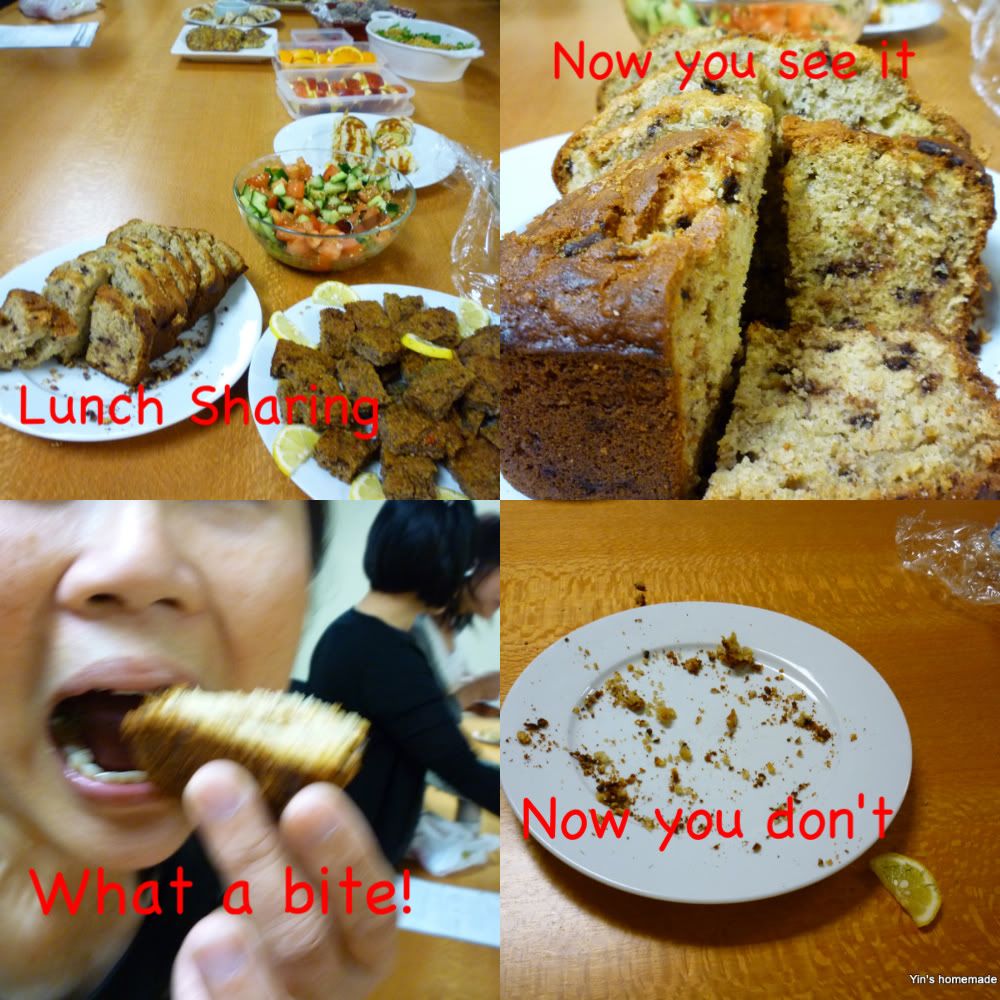 Lunch Sharing at TWOA Computing Class @ 03/11/2010
BANANA OATMEAL CHOCOLATE CHIPS BREAD
1/3 cup margarine/cooking oil
1 teaspoon vanilla essence
1 cup mashed ripe banana (about 3 big bananas) added 1 tablespoon lemon juice
1/2 cup Oat (The original recipe uses walnut, you can replace with walnut)
1/2 cup Chocolate chips (Optional, my boy like chocolate chip so I added in)
Pour flour into mixing bowl. Add baking powder, salt and baking soda. Stir well.

In a separate mixing bowl, cream sugar, margarine and egg thoroughly. (I used hand mixer to do this. I cream about 5 minutes with the machine. )

Add #1 into #2. Blend well. Add mashed ripe banana and lemon juice. Blend well. Stir in oat/walnut and chocolate chips.

Pre-heat the oven at 180C (350F) , lightly greased bread loaf pan and pour the flour and banana mixture into the loaf pan.

Bake at 180C (350F) for about 60 minutes or until the cake becomes golden brown. Test doneness by inserting a toothpick all the way in the centre and pull out. If the toothpick come out clean (with no moist crumb stuck on the toothpick), it's cooked. Otherwise put in oven for a few minute until it pass the toothpick test.

Take out from oven, let cool for 5 to 10 minutes. Remove from pan and cool on rack again for 10 minutes before cut.
Notes:
Keep an eye on the bread after 35 minutes-40 minutes, if you see the top is a bit burnt, use foil to cover and let it continue to bake.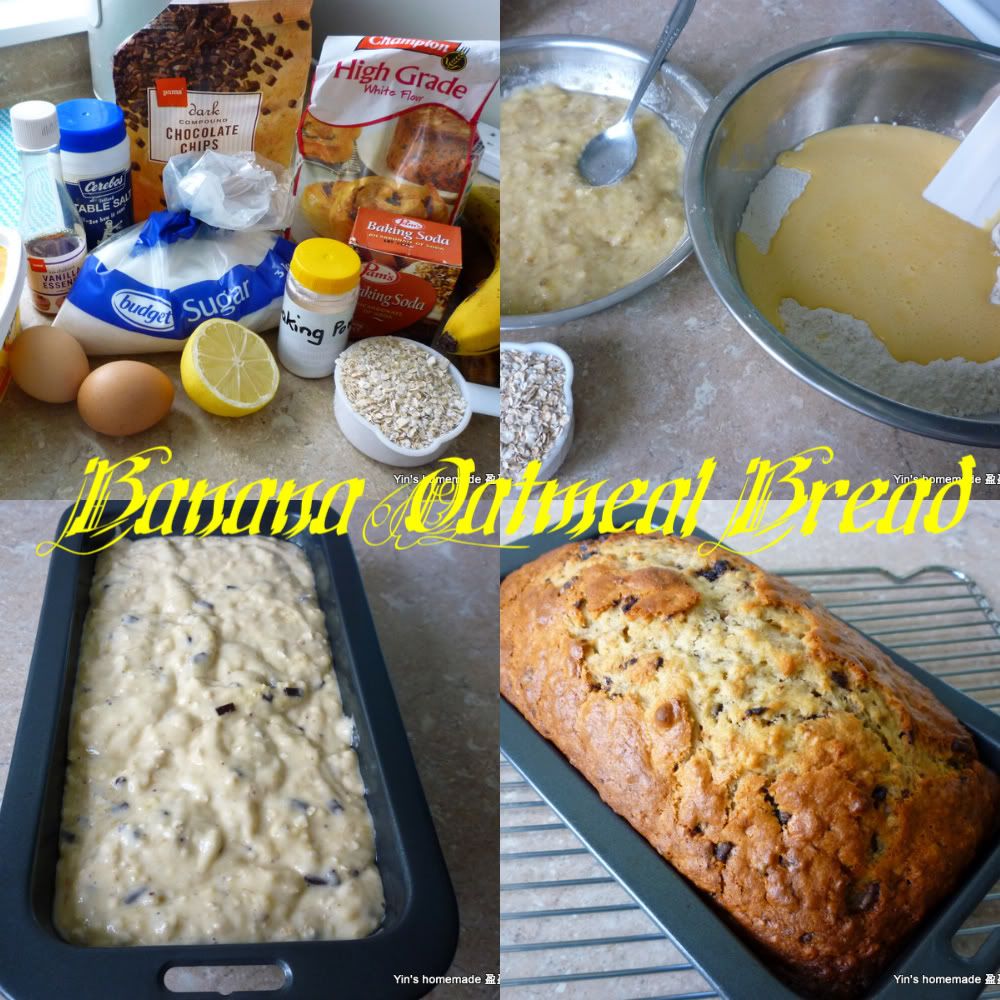 香蕉燕麦巧克力面包
材料:
1 3 / 4杯面粉
2茶匙泡打粉
1 / 2茶匙盐
1 / 4茶匙小苏打粉
2 / 3杯糖
1 / 3杯黄油/菜油
2个鸡蛋 (小)
熟的香蕉泥1杯(约3大香蕉)加入 一汤匙柠檬汁
1 / 2杯燕麦(原配方使用核桃,可以替换核桃)
1 / 2杯巧克力片(可选,我男孩喜欢巧克力,所以我加入)

方法:
1。把面粉倒入搅拌碗里。添加泡打粉,盐和小苏打。搅拌均匀。
2。在另一个搅拌碗,加入油,糖,人造黄油和鸡蛋彻底。 (我用打蛋机做到这一点。予约5分钟,奶油的机器。)
3。#2+#1拌匀才加入香蕉泥拌匀后拌入燕麦和巧克力芯片。
4。预热烤箱180C(350F),把面包面烤盘抹了油,倒入#3。
5。180C(350F)烤约60分钟,或直至金黄色。插入一根牙签测试面包是否烤熟。如果牙签取出来干净(无潮湿屑粘在牙签),那就熟了可提出。否则再留多几分钟,直到它通过牙签试验。
6。从烤箱中拿出,放凉5至10分钟才脱模,再等多10分钟后才切。

注意:
再35分钟-40分钟后保持留意面包,如果你看到面包表面有点烧焦,用铝箔覆盖,让它继续烘烤。