Welcoming dinner – Part 2
Stir fry French Beans with prawn cutlets, this was the second side dish that I had prepared as our family guest requested more vegetable dishes. For this recipe, I used Thai bean paste to stir fry French beans
.
Other than oyster sauce, bean paste is another great choice of stir fry sauce. This again is another fast, simple stir fry dish that can be ready under 30 minutes.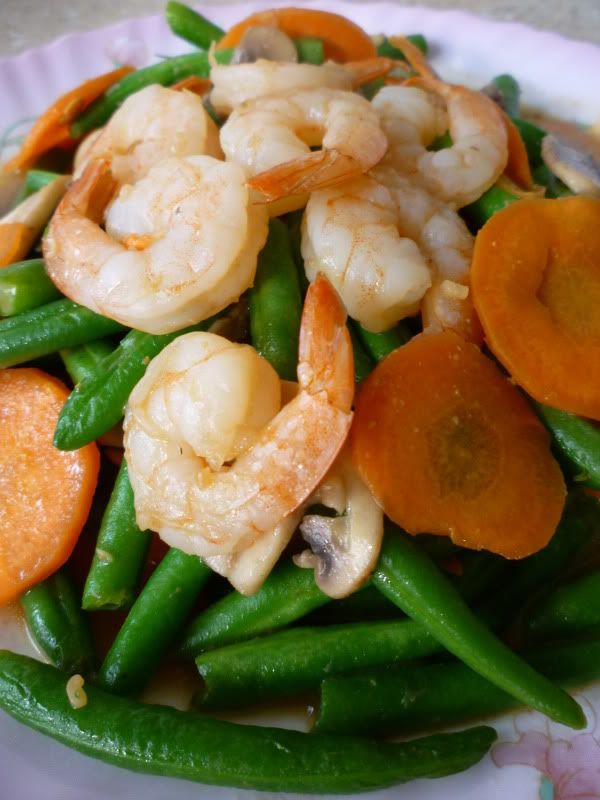 Stir Fry French Beans with Prawn Cutlets四季豆酱炒虾仁
Too bad, my dwarf beans still not in time to be harvested else it would be a good opportunity for me to show off my green fingers other than my cooking skills
J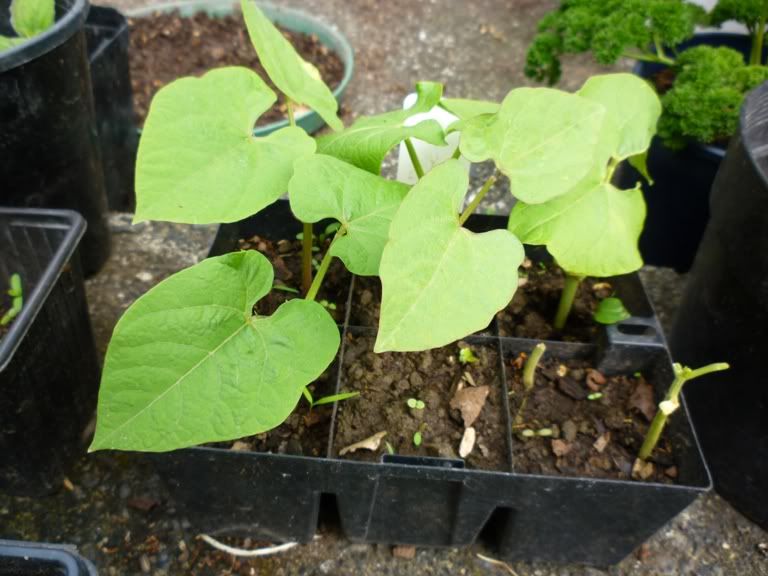 Dwarf beans seedling
繼續閱讀中英对照食谱
STIR FRY FRENCH BEANS WITH PRAWN CUTLETS

Prep Time: 10 minutes
Cooking Time: 5 minutes
Total Time: 15 minutes



INGREDIENTS: (Serves 2-3)




1 bunch of French beans or green beans (or any kind of dwarf beans)
1 tbsp minced garlic
6-9 pc prawn cutlets
1/4 carrots, peel and cut into slices
Handful of button mushrooms – cut into thin slices
50ml stock/ water
2 tbsp Cooking/Vegetable oil

Seasoning:
1 tbsp bean paste ( you can turn this into spicy dish by using hot chili bean paste instead )
½ tsp sugar (to your taste)





METHOD:
Give prawn cutlets a rinse and then brine (soaks in salt water)5 minutes before cooking, drain.
Wash green beans; snap the tips of the beans discard any string and cut beans into 2 inches long.
Heat oil on high and sauté garlic till fragrant, add in green beans stir fry for 2-3 minutes.
Add in carrots and mushrooms, give a few quick stir then add in seasoning and stock/ water.
Let it simmer for another 2 minutes then toss in prawn cutlets and continue to stir fry until prawn cutlets turn pink.
Taste test for flavor, add in more sugar if too salty or water if too dry.
The beans should taste a slight crunch when they're done, dish and serve.



四季豆酱炒虾

仁


准备时间:10分钟
烹饪时间:5分钟
总时间:15分钟

材料:

1把四季豆(或任何种类的矮豆)
1汤匙蒜末
6-9只虾仁
适量 胡萝卜,去皮和切片
适量蘑菇 - 切成薄片
50毫升上汤/水
2汤匙烹饪/蔬菜油

调味料:
1汤匙豆瓣酱(假如你想要辣口味,也可以用辣豆瓣酱)
半茶匙糖(随你的口味)

方法:
1。将虾仁洗洗,烹调前浸泡在盐水中5分钟(虾比较有口感),沥干。
2。将四季豆洗净,摘去豆尖、筋,切成2寸长。
3。

炒锅上火烧热

,爆香蒜茸炒至香,加入青豆炒2-3分钟。
4。再加入胡萝卜和香菇片

一併拌炒

,后加入调味料和水。
5。让它们焖煮2分钟,

最後才加入

虾仁翻炒至虾

熟

。
6。试味,如果太咸添加糖或水。
7。把四季豆煮至熟带些脆脆口感就大功告成了,上碟。