Mussels again?
Mussels on sale again @ $1.99/kg! By reading this, you can tell what will be in my dinner menu right?
J
Mussels are plentiful in NZ that's why they are cheap not only that, they are fresh, I love to play around with different ways of cooking them. We had tried
BBQ Mussels
, so what other options that I can do with them? I was thinking of something fast and easy less than 30 min and something spicy since my boy does not eat them, let see …….
When I was going thru my kitchen and saw a small piece of
Galangal
(Kha in Thai, Lengkuas in Malay) and a bunch of mint leaves lying on the kitchen top, an idea flashed in. My landlord is going to redo our backyard landscaping by Friday and my herbs garden will need to be relocated and these galangal plants and mints were the two plants that I had dug out this morning.
Now can you guess what the menu with all these ingredients is?
J

Tom Yum Mussels 冬荫青口-

Featured in Group Recipes 09/11/2010

TOM YUM MUSSELS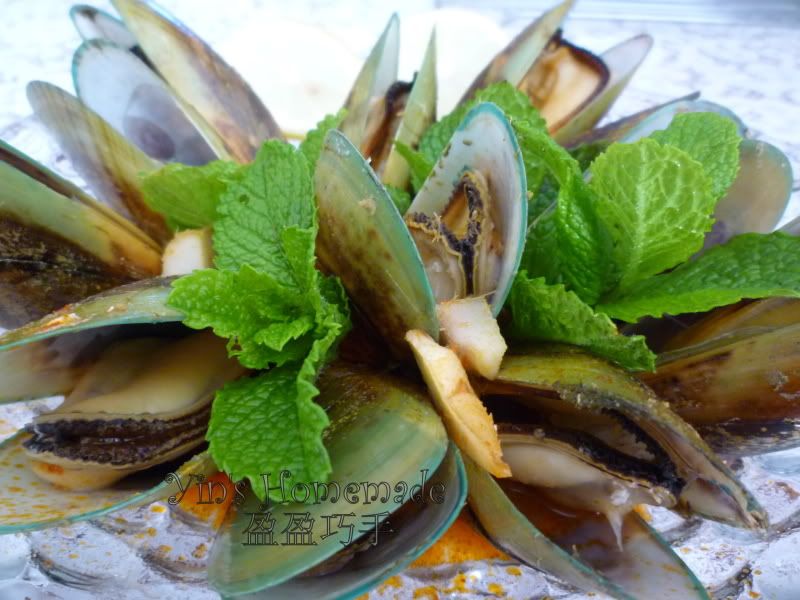 INGREDIENTS:
1kg Mussels
1 small pc
Galangal
,cut into few slices (Optional, this just add aroma in it, if not available just do away )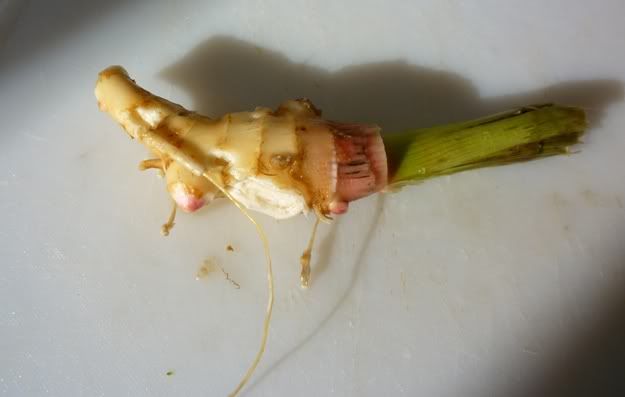 1 tbsp Tom Yum paste
1tsp sugar (to your taste)
1 Lemon/lime for juice
Mint leaves for garnishing
METHODS:
Wash, scrub and de-beard mussels, place mussels in a pot.

Throw in a few slices of galangal (keep a few more for sauce) on the mussels, covered.

Pre-heat oven @ 200 C, bake the mussels with cover for 15 minutes or you can also opt to steam the mussels.

Once mussels are open, remove and position mussels on serving plate, decant juice out and set aside.

Heat a pan; pour the juice into the pan, add in galangal and Tom Yum paste.

Let it boils, add in sugar and do tasting on Tom Yum sauce.

The juice and Tom Yum paste by itself is salty, so If the sauce is too salty add more sugar or more water if you like it soupy.

Remove from heat and pour the sauce onto mussels.

Zest it further by squeezing in lemon, garnish with few twig of mint leaves and serve.
材料
1公斤青口
一小块南姜,切小片(可选,这只是添加香味,如果没有可不用)
指天椒(可选)
1汤匙冬荫酱
1茶匙糖(你的口味)
1粒柠檬 (挤汁)
薄荷叶-装饰
方法:
再加上几片南姜(预留几片)。预热烤箱@ 200度摄氏。
放进烤箱烘 15分钟,你或者也可以选择用蒸法。
青口一旦打开表示熟了,取出,慢慢倒汁出来备用。
烧热镬,倒入锅里的汁,加入冬荫酱和剩下的南姜片。
让它煮沸,加入糖后试味。
青口汁及冬荫酱本身是咸的,所以如果觉得酱太咸添就加糖或水。
离火,把酱计倒入青口上再加上柠檬汁调味,撒上薄荷叶装饰。