Welcoming dinner – Part 1
Since we moved to NZ, we have tasted NZ cockles, mussels and the shellfish next in line that I'm going to introduce are fresh scallops. Back home, I used to cook dried scallops in soups, porridge but seldom fresh scallops. I was told in NZ, fresh scallops were easily available and they were not expensive when on special. For a while, I have been eyeing to have my hands on them.

At last, this week they are on special, 2 dozen of fresh scallops for $12 (normal price at $9/dozen). Other than Abalone, this delectable mollusk too has long been regarded as an exclusive delicacy in Asia. This special offer was just in time for me to prepare a sumptuous welcoming dinner for our guest of honor from Malaysia, Hubby's closest cousin sister, who happened to play the role as 2 generations super nanny taking care of both hubby's first 12 years and Ray's first 5 years from birth.

She was also our Master Chef back home. We all loved her cooking very much. But, now was my turn to play host, so I had to think of something local, delicious to showcase Auckland and what came into my mind was seafood especially Shellfish. After picking her up from the airport Tuesday afternoon, I went straight to grab 2 boxes of fresh scallops for my dinner preparation.

I used Gai Lan (Chinese broccoli 芥兰) to complement the scallops; the sweetness of fresh scallops was just pleasant to neutralize the slight bitterness of Gai Lan. Other than my signature dish, Crispy Roasted Pork Belly, this was what I served on the dinner table that night.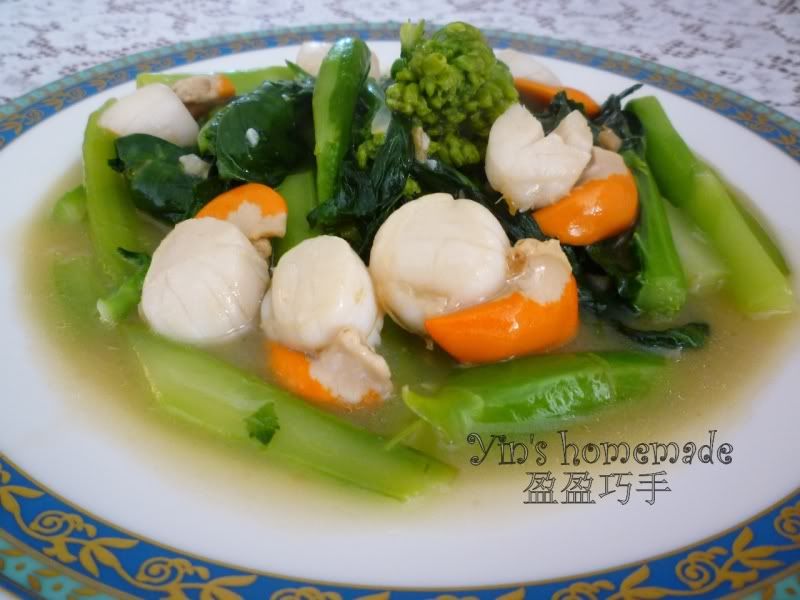 Stir fry Scallops with Gai Lan 芥兰炒扇贝 - Featured in Group Recipes 11/11/2010
 
Welcoming Dinner @ 9/11/2010

繼續閱讀中英对照食谱
STIR-FRY SCALLOPS WITH GAI LAN
Prep Time: 10 minutes
Cooking Time: 5 minutes
Total Time: 15 minutes
INGREDIENTS: (Serves 3)
1 bunch of Gai Lan (I
f it's not available, you can opt for broccoli)
1 tbsp chopped garlic
6-9 pc fresh raw scallops
100ml stock/plain water
4 tbsp Cooking/Vegetable oil
Cornstarch mixture (about ½ tbsp cornstarch mixed with 2 tbsp water)
Seasoning:
1 tsp salt (to your taste)
½ tsp sugar (to your taste)
Chicken stock powder (optional)
METHOD:
Give scallops a rinse, then brine (just enough to cover) 5 minutes before cook, drain.

Wash Chinese broccoli, trim ½ inch from the end of stalks, remove rough skin and discard. For easy cooking, if stems are too thick, half the stem and cut into bite-sized pieces (about 2 inches long). Separate the stalks from leaves.

Heat oil on high and sauté garlic till fragrant, add in Ga Lan stems, toss a while then followed by Gai Lan leaves. Stir to coat all leaves and stalks with oil.

Stir fry for 2 minutes; add in seasoning then stock/plain water.

Toss in scallops, give a few quick stir about another 2 minutes or until Gai Lan's stalks are tender and crisp with scallops change color and looks firm. (Scallops taste fine even if they are undercooked)

Taste test before thicken with corn starch and serve.
Tips:
To stir fry Gai Lan, you need a bit more oil than usual; else your dish may look unappetizing and dry.
芥兰炒扇贝
准备时间:10分钟
烹饪时间:5分钟
总时间:15分钟

材料:

1一束芥兰 (如果没有,您可以选择西兰花)
1汤匙蒜茸
6-9新鲜生干贝
100
毫升上汤/开水
1茶匙盐(适量)
半茶匙糖(适量)
鸡精(适量)
4汤匙烹调/蔬菜油
太白粉勾芡(粟粉约半汤匙2汤匙水混合)
方法:
把扇贝在煮前5分钟泡盐水,沥干。
芥兰洗净,切去老茎去老叶外皮,芥兰比较粗的话将芥兰的茎一剖为二,把叶茎分开,切成小段(约2英寸长)。
起炒锅,锅中放适量油,大火爆香蒜茸,加入芥兰茎,翻炒一会儿,然后放入芥兰叶。翻炒使所有的菜有油均匀。炒2分钟,然后加入盐,糖和鸡精调味,在锅边淋入少许水/上汤.
再倒入扇贝肉大火快炒大约2分钟,炒至茎嫩脆,扇贝变色后,试味后倒入太白粉勾芡即可,起锅装盘。
提示:
你需要比平常多一点油来炒芥兰,否则芥兰看起来不翠绿,口味干干的。