Garden to table – Spring Onions
Weather getting warmer by the day, meaning fishing season has started. In other words, more keen anglers' are heading out to fish. Fringe benefit of knowing keen anglers means more chances to enjoy free and fresh supplies of seafood.
Thanks to my dear friend Ellen, we got to enjoy fresh snapper for dinner tonight. The fish tasted so fresh and delicious even though I only used simple ingredients like soy sauce, ginger and fresh spring onion from my garden
J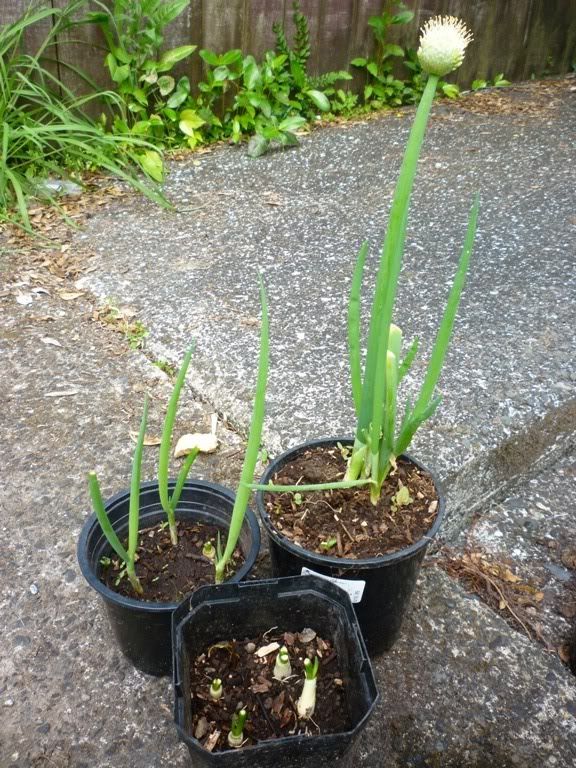 In my opinion, the best way of cooking fresh fish is just simply steaming it. This simple and healthy fish recipe takes less than 15 minutes to cook.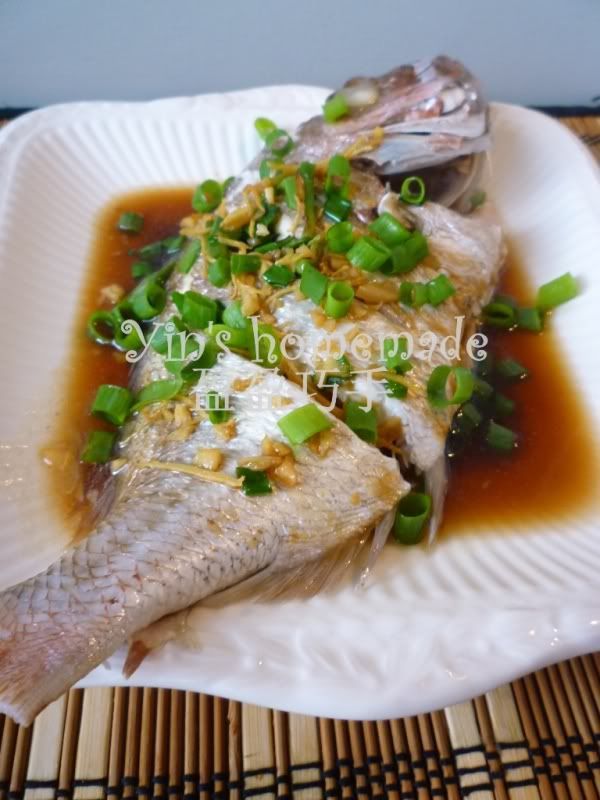 Steamed Snapper with Ginger and Spring Onions姜葱蒸鲷鱼
繼續閱讀中英对照食谱
STEAMED SNAPPER WITH GINGER AND SPRING ONIONS
Featured in Group Recipes 18/11/2010


Serves 4
INGREDIENTS:
1 whole red snapper
1 tbsp of chopped garlic
2cm thick ginger, peeled, slice into matchsticks
3 stalks spring onions – chopped
Cooking oil

SAUCE:
1 tbsp Shaoxing wine/ Chinese cooking wine (optional)
2 tbsp light soy sauce
1 tbsp oyster sauce
1 tsp sugar
½ tsp salt
½ tsp sesame oil
100ml water

METHOD:

Clean and cut 2 slits on each side of the fish.
Arrange fish on a steaming tray, add in one table spoon of cooking oil and Sprinkle the fish with half the ginger.
Steam at high heat for 10 minutes or until the fish flakes easily when tested with a fork.
Removed and discard fishy and cloudy fish juice and transfer the fish to a large serving platter.
Heat up with pan with 2 table spoon of oil, sauté remaining ginger and garlic until fragrant.

Add in sauce and bring to boil and dish up.
Pour sauce over steamed fish and sprinkle with chopped spring onion and serve immediately.

姜葱蒸鲷鱼


材料:

1整条鲷鱼
1汤匙切碎蒜末
2cm 厚的生姜,去皮切片成丝
3棵青葱 - 切碎
3汤匙食油

酱汁:
1汤匙绍兴酒(可选)
2大匙酱油
1汤匙蚝油
1茶匙糖
半茶匙盐
半茶匙麻油
100ml水

方法:
1。鱼洗净,在鱼身两边各斜切2刀。
2。把鱼放在一个蒸盘上,加上1汤匙食油及洒上一半姜丝。
3。锅内水开后,再将鱼入锅,蒸10分钟立即关火。
4。从蒸锅内取出,倒掉盘内蒸出来鱼腥汁紧接换新盘子。
5。另起炒锅,烧热2汤匙油,爆香余下的姜丝蒜末。
6。加入酱汁煮滚倒在蒸熟的鱼洒上葱花即可食用